Will Hurricane Irma Be Worse Than Andrew Was?
by Daphne Thompson, on Sep 9, 2017 10:32:00 AM
With Irma bearing down on the South Florida coast, many people are beginning to compare this storm against one of the Atlantic's previously strongest hurricanes, Andrew. Hurricane Andrew is the last hurricane to make landfall in the United States as a category 5 storm when it came ashore in Miami-Dade County, Florida on August 24, 1992. While it is still too early to know the extent of the impact that Irma will have in Florida and the rest of the country, there are a few comparisons to be made to these storms and the situations surrounding them.

First let's look at Hurricane Andrew, which formed 800 miles southwest of Cape Verde off the coast of Africa as a Tropical Depression on August 16, 1992. Andrew moved northwest and became a Tropical Storm on August 18. Continuing its northwest trajectory, Andrew first became a hurricane on August 22. Less than 36 hours after that, Andrew was a category 5 hurricane. Andrew first impacted the Bahamas, weakening to a category 4, then reintensified to a category 5 just before landfall in South Florida. After passing over Florida, Andrew entered the gulf, maintained category 4 strength and impacted Louisiana. Andrew had a maximum wind speed of 175 mph, and its lowest pressure was 922 mb. In total, Andrew caused $26.5 billion of damages, which at the time was the costliest ever. It has since been passed by Katrina in 2005, Ike in 2008, Sandy in 2012, and Harvey from just a few weeks ago.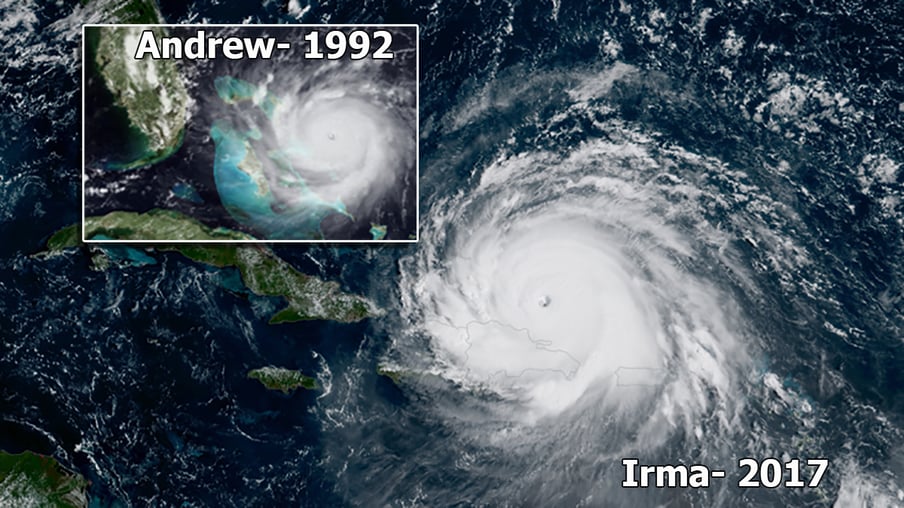 So far Irma has surpassed Andrew in almost every way except for the amount of damage done in dollars, and by the end of this weekend, that may also, unfortunately, be the case. So far, Irma has tied the second highest wind speeds of an Atlantic Hurricane at 185 mph. She reached a maximum low pressure of 914 mb. Irma has the longest duration of 185 mph winds of all tropical cyclones in the world, and was a category 5 hurricane for over two days, making it one of the longest-lived category 5 hurricanes in Atlantic Basin history. With Irma decimating Caribbean islands like Saint Martin, Barbuda, and Puerto Rico, the amount of damage that will happen in the much more densely populated South Florida could be very high.

Finally, let's take a look at how South Florida has changed in the 25 years since Andrew made landfall in 1992. In Miami-Dade County alone the population has grown from 2 million people in 1992 to 2.7 million people in 2017. Those new 700,000 people needed new houses, condos, and apartments to live in as well as new roads to handle the traffic, schools for kids, and places for people to shop. If Irma makes landfall anywhere near the Miami metropolitan area, Andrew's dollar amount of damage will pale in comparison to that of Irma's. It is important to remember that even though Irma will likely not be a category 5 hurricane when it impacts Florida, it will still be a dangerous storm with hurricane force winds extending almost 50 miles away from the eye in any direction, that is roughly the width of the state.