Will Game 1 of the 2017 World Series Be the Hottest Game Ever?
by Daphne Thompson, on Oct 24, 2017 2:07:08 PM
Tonight, the Los Angeles Dodgers will play their first World Series in nearly 30 years when they take on the Houston Astros, who themselves haven't played in the Fall Classic in 12 years. With the difference of three decades between the two World Series playoffs for the Dodgers, how different will the weather be? Both Game 1 in 1988 and 2017 will be played at Dodger Stadium in Los Angeles so let's look at the weather for these games.
October 13, 1988, was a standard day in the weather for the Los Angeles area, with a high of 70 and a low of 57. There was about a tenth inch of rain during the day but this did not affect the game in any way. Winds were from the southwest at four mph for much of the game. It is safe to say that the weather had a minimal impact on the game, which the Dodgers won 5 to 4 over the Oakland Athletics.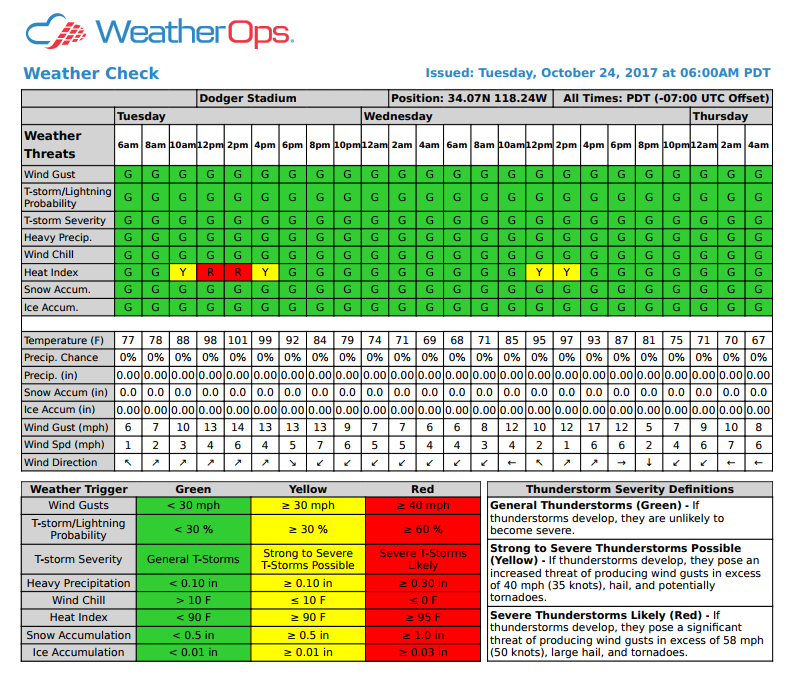 The World Series weather this year could be a different story, however. While rain will not impact Game 1, heat could affect both the players on the field and the fans in the stands. The high today in Los Angeles will be 102. Game time temperature will still be in the mid-90s and temperatures won't drop below 90 until 8:00 pm local, which would be around the 7th inning of the ballgame. While these temperatures likely won't affect the game regarding start time, it will take a toll on the players being in the hot sun that long.

If these temperatures hold out, it will be only the second World Series game to be played above 81 degrees since 1975, and likely just the sixth Series game ever played above 90. If the temperature at the first pitch gets to 95 degrees, Game 1 of the 2017 World Series will officially be the hottest game ever in MLB playoff history. The current record was set in Game 1 of the 2001 World Series when the Arizona Diamondbacks played the New York Yankees in Phoenix, AZ.
WeatherOps will be supplying weather information for the games. Do you need support for your next big event?