We're Only Halfway Through the Atlantic Hurricane Season
by Jim Southard, on Sep 1, 2017 9:43:15 AM
September 1 marked the halfway point in the Atlantic hurricane season – at least according to the calendar. That means we still have three more months to go. Typically, activity is low in June and July and by the time August arrives we've had just a few named storms and maybe one hurricane. It is often during the last half of August that activity quickly ramps up toward the peak in mid-September, and then the Atlantic usually stays busy into October before settling down for the concluding month of November.
The 2017 season has followed this blueprint fairly well, though the numbers of named storms and hurricanes are on the high side. There was one out-of-season development (Tropical Storm Arlene, which formed in April), followed by two tropical storms in June and then two more tropical storms in July. August saw the development of four named storms, all of which became hurricanes. So far, we have had eleven named storms this season, with five hurricanes and three major hurricanes. Typically by September 1, we have had 5-6 named storms and 2-3 hurricanes in the Atlantic. Regarding the numbers of storms, 2017 has been busier than normal.
Since most of these have been short-lived and weak systems, the overall activity was right about on schedule until Irma formed. Accumulated Cyclone Energy, or ACE, is a measure which takes into account both the strength of a tropical cyclone and its longevity. Weak storms or storms that don't last for very long contribute very little ACE to the season total, while powerful and long-lived storms can rack up large values of ACE. The 2017 season has a total ACE of 72.04 so far. Hurricane Irma is the leader so far among this year's storms with an ACE of 42.17. By September 1, the ACE value is typically around 30, so the overall level of activity in 2017 is more than twice the average.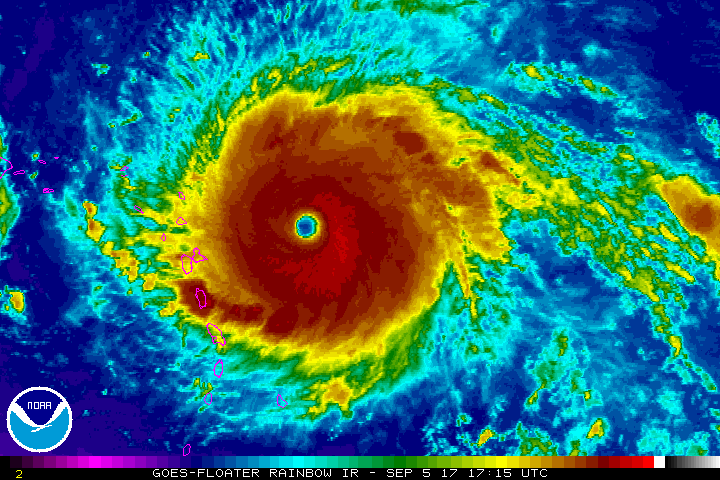 The last part of August into September is usually the peak time for tropical storms and hurricanes in the Atlantic, and 2017 is following that script as well. Hurricane Harvey rapidly strengthened in a favorable environment during the latter half of August, and now Hurricane Irma is doing the same in the eastern Atlantic. Irma (satellite image shown above as of Sept 5) is now a Category 5 major hurricane and may remain so for quite some time, and it will likely add significantly to this year's ACE total.
Frontier Weather's latest outlook calls for an additional 5-8 named storms this year, of which 3-4 should become hurricanes. This would bring the total storm numbers for the 2017 Atlantic season to 14-17 named storms and 7-8 hurricanes.
Note: This blog was update on Sept 7 to account for a substantially stronger Hurricane Irma.