We're Nearing the End of Heatober
by Daphne Thompson, on Oct 25, 2017 2:30:33 PM
As we approach Halloween, most of us are either wearing sweaters or jackets. Some areas in the country are already tackling snow. Other areas are setting new record high temperatures or are very close.
Our Frontier Weather temperature anomaly map for today shows areas that are warmer and colder than normal. The darker reds and browns are places above average and those in blue are colder. Let's pick a few towns and look at there forecasts in more detail.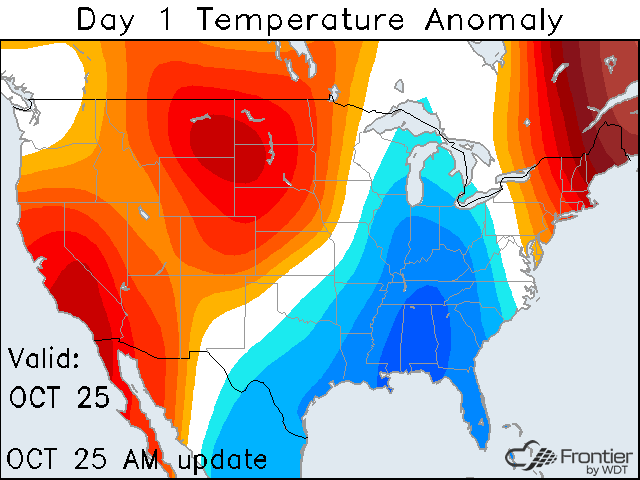 The heat in Los Angeles has been in the news lately due to not only recent fires, but also because the World Series is being played there. Yesterday was the hottest MLB post-season game in history. They have actually broken the record high tempertures two days in a row now with 102°F on Monday and 103°F on Tuesday. It looks like they will break another record today meaning Game 2 will also be played in record heat. If they reach 99°F, they will exceed the previous high of 96°F in 1983.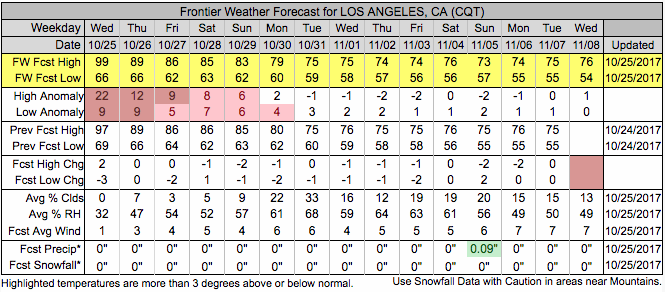 Moving east across the country, you can see there is another high temperature anomaly in the north-central part of the country. Looking at the forecast for Rapid City, they are expected to be 21 above average today. However, the will top out just shy of the 2007 record high of 82°F. A cold front will soon drop them into temperatures colder than normal and on Friday they will come close to breaking the record low of 13°F that was set in 1969.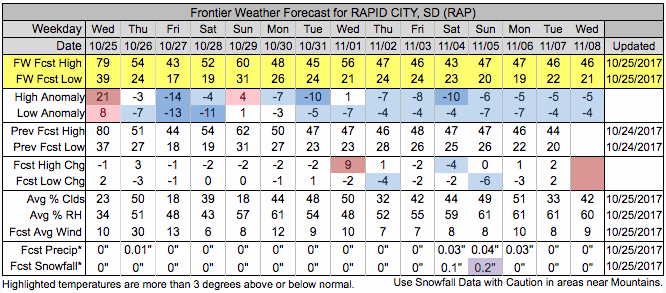 Taking another look at the temperature anomaly map, Maine is shown to be way above average. It will be nearly 20°F above normal today, but will fall short of a 75 °F record high set in 1963. On the other hand, they should break the record low max of 59°F from 1959 and the warmth is expected to continue for a few more days.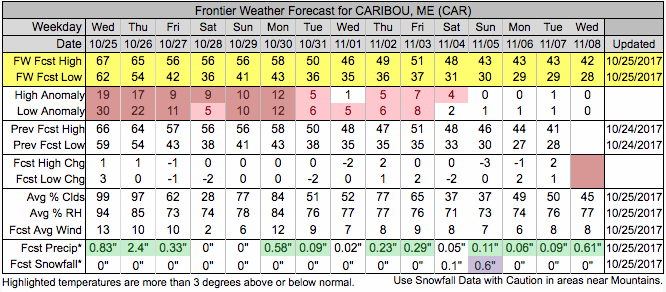 If definitely doesn't feel like a normal October in these locations! What's it like where you live? If you need forecasts or temperature anomaly maps for commodity trading, agriculture or energy applications, check out Frontier Weather for these products and much more.