Weekend Football Fans Should Expect Snow and Cold Weather
by Daphne Thompson, on Nov 10, 2017 4:09:03 PM
The Midwest will see some cold temperatures, rain and even snow this weekend. People attending games both for college and the NFL should be prepared, especially for cold temperatures and poor road conditions before and after the games. Saturday's primary threat will be temperatures for college ball, though light snow is not out of the question. Rain and snow may affect the fans for a couple of NFL games on Sunday.


SATURDAY
The first stop on Saturday is in Minneapolis for the Minnesota Golden Gophers against the Nebraska Cornhuskers. There is a chance for snow with light accumulations in around Minneapolis overnight Saturday, while this likely won't affect the game it could potentially impact fans driving in for tailgating. Snow totals should be between 0.5 and 1 inch. Madison, Wisconsin may see some light snow for the Badgers' game against the Iowa Hawkeyes, these would likely be just flurries. But if fans are driving in from northern Wisconsin, they may have to drive through 1 to 2 inches of snow Saturday morning. The real impact across the northern Midwest will be the temperatures with Minneapolis' high being around 35°F on Saturday and Madison reaching 30°F. All Big Ten fans should be prepared for cold temperatures if they plan on going to games on Saturday. Ohio State-Michigan State, Penn State-Rutgers, and Purdue-Northwestern will be lucky to crack 30°F. Illinois-Indiana and Michigan-Maryland will probably just get over the 40°F thresholds for their games.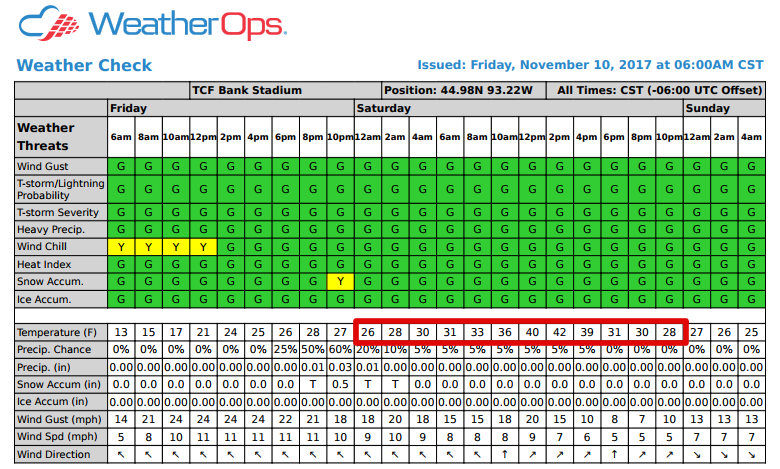 Minnesota Golden Gophers vs. Nebraska Cornhuskers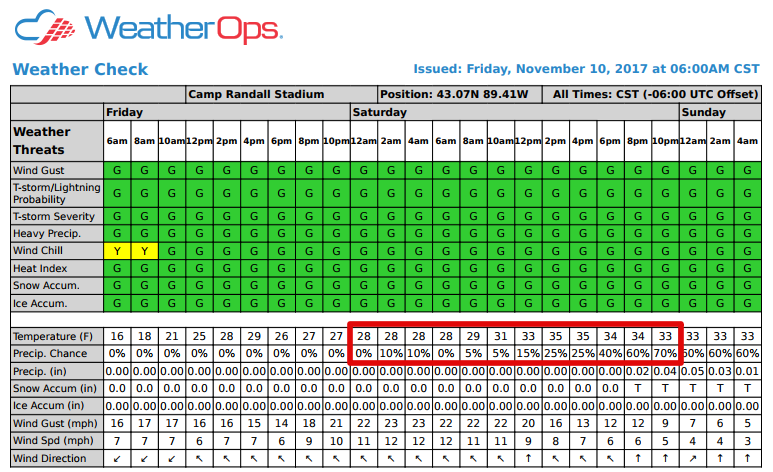 Wisconsin Badgers vs. Iowa Hawkeyes

SUNDAY
The most significant weather impact on Sunday will be for the Detroit Lions against the Cleveland Browns. While Ford Field in Detroit is a dome and climate controlled, fans traveling to and from the game may have to deal with snow. An inch of snow is expected to fall in the early afternoon Sunday. Detroit proper will only have at most half an inch, but areas outside of the city center may be more heavily impacted. Another area that could be affected by cold weather is Chicago for the Bear versus Packers, where kickoff temperature will be near 35°F. There is a chance of some rain and possibly snow in the area right around kickoff.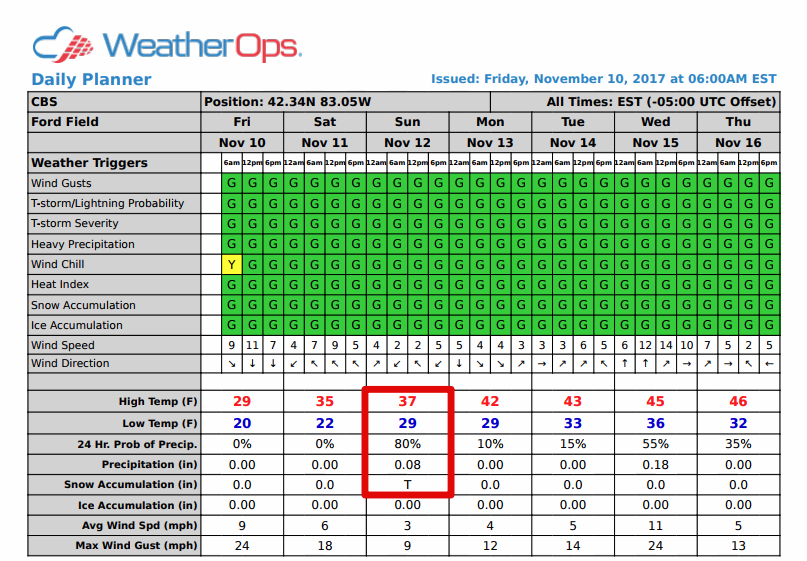 Detroit Lions vs. Cleveland Browns
As winter approaches, we can expect more weather impacts to football games and their fans. Find out what the rest of the winter should be like by viewing our Winter Weather Outlook.