WeatherOps Keeps Drum Corps International Safe
by Daphne Thompson, on Aug 1, 2016 2:56:22 PM
Drum Corps International (DCI) performs all over the country during the summer months. Upwards of 3,500 college students march in the corps with an estimated 400,000 total fans viewing their shows. Of course, summertime is also known for thunderstorms and lightning is always a risk when you perform outdoors. Event safety is important in these circumstances.
On July 31, The NightBEAT Tour of Champions show occurred in Winston-Salem, North Carolina. As each of the 8 corps successively performed, storms began to form and approach BB&T Field at Wake Forest University. Around 9:00pm EDT, Dan Acheson, Executive Director and CEO of DCI, received a Heavy Rain Alert from WeatherOps Commander. Due to an earlier Weather Check, Acheson was already aware that a threat was possible and new how to prepare for a storm.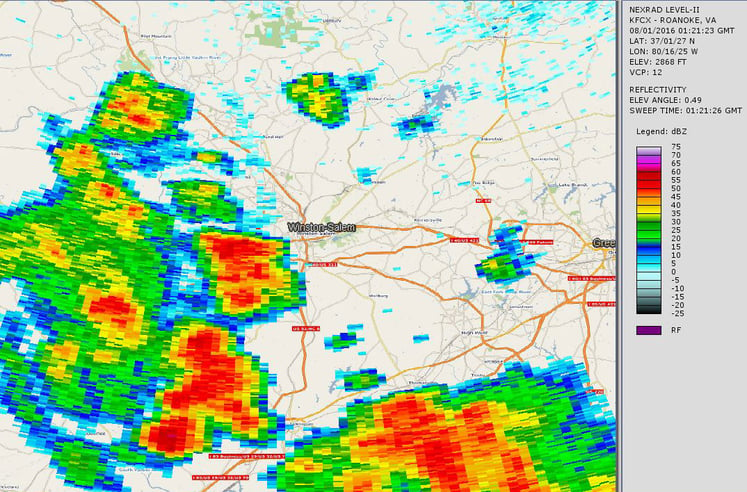 At 9:20pm EDT, the stands were cleared and spectators were evacuated underneath the stadium seating due to the threat of lightning in the area.
"The alerts and the Weather Check updates served the event organizers well to keep the weather presence of mind throughout the event to the point of ultimately having to stop the event. Most of the 9,000 patrons were under cover, as well as the performers, because we allowed a sufficient amount of time to clear the stands before the storm was on top of the event," said Acheson.
Thousands of spectators forced to take cover at BB&T field in Winston-Salem tonight at DCI show. Photos: Jason Burns pic.twitter.com/bqvTpSwLpi

— Tim Buckley (@TimBuckleyWX) August 1, 2016
The below image shows an eight mile radius around the event site. The first bolt was reported at 9:31pm EDT and 270 strikes were recorded in the area. The closest lightning strike was a dangerous 1.4 miles away.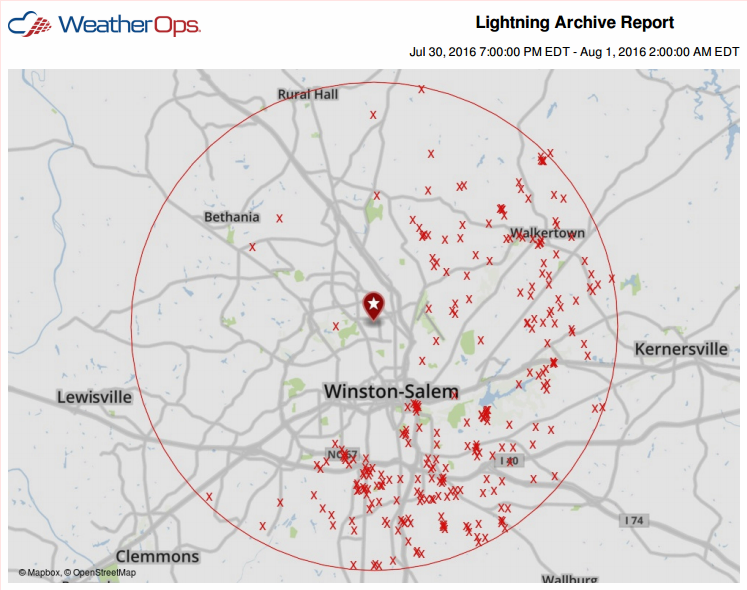 Acheson believes WDT WeatherOps has "dramatically improved" their ability to make better decisions and prepare for weather interruptions with regards to ensuring the event safety of performers and fans at over 100 events nationwide. While the Winston-Salem event utilized WeatherOps, Acheson says "those events where we have chosen to use the WDT forecaster service have been crucial for the bigger picture planning of our larger events as well."