We Are All Stakeholders in Each Other's Safety
by Dax Cochran, on Jan 13, 2016 3:20:04 PM
This week at Tourlink, I had the opportunity to participate in the first Event Safety Access Core training course. This is over 6 hours of ESA approved entry level safety training for anyone working in the live event industry. So what does that mean? It means if you invite me to your event site, I am educated on basic safety concerns and am less likely to do anything that could injure myself or others. My hat is off to Dr. Don Cooper and David Calderone. They really did a great job on the material covered and presented very well. So what are my biggest take aways and how will I apply this to what we do at WDT?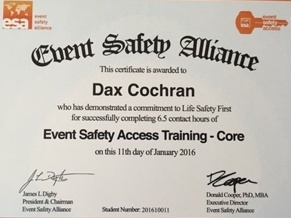 The number one lesson I learned is, above all, you are responsible for your own safety first. If you feel unsafe, its okay to stop and say something because the second take away is that there are plenty of stakeholders in your safety. WDT WeatherOps is certainly counted among them. We have listened to the industry over the past few seasons and continue to evolve our service based solely on direct feedback from users. We invest heavily to acquire this feedback through involvement with user groups and training sessions.
We encourage anyone involved with our service to learn the products and our software and also have an understanding of our overall solution and process. You are taking ownership in your own safety, as you can apply information we send directly to your action plans. You will then know exactly what to do if any weather trigger is breached that would require action on your part. Learn and use our forecasts, alerts, or direct forecaster support to help ensure safety for you, your crew, and your audience. We will also continue to learn, grow, and adapt with you to continue to raise the bar through your feedback and direction.
The last take away is to be a positive force in a changing safety culture. The culture is changing, embrace it and promote it! For more eduction on weather safety, join me Thursday at Tourlink for a short presentation on what we do and how we fit directly with your safety plan and process and maximize your benefit from us. Also, please consider joining us at the ESA's Severe Weather Summit in Norman, OK in March.