WDT WeatherOps Adds Third Lightning Range Ring
by Daphne Thompson, on Oct 6, 2016 1:09:26 PM
Improvement addresses the safety needs of clients who require additional lead times
Norman, OK – October 6, 2016 — Weather risk and analytics leader, Weather Decision Technologies, Inc. (WDT), today announces an update to its flagship weather risk mitigation suite, WeatherOps®. This update allows for a third lightning range ring to be added to client maps and allow them to receive alerts. In addition, we have increased the maximum size of range rings to 100 miles and provided options to select any range between 1 and 100.

"This addition leverages alerting capabilities released in March and further allows for organizations to take full advantage of detailed action plans surrounding the presence of lightning, especially in large outdoor event situations and the wind energy sector" states Jordon Rousseau, Product Manager of WeatherOps.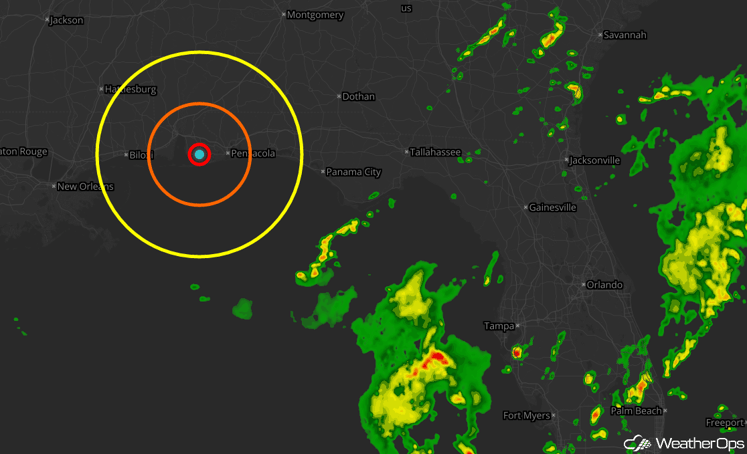 Latest Updates
High Resolution RadarScope® Visualization – WeatherOps Interactive Map now includes the same superior quality, high fidelity single site radar data that are contained within WDT's award winning mobile app, Radarscope®.
Enhanced SMS Alerting Support – For those clients in need of SMS alerting in hard-to-reach places, we have now integrated this capability into WeatherOps Commander to take advantage of WDT's Weather Mass Notification® System.
WeatherOps Mobile App / RadarScope Integration – WeatherOps users can view their company assets directly in the RadarScope mobile app.
WeatherOps Mobile App User Interface Changes – New design enhancements have been added to the mobile app allowing for efficient viewing of company assets and alerts/products affecting those locations.
Availability

WeatherOps Commander with addition of a tertiary range ring is available now for current customers at WeatherOps Commander. Non-customers may visit weatherops.com for more information about WDT's flagship asset protection platform. The WeatherOps companion application is available via search on both the Apple Store and Google Play. Subscription to WeatherOps is required for app use.