WDT Mobile Development Team Honored by the American Meteorological Society
by Steve Miller, on Sep 30, 2015 10:56:35 AM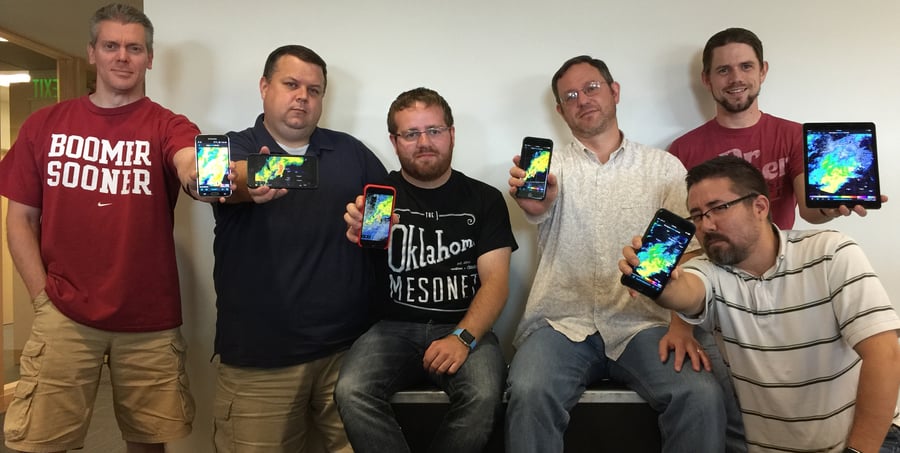 RadarScope app developers win AMS Special Award for important contributions to the science or practice of meteorology
Norman, OK, September 29, 2015 — Weather industry leader Weather Decision Technologies (WDT) is pleased to recognize our Mobile Development Team members and 2016 American Meteorological Society Special Award winners Michael Wolfinbarger, Justin Greenfield, Robb Young, Stdrovia Blackburn, and Ross Kimes.
The AMS summarizes this Special Award: "For tireless efforts to develop and improve their RadarScope mobile application, enabling widespread access to professional quality weather radar information by meteorologists and the public."
"Our mobile team here at WDT has been the recipient of many awards and accolades over the past 8 years but we hold this one in highest regard," says Mike Wolfinbarger, WDT's VP of Mobile Development. "For our team to be nominated and awarded this honor by industry peers sets the 2016 AMS Special Award apart from the others."
Special Awards are presented to individuals, teams of individuals, or organizations who have made important contributions to the science or practice of meteorology or related aspects of oceanography or hydrology, or to the Society. The 2016 Special Award will be presented to those listed above in January at the 96th AMS Annual Meeting in New Orleans, LA.
About RadarScope
RadarScope is a specialized display utility for weather enthusiasts and meteorologists that allows mobile, Mac, and tablet users to view NEXRAD radar data and severe weather warnings. This premium application can display the latest reflectivity, velocity, and other radar products from any NEXRAD radar site in the United States, Canada, Guam and Puerto Rico. RadarScope is available on the App Store, Mac App Store and Google Play. Follow on social @RadarScope.
About Weather Decision Technologies, Inc. (WDT)
Weather Decision Technologies, Inc. is the industry leader, providing organizations with weather decision support on a global scale. WDT offers specific expertise with big data as it applies to hazardous weather detection and prediction, forecast modeling, decision analytics, GIS, mobile apps and interactive mapping. WDT employs the world-renowned WeatherOps forecast team, staffed by experts who provide global asset projection and commodities trading decision support.
WDT maintains operational offices in Norman, Oklahoma and Houston, Texas.