Warm winter got you itching to go out to the field and plant? Chill out and watch the weather.
by Daphne Thompson, on Mar 23, 2016 2:03:40 PM
Despite having a record warm February and warm March – we need to keep an eye on the long-term weather pattern. Across the Corn Belt, we are in for a cold spell at the wrong time that most likely will delay planting (yes you heard it here first – fortunately!)
Growers and their agronomists should use caution to ensure the seed can have emergence in the ideal 55-degree soil temperature range. However, current weather forecasts for April do not look promising for warm weather across much of the Corn Belt.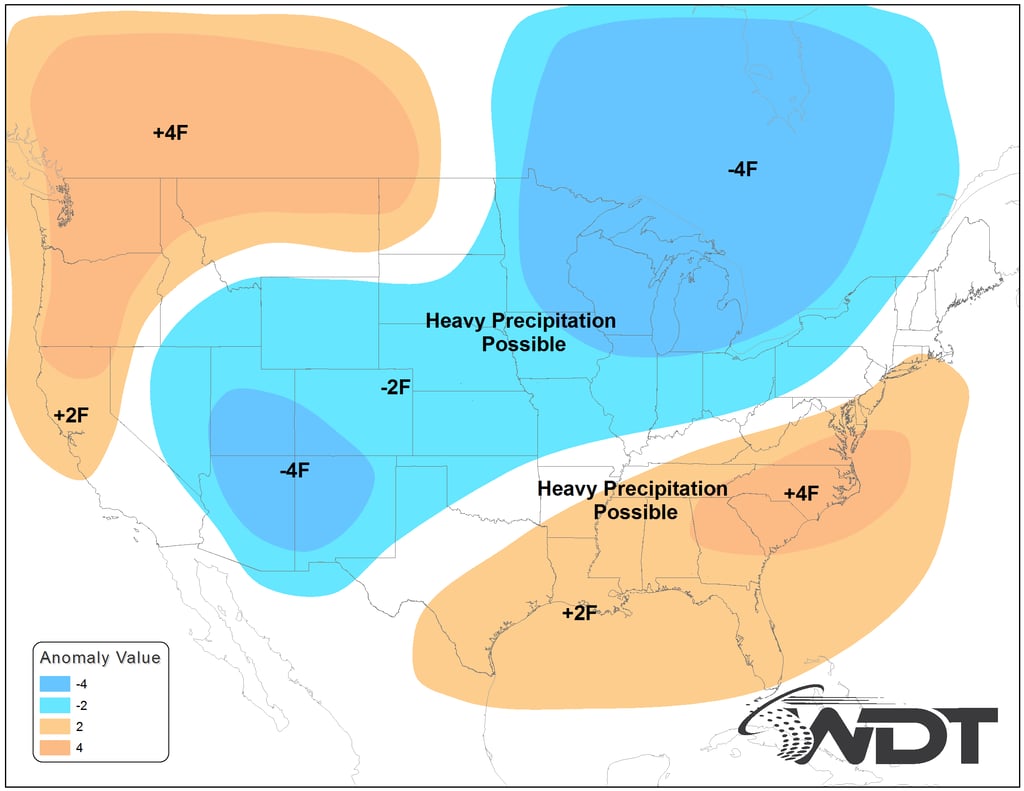 April Weather Forecast
Why are WDT forecasters expecting a cold/wet pattern across the Corn Belt? First, the strong El Niño from this past winter is weakening. This situation often leads to cold and wet Aprils across much of the country, including the Plains and Midwest, many times after an unusually mild winter. Second, strong areas of high pressure are expected to dominate the Polar Regions, favorable for deliveries of cold air masses into the country. This spells BIG problems for planting and perhaps for all farmers across the Corn Belt, especially if these high pressure areas persist for several weeks leading to atmospheric blocking.
What is Atmospheric Blocking?
In the upper atmosphere, the jet stream behaves very much like a river and like a river it occasionally gets blocked. For April, we're expecting a ridge to set up on the West Coast much like the image below.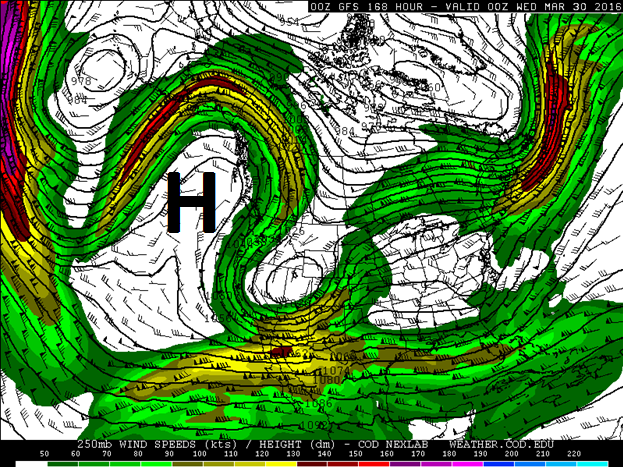 Atmospheric Blocking Pattern
When the air aloft is forced back down towards the equator, cold temperatures are transported with it. This is why Spain and northern Africa are so cold right now.
Predicting when a blocking pattern is going to take hold is difficult, but 3 key signals known to meteorologists have appeared (blocking is most likely in the spring, a breakdown of the polar vortex within the upper levels of the atmosphere, and enhanced thunderstorm activity in the central equatorial Pacific) which means that the odds are higher than normal that this pattern takes hold for April.
Two Things Can Happen
Two scenarios can occur with this pattern:
One large cold air outbreak occurs, like was observed during April 2007 where locations as far south as Lubbock, Texas received 3 inches of snow.
Several waves of cold air and winter storms flood the Corn Belt into mid-to-late month, keeping us wet and cold.
There have also been several other Aprils, such as 1973, 1983 and 1993, that were cold and wet for much of the Corn Belt. For example, during April 8-9, 1973, a blizzard ravaged Iowa with many locations getting well over a foot of snow and huge drifts due to wind gusts of 50-70mph. In addition to 14 deaths attributable to the storm, several thousand cattle and calves along with an estimated 120,000 turkey poults also died in the storm. Obviously a storm of this magnitude would have a significant impact on spring planting.
For retailers and agronomists, the meteorologists at WDT are only a phone call away. We are ready to provide real insights to help make these critical planting decisions. Email Tim Marquis at tmarquis@wdtinc.com for any questions or follow me on twitter @tmarquiswx.