Tropical Storm Cindy Forms in the Gulf of Mexico
by Daphne Thompson, on Jun 20, 2017 1:51:39 PM
The tropical system in the central Gulf of Mexico has acquired enough tropical characteristics to be declared Tropical Storm Cindy with winds of 45mph. Heavy rainfall is already occurring in the coastal states and will continue for the next few days.
As of this morning, WeatherOps forecasters are expecting landfall for Tropical Storm Cindy to be just to the east of Galveston, Texas. However, this could still change over the next few days. No significant strengthening is expected before landfall across eastern Texas tomorrow night or early Thursday morning. However, all those living or with assets along the Gulf Coast need to keep a close eye on this storm.
In the GOES-16 satellite image below, you can clearly see the low pressure center in the middle of the Gulf. You can also see that Florida to Louisiana is already under cloud cover and receiving rain. Low-end tropical storm force winds and coastal flooding will be possible along portions of the Gulf Coast, mainly for southeast Texas, Louisiana, Mississippi, Alabama, and the western Florida panhandle. Alabama has already issued a state of emergency.
Heavy rainfall and inland flooding may also occur from the western Florida Panhandle to southeast Texas, with storm total rainfall amounts of 4-8 inches, locally 14+, possible for many locations in these regions.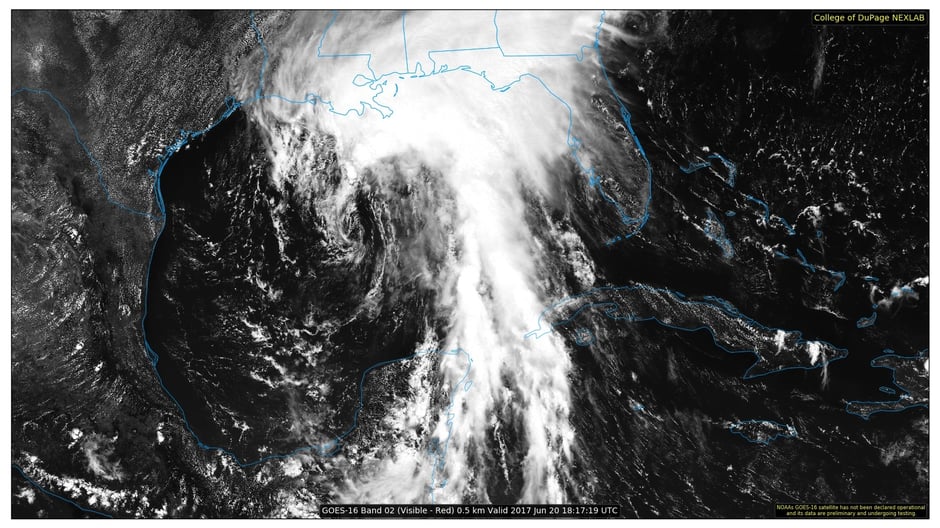 Model forecasts are starting to agree more, as you can see their tracks are much more similar than they were yesterday. While landfall may occur along the Texas or Louisiana coast, Cindy will cause issues to a much larger area than just this.
Widespread near gale to storm force winds and very rough to high seas will continue to impact the majority of the northern Gulf of Mexico into Thursday. Coastal erosion and inland flooding can also be expected over the next few days.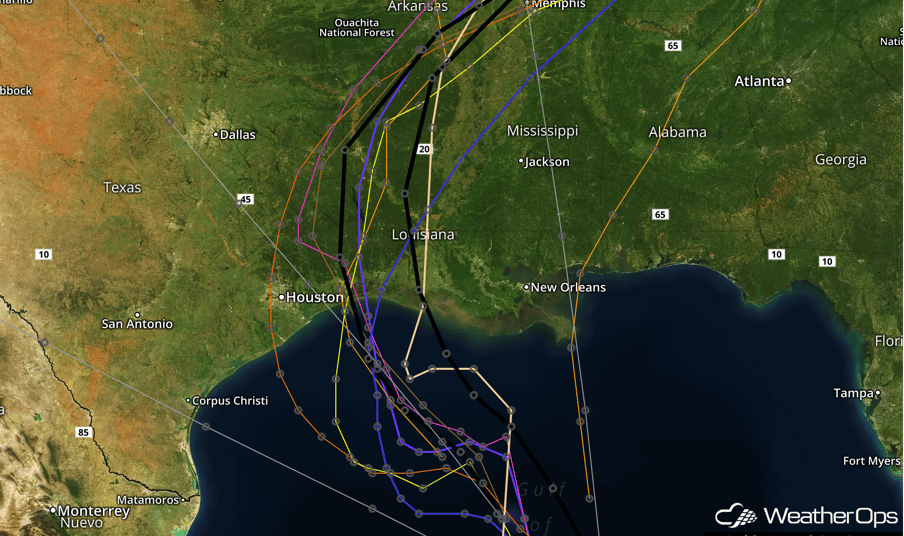 A second storm, Tropical Storm Bret, is currently located near the coast of Venezuela. The last time on record that the Atlantic had 2 concurrent named storms in June was 1968. Are you prepared for a tropical storm or hurricane? Check out our Tropical Season Outlook Webinar for more information on what is expected and how we can help you assess your weather risk and monitor your assets.