Tornadoes and Large Hail Are Expected Today! Are You Ready?
by Daphne Thompson, on Apr 26, 2016 10:30:12 AM
It's that time of year when severe weather seems to be happening more and more frequently. Are you prepared? Do you know what to do when severe weather is expected in your area?
With severe weather and tornadoes in the forecast, it is important to have a plan and know where to take shelter. You also need to have multiple ways to get weather information. Don't count on just watching local media on your TV, because if the power goes out then you are literally and figuratively in the dark.
Here are some things to consider when severe weather is expected:
Taking Shelter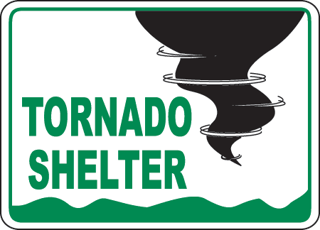 If you live in a

home

, you should shelter in place. A basement or storm shelter are safest, but you can also hide in a bathroom or closet that has no windows. Always take shelter on the lowest floor of your home.
Those in

apartments

need to also go to the lowest floor, so if you live upstairs then get to know someone on the lowest floor. Check with your apartment manager and see if they have a formal spot in case of tornadoes.
Anyone living in a

mobile home

needs to take shelter elsewhere. We've all seen the stories in the news, they just don't withstand severe winds. Have a plan in advance of a friend or family member who will let you take shelter at their home. Do not wait till the last minute to make a plan.
If you have children at

school

, know that schools have severe weather plans. Students will have a safe place to shelter. Driving to their school during a tornado warning puts you in danger. The school may also go into a lock-down mode and not let you in. If you are concerned, check with your school as to what their plan is during this type of situation.
Another place you do not want to be is in a

vehicle

. If you are in your car and hear tornado sirens alert, pull over at a sturdy building and take shelter. Many gas stations and restaurants will allow you inside. Never park under a bridge or overpass.
When you are at

work

, the same rules apply as in a home. Stay away from windows and go to the lowest floor. Some large office buildings may have you take shelter in an interior staircase. Others may have you congregate in large restrooms on the first floor. Every office building should have a plan.
If you are

attending an event

or away from home, make sure to note where shelter locations are noted. Some places will provide this information in event pamphlets while others will have a sign with a tornado marking shelters.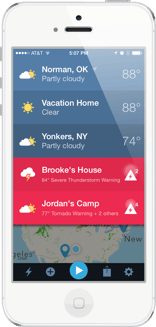 Getting Information
More Details to Consider
When severe weather is in the forecast, it is a good time to clean out your tornado shelter. Make sure there are no spiders, double check that you have flashlights inside and that it is ready to go should you need to take shelter quickly.
Make sure someone knows where your will be hiding and that someone shouldn't be your next door neighbor. If your neighborhood is hit by a tornado, chances are your neighbors are also needing help. Let someone across town know where your shelter is so that they can alert authorities, if needed.
Don't forget to let others know what is going on. Elderly neighbors or friends who don't tend to be aware of current event should be contacted. If you know a tornado watch has been issued, check in on them. Send them a text and give them a heads up.
The same shelter rules apply for tornadoes, large hail and extreme winds. If windows begin to break, you want to be in an interior spot on the lowest floor.