The Accumulated Cyclone Energy Is Skyrocketing. What Does It All Mean?
by Jim Southard, on Sep 19, 2017 11:42:12 AM
At the halfway mark of the hurricane season on September 1, the Accumulated Cyclone Energy (ACE) stood at about 30. The average ACE accumulated by this date (averaged over the period from 1950 to present) is 62.9. After the recent spate of activity in the Atlantic that brought us Harvey, Irma, Jose, Katia, and now Maria, the total ACE so far this season in the Atlantic is skyrocketing.
Hurricane Jose has been around for two weeks, and it is still active in the western Atlantic off the U.S. East Coast. So far, Jose has an ACE of 39.4. Jose is expected to stick around for a few more days before it loses tropical characteristics. This longevity will allow Jose to produce more ACE (though at a more modest pace) and there is a slim chance that Jose could hang on as a tropical system long enough to crack the list of the Top 20 hurricanes in the Atlantic by ACE since 1950. Jose would need to finish with a value greater than 43.2 to pass Hurricane Fabian from 2003.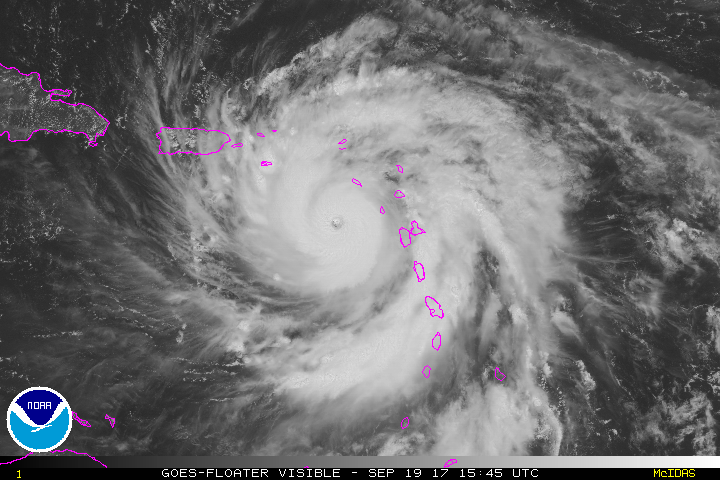 In addition to Jose, Hurricane Maria has strengthened quickly to become the season's fourth major hurricane (and second Category 5 hurricane), and it will be building ACE rapidly in the coming days. Maria currently stands at 10.8, which is a little higher than Harvey's final number.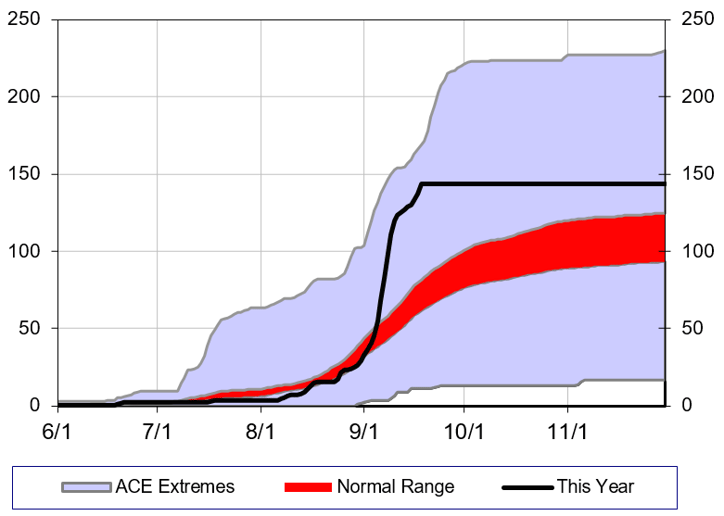 Between Harvey, Irma, Jose, Katia, and now Maria, the total ACE so far this season in the Atlantic has skyrocketed up to 148.7 (as of September 19). The graph above shows how the ACE this season has increased quickly during September and now stands well above the average ACE accumulated by this date – and also above the average ACE accumulated during an entire season. The 2017 season total, by this date, is one of the highest in our period of record.
Since 1950, there have been 15 hurricane seasons in the Atlantic that had amassed an ACE of at least 100 by mid-September. So far, 2017 stands in 3rd place for ACE. However, this year's total will continue to grow in the coming days.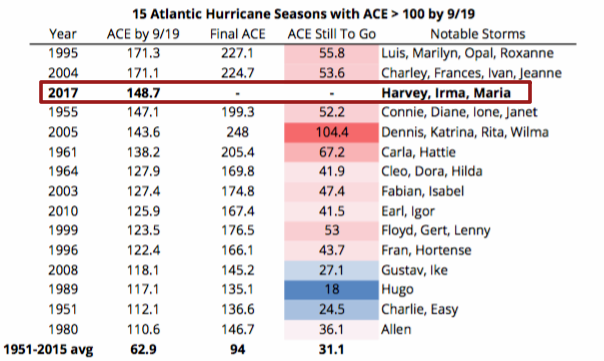 Of the 15 seasons that had an ACE of 100 by now, only three had activity for the rest of the season that was below the long-term average regarding ACE (shaded in blue on the table above), while the rest saw above-average activity continue (indicated by the red shading). The latest outlook from Frontier for the remainder of the Atlantic hurricane season calls for between 1-4 more named storms to develop, of which 1-2 should become hurricanes. This additional activity would bring the totals for the 2017 season to 14-17 named storms and 8-9 hurricanes.