Severe Weather Will Impact the Masters Golf Tournament
by Daphne Thompson, on Apr 5, 2017 12:49:56 PM
The Masters Golf Tournament is ongoing in Augusta, Georgia this week and the WeatherOps team is monitoring the event for CBS, NBC and ESPN. Severe weather has already impacted the tournament and is expected to again later today.
Gates opened as scheduled, but play was soon suspended. A suspension of play sends golfers into the clubhouse and spectators off the course and into their vehicles. With many out-of-town visitors in the area, it is important that they have a plan in place to keep everyone safe.
Gates will open as scheduled. Due to the threat of severe weather mid-morning, play may be suspended and the grounds evacuated.

— Masters Tournament (@TheMasters) April 5, 2017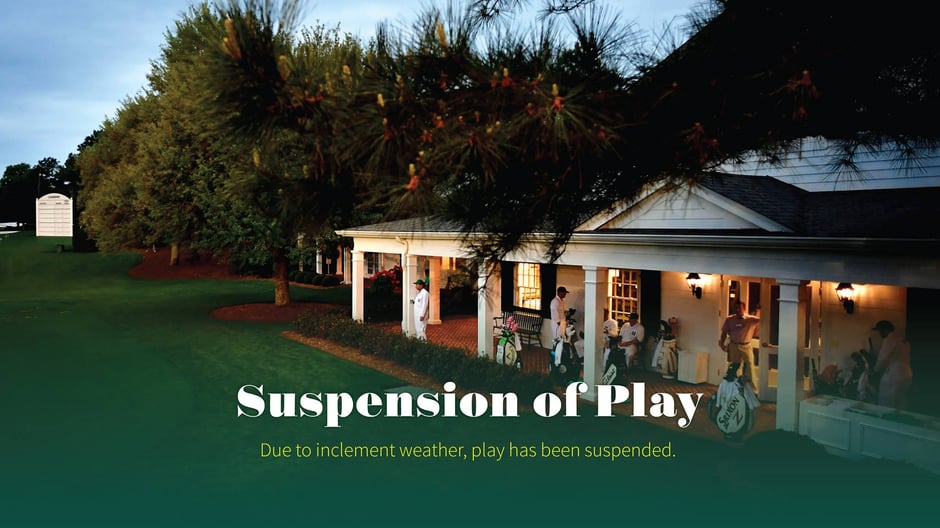 At the current time, Augusta, designated as the yellow star in the image below, is in a high risk for severe thunderstorms. Below is a look at the risk outline. The high risk, shown in the pink, is where a significant threat of dangerous weather is expected. Those in the pink outlined area should be prepared for strong tornadoes, very large hail, and damaging winds. Tornado warnings have been ongoing in Georgia since this morning and they will continue to be issued as the day goes on.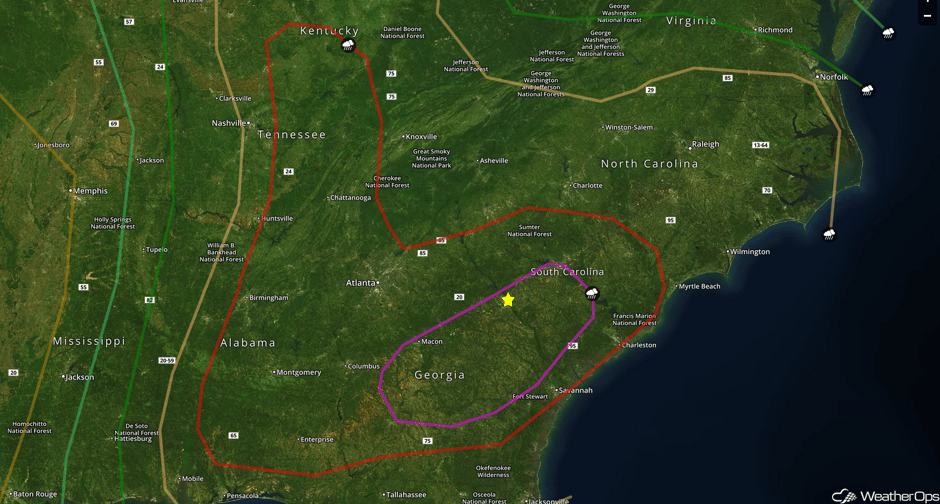 SPC Convective Outlook for Wednesday
Gates will reopen to patrons at 12:30 p.m. The Par 3 Contest is scheduled to start at 12:30 p.m. pic.twitter.com/nhrs6E6BP0

— Masters Tournament (@TheMasters) April 5, 2017
The gates to the tournament reopened as of 12:30pm, but another round of severe weather should impact the tournament again later this afternoon. Current high resolution models are indicating that thunderstorms will begin to impact the Augusta area by late afternoon and continue into the evening hours.
The course will be closed for the remainder of the day.

— Masters Tournament (@TheMasters) April 5, 2017
UPDATE: 12:45pm CT - The tournament has now been canceled for the rest of the day due to inclement weather. It will be important that everyone still in the area know where they need to shelter in case of a tornado. While those who bought tickets may be unhappy with the circumstances, no one wants a preventable injury or fatality to occur due to weather. In live events, such as this, it is crucial that a safety plan be in place to protect everyone from all the threats that severe weather contains. Learn more about how to keep people and equipment safe when severe weather threatens in our free ebook download.