RadarScope 3.5 Brings Long-requested New Features
by Mike Wolfinbarger, on Aug 16, 2017 1:38:56 PM
Today, we're releasing RadarScope 3.5 for Android, iOS, and macOS. It includes a couple of long-requested new features, as well as some compatibility tweaks for upcoming OS releases and a few bug fixes. Here's a summary of the major changes:
Spectrum Width
Spectrum width measures the variability of velocity within each radar pixel. It isn't widely used compared to products like reflectivity and velocity, and it isn't distributed over NOAA's satellite-based Level III feed. As a result, we've never displayed it in RadarScope. But we've had a few requests for it over the years, so we're pleased to add a super-res spectrum width product in RadarScope 3.5. With proper interpretation, spectrum width can provide an indication of turbulence, which can be helpful in identifying conditions associated with severe thunderstorm activity. Super-res spectrum width is available at four tilts to all customers. RadarScope Pro subscribers have access to longer loops (up to 20 frames) of super-res data, including spectrum width.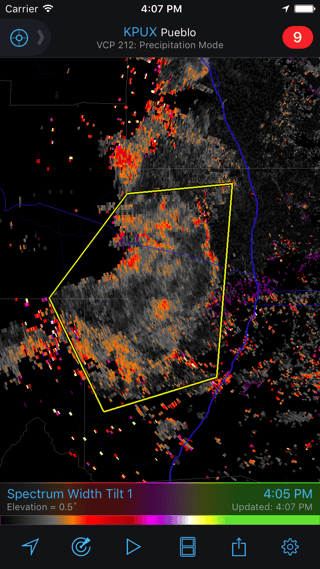 Special Marine Warnings
The National Weather Service issues Special Marine Warnings for short-duration, potentially hazardous marine weather conditions. They are, in a sense, the marine counterpart to tornado and severe thunderstorm warnings. Special Marine Warnings are a long-requested feature, and we're pleased to work with our partner AllisonHouse to add them to the RadarScope warning feed for all customers.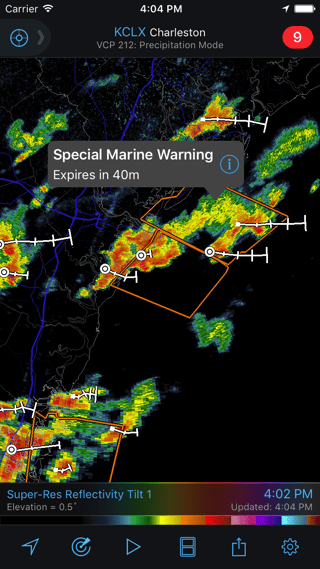 Hail Probability Contours
Launched last April, RadarScope Pro Tier 2 is a collection of features and data geared toward post-event analysis. With access to 30-days of past radar data and derived shear and hail contours, it's a powerful tool for identifying and pinpointing damage from severe weather outbreaks. In RadarScope 3.5, we're pleased to add hail probability contours to Tier 2. They estimate the likelihood that hail fell at a particular location.
Combined with the hail size contours previously available in Tier 2, hail probability contours are a useful tool for determining the coverage area and severity of hail events. And Tier 2 is still cross-platform, so you can subscribe on one platform and access your subscription on any device running macOS, iOS, or Android.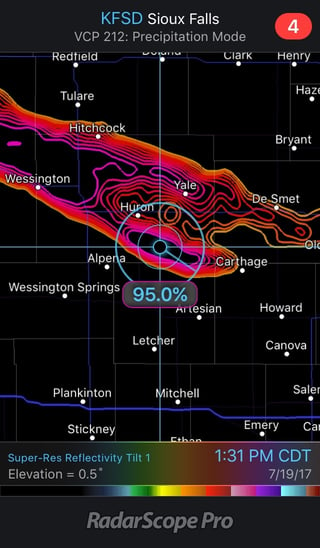 mPING Changes
In January, we added support for submitting and viewing reports from the National Severe Storm Lab's (NSSL) mPING initiative. After seeing how mPING is used and listening to your feedback, we're making a few changes to improve the experience.
We've reduced the duration of mPING reports shown on the map from two hours to one hour, which is more in line with the duration of our longest radar loops. Removing older reports from the map reduces clutter and makes it easier to see radar data and other information in conjunction with more recent reports.
Furthermore, we've reduced the duration of "Test" and "None" reports to only three minutes. The purpose of "Test" reports is to verify that the reports you submit are making it into the system. Three minutes is sufficient time to achieve that purpose and keeps those reports from cluttering the map for long periods of time. "None" reports provide useful information to NSSL scientists who are working to improve precipitation detection algorithms, but they're less useful outside of that context. After discussions with NSSL, we've limited the duration of "None" reports to three minutes as well.
Twitter Authentication
In iOS 11, Apple is changing how apps access your social media accounts. This won't change how we share still images to Twitter, but it does affect RadarScope's ability to post animated GIFs. The solution is to authenticate your Twitter account through RadarScope in order to post animated GIFs. This is the same method third-party apps like Tweetbot and Twitterrific use to connect to Twitter. You'll be prompted to log in the first time you post an animated GIF from RadarScope 3.5. We'll save an authentication token to use for subsequent posts. We never see your password, so your account remains fully secure. This change affects RadarScope for iOS and macOS, but not RadarScope for Android. It's easier for us to use the same method on all versions of iOS and macOS, so you'll need to authenticate even if you don't upgrade to iOS 11 or macOS 10.13 right away.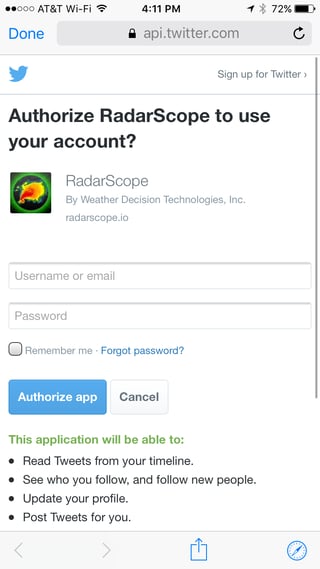 With so many new features, we will be issuing many blogs over the next week explaining all of this in detail for you. Download RadarScope 3.5 today and take a look today!