Oakland Raiders Will Not Be Affected By Las Vegas Weather
by Daphne Thompson, on Mar 30, 2017 2:28:53 PM
On March 27, the National Football League (NFL) owners met to vote on the Oakland Raiders move to Las Vegas beginning in the 2019 season. The vote passed 31 to 1 with the only vote against coming from the Miami Dolphins' owner Stephen Ross. In 2019, the Raiders will move from the unique San Francisco Bay Area microclimate to the arid desert climate of Las Vegas.
In Oakland, the temperatures tend to be moderate. The average high temperature in the month of September, the regions' hottest month, is 74 degrees with a low of 57. In the summer, it is not impossible to see highs up in the 90s as Oakland averages three days a year above 90 degrees. In January, the region's average coldest month, the typical high temperature is 58, and the low is 44. It is very rare to see days below freezing in Oakland as they average one day with a low below freezing every two years. With regards to precipitation, Oakland experiences 66 days per year with a measurable amount of rain, above 0.01 inches, 44 days with more than 0.10 inches of rain, 16 days with more than 0.50 inches, and six with more than an inch of rain. Over the year, Oakland averages 24 inches of rain.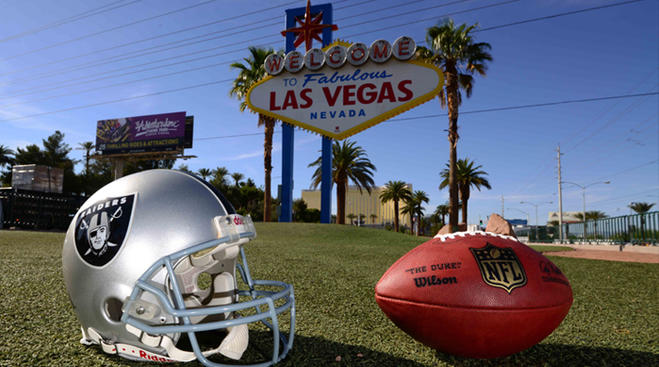 Las Vegas weather is much warmer than Oakland, especially during the summer. The hottest month on average is July where the mean high temperature is 104 degrees, and the low is 81. The coldest month is January which experiences average highs of 57 degrees and lows of 39. Las Vegas averages 69 days a year with high temperatures above 100 degrees and 131 days with highs above 90. It also has seven months that are on average warmer than Oakland's hottest month, April through October. It also tends to be a little cooler in the winter as eight days a year have low temperatures below freezing. As would be expected, there is a lot less rain in Vegas than in Oakland, averaging an annual total of 4 inches of rain a year. Sin City averages 27 days with more than 0.01 inches of rain, 11 with more than 0.10 inches, 3 with more than 0.50 inches, and 0 days with more than an inch of rain.
Fortunately for the Raiders, the proposed $1.9 Billion stadium they will begin playing in is both domed and climate controlled. As long as the team's practice facility shares similar features, the team should avoid the worst of the Las Vegas heat. Unfortunately, for NFL fans that may like to tailgate, it will be brutally hot, especially for games in the early part of the season.
Are you interested in climatology data for places your company does busienss or might relocate to in the future? Check out SkyWise APIs for past, present, and future weather data and analytics.