National Weather Summary for Wednesday, September 14, 2016
by David Moran, on Sep 14, 2016 12:29:41 PM
A cold front pushing through the New England region on Wednesday will allow for the development of thunderstorms. Heavy rain and flooding will be likely along the Southeast Coast as a result of Tropical Storm Julia. Thunderstorms will also be possible across portions of the High Plains. Going into Thursday, strong to severe thunderstorms may develop across portions of the Central and Northern Plains as an upper level trough moves across the Plains. As Tropical Storm Julia lingers off the coast, heavy rain is expected along the coast of South Carolina.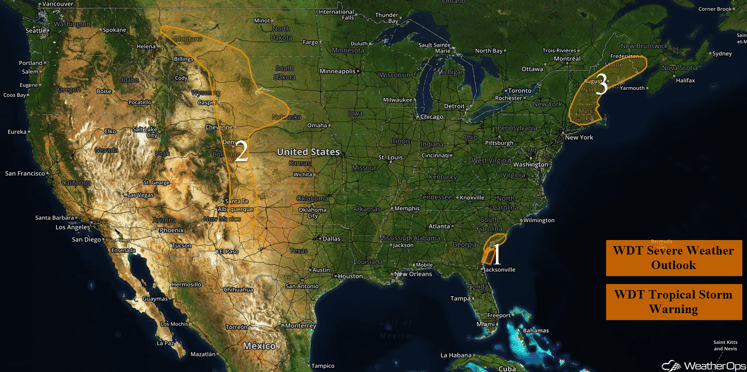 US Hazards
Region 1
Tropical Storm Julia is expected to slowly track northward through southeastern Georgia over the next day or so. Julia will gradually weaken into a depression by Wednesday afternoon due to land interaction and increasing wind shear. Tropical storm force conditions will be possible offshore southeastern Georgia, with sustained winds of 40 mph and higher gusts possible. Winds are forecast to gradually relax into Thursday as the storm dissipates over land. Rough seas across the area will gradually decrease as the storm weakens over the next day or so.
Major Cities in Region: Brunswick, GA, Savannah, GA, Charleston, SC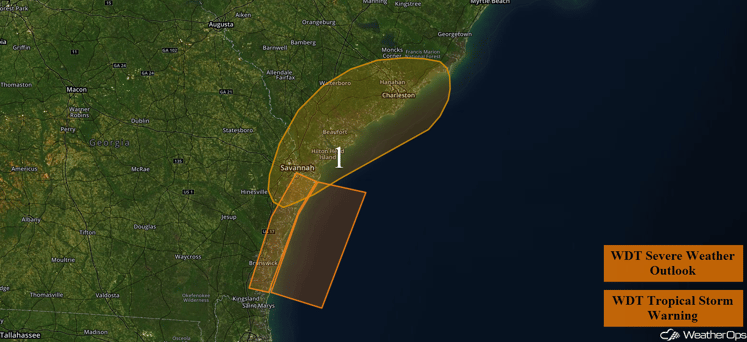 Region 1
Region 2
A developing trough over the Colorado Front Range on Wednesday should promote the development of showers and thunderstorms late in the day and perhaps just after dark from as far north as Montana to as far south as New Mexico. Some storms could become marginally severe with a low threat of severe wind and large hail, primarily after dark.
Update 1:10pm MDT: Severe thunderstorms developing SE of Albuquerque. Damaging winds will be the primary hazard with these storms.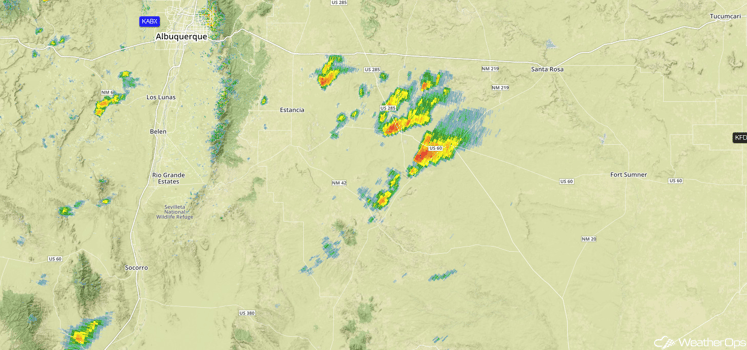 Radar 1:10pm MDT
Update 1:27pm CDT: Severe thunderstorms near Pueblo, CO. Hail and damaging winds possible.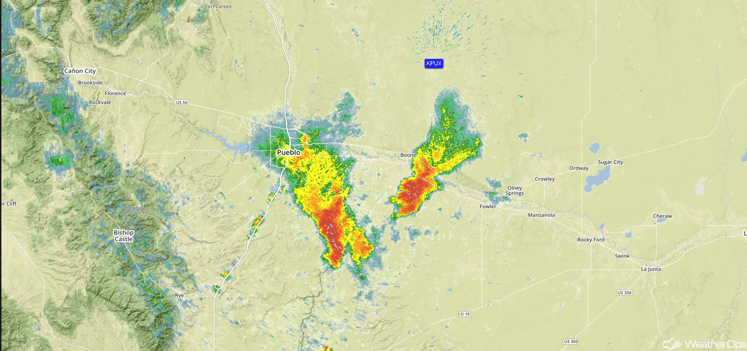 Radar 1:27pm MDT
Major Cities in Region: Great Falls, MT, Billings, MT, Casper, WY, Cheyenne, WY, Denver, CO, Roswell, NM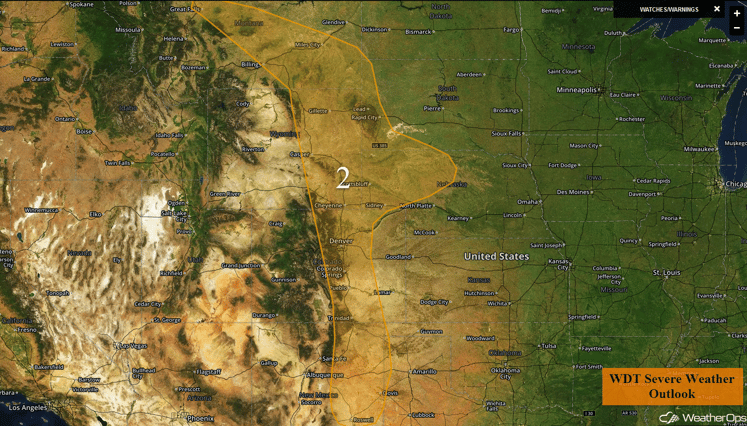 Region 2
Region 3
A passing upper level trough will bring increasing showers and thunderstorms across New England this afternoon and evening. A few storms may become marginally severe with a low threat for severe wind. Otherwise, storms should weaken or move out of the outlook area by nightfall.
Major Cities in Region: Providence, RI, Boston, MA, Concord, NH, Augusta, ME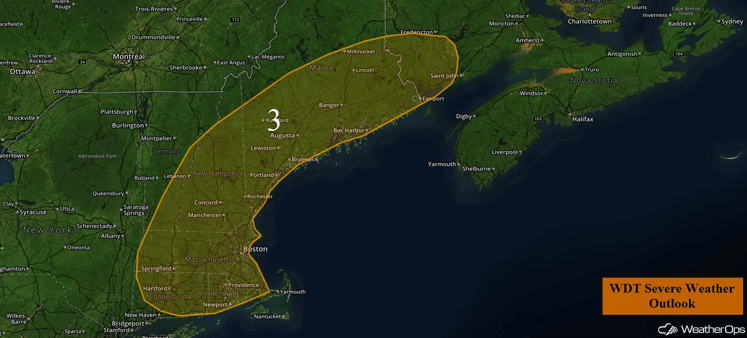 Region 3
Strong to Severe Thunderstorms Possible across the Central and Northern Plains on Thursday
There will be a chance for strong to severe thunderstorms across portions of the Central and Northern Plains on Thursday. An upper level trough will move over the Plains during the day, which will aid in the development of an area of low pressure over the Dakotas. Warm and moist air will spread over the region by the afternoon and morning showers will dissipate, providing an environment favorable for the development of severe thunderstorms. Thunderstorms are expected to develop during the afternoon and evening before tracking eastward. This activity should be scattered in nature. Primary hazards will be large hail and damaging winds, with a couple tornadoes possible as well.
Major Cities in Region: Roswell, NM, Amarillo, TX, Wichita, KS, Omaha, NE, Sioux Falls, SD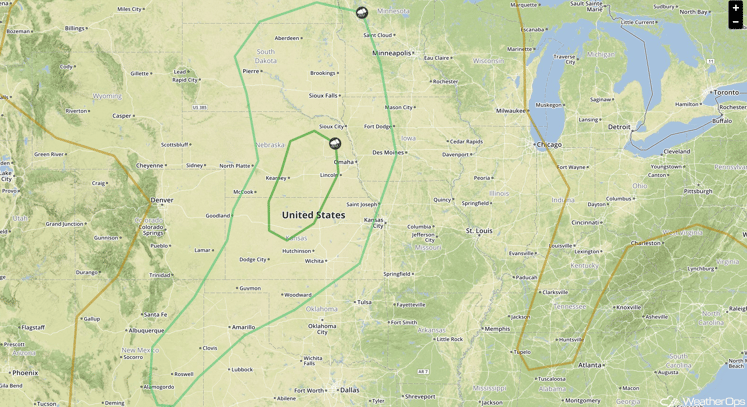 SPC Convective Outlook for Thursday
Excessive Rainfall Possible Thursday across Coastal South Carolina
The effects of Tropical Storm Julia will linger along the South Carolina coast on Thursday, which will bring a chance for flash flooding across the threat area. Rainfall totals of 1-3 inches and locally higher amounts in excess of 4 inches will be possible within the threat region through Thursday.
Major Cities in Region: Charleston, SC, Myrtle Beach, SC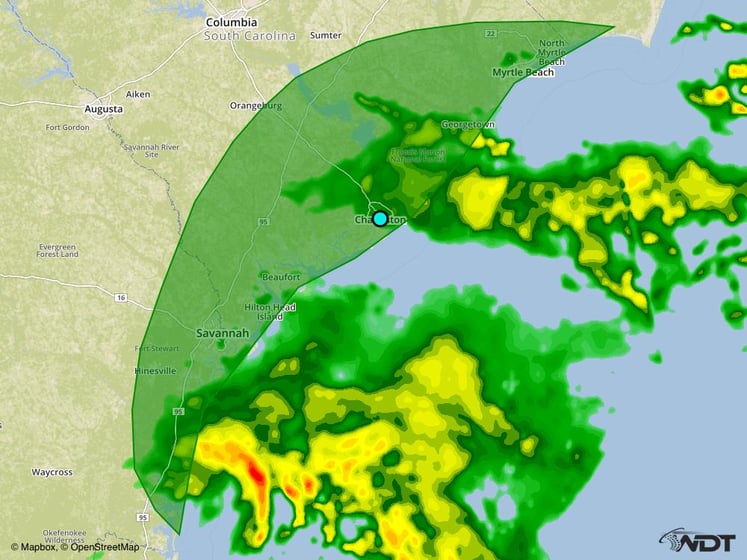 Excessive Rainfall Outline for Thursday
Tropical Update
Tropical Storm Julia (red oval) is continuing to move toward the north-northeast with slow and erratic motion expected over the next couple of days. Julia is expected to meander near the Georgia and South Carolina coastlines through Thursday. Maximum sustained winds are near 40 mph with higher gusts. Weakening is expected with Julia expected to become a tropical depression overnight.
Tropical Storm Ian (blue oval) is continuing to move toward the north near 20 mph. This motion is expected to continue through tonight with a decrease in forward speed. A turn to the north-northeast and northeast as well as an increase in forward speed is expected on Thursday. Maximum sustained winds are near 50 mph. Some strengthening is expected over the next day or so.
Tropical Depression Twelve (green oval) has developed over the western Cabo Verde Islands and is moving west-northwest near 14 mph. A gradual turn to the west is expected. Maximum sustained winds are near 35 mph with higher gusts. Some strengthening is expected with Tropical Depression Twelve becoming a tropical storm by tonight briefly before weakening.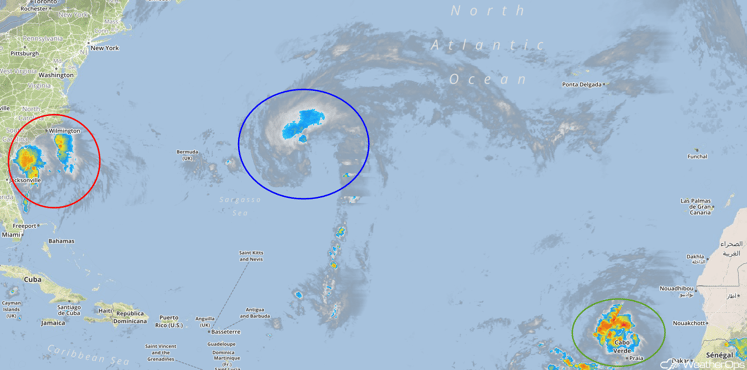 Tropical Infrared Satellite
A Look Ahead
An upper level low will bring the potential for excessive rainfall across portions of New Mexico and West Texas Sunday and Monday. The movement of the upper level low will largely dictate rainfall amounts. However, several inches of rain will be possible through Monday.
This is just a brief look at current weather hazards. We can provide you site-specific forecast information for the purpose of protecting your personnel and assets. Try a 7-day demo right away and learn how timely precision weather information can enhance your bottom line.