National Weather Summary for Wednesday, November 30, 2016
by David Moran, on Nov 30, 2016 10:43:27 AM
Thunderstorms will continue to move eastward on Wednesday across the Southeast and Mid Atlantic ahead of a cold front. Further south along the cold front, thunderstorms, elevated winds and seas, are expected across portions of the Gulf of Mexico. Heavy snow will continue for portions of the Dakotas, as an area of low pressure lingers over the Northern Plains. Late Wednesday evening, an area of low pressure will lift into the Northeast, allowing for the development of heavy snow.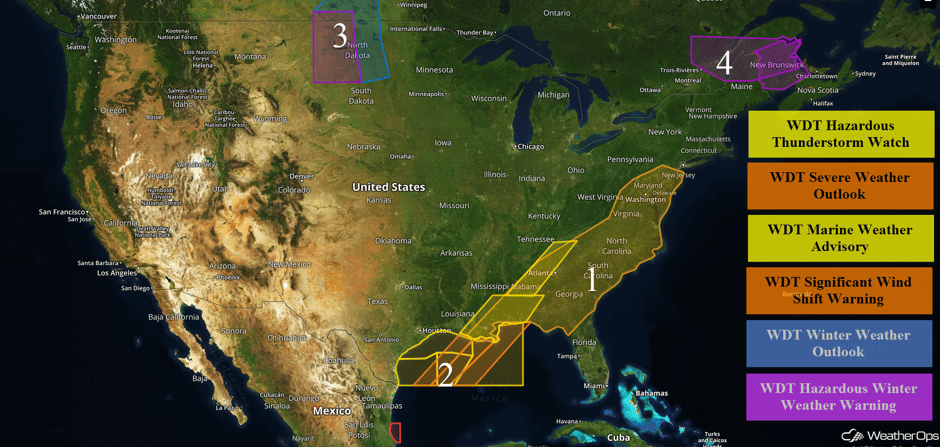 US Hazards
Region 1
Thunderstorms will continue to move across portions of the Southeast on Wednesday, ahead of a cold front associated with an area of low pressure across the Northern Plains. An ongoing squall line is currently moving through Region 1 and is forecast to remain strong enough to continue to promote severe weather throughout the day. Damaging winds and tornadoes will be possible with these storms. The overall risk should diminish into the evening.
Update 11:22am CST: Tornado Watch in effect until 5pm CST for portions of South Central and Southeast Alabama, the western Florida Panhandle, and western Georgia.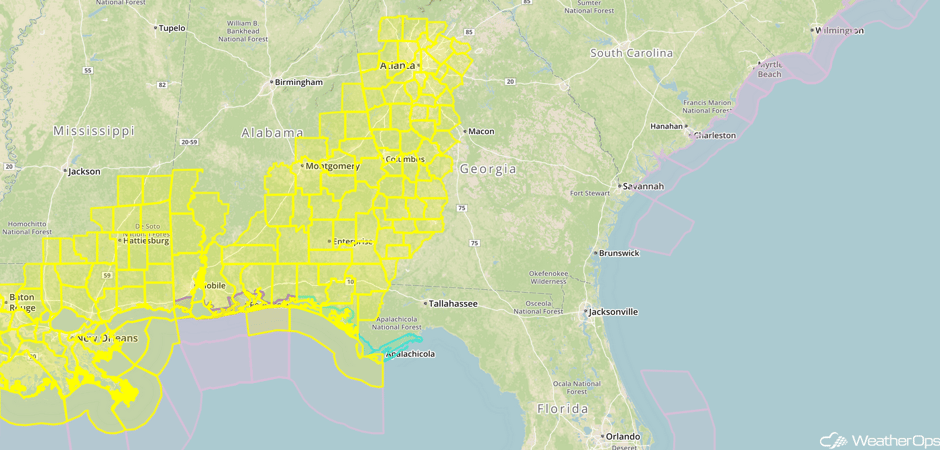 Watch Outline
Update 11:40am CDT: Tornado Warning near Destin, FL.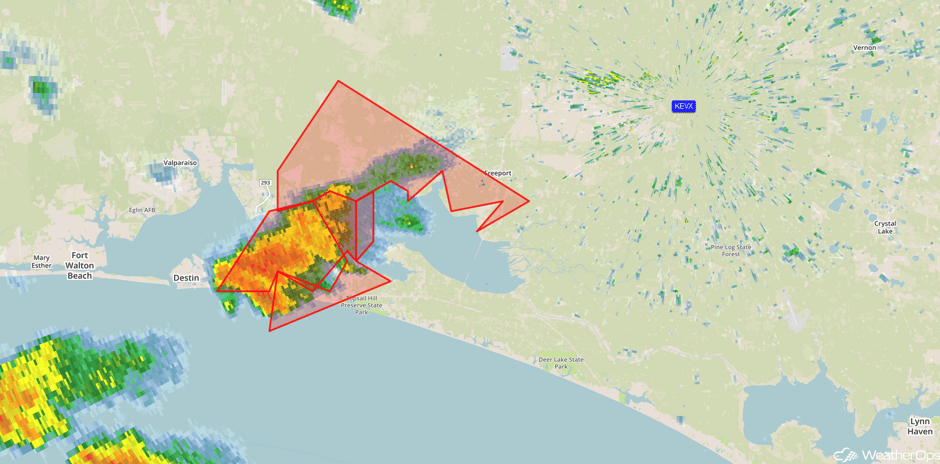 Radar 11:40am CST
Update 11:54am CST: Severe Thunderstorm Warning in southwestern Georgia and northwestern Florida until 12:30pm CST.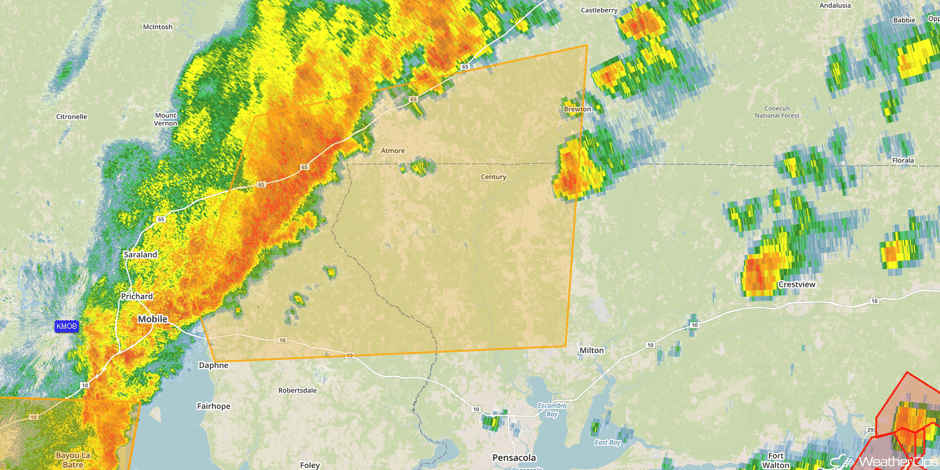 Radar 11:54am CST
Tornado Warning west of Atlanta.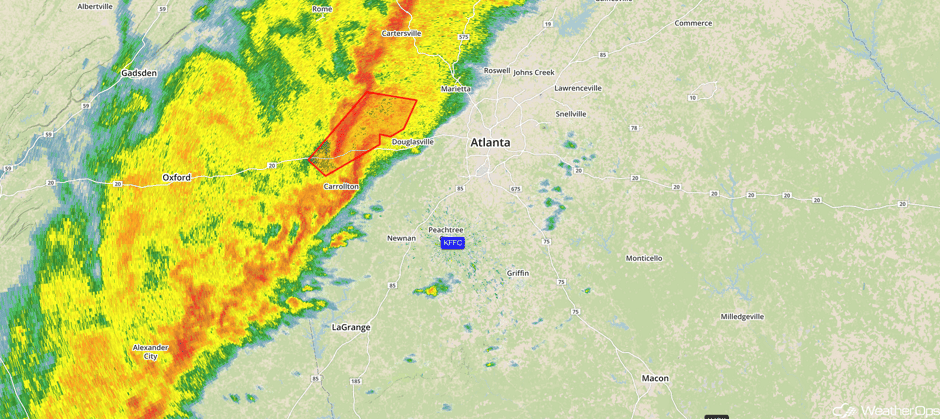 Radar 12:54pm EST
Update 1:22pm EST: Severe Thunderstorm Warning for Atlanta, GA metro until 2pm EST.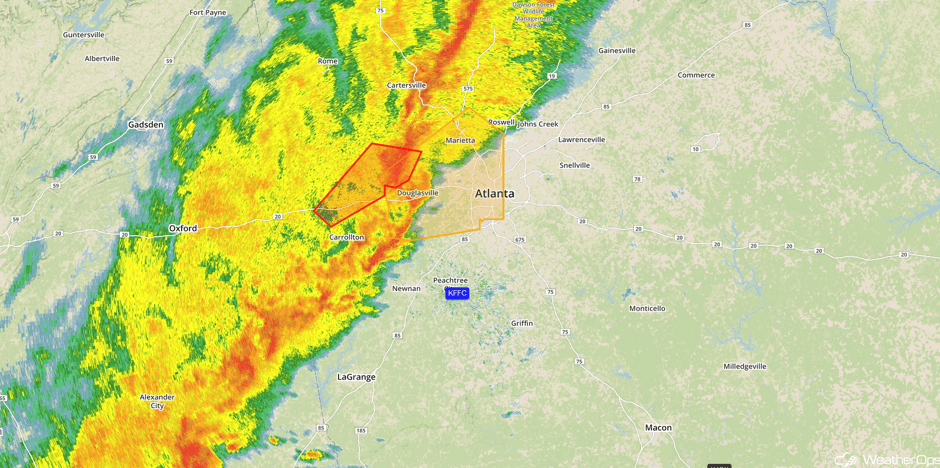 Radar 1:22pm EST
Update 1:45pm EST: Tornado Warning for Atlanta metro.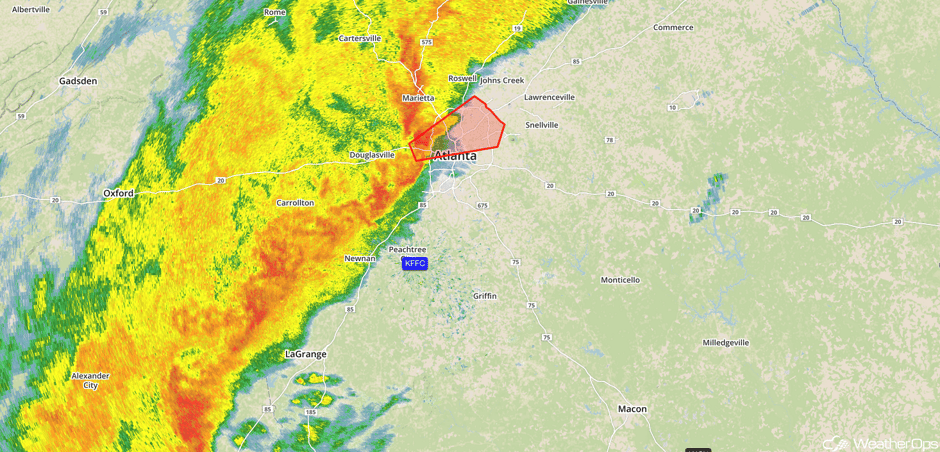 Radar 1:45pm EST
Update 1:34pm EST: Tornado warned storm south of Atlanta.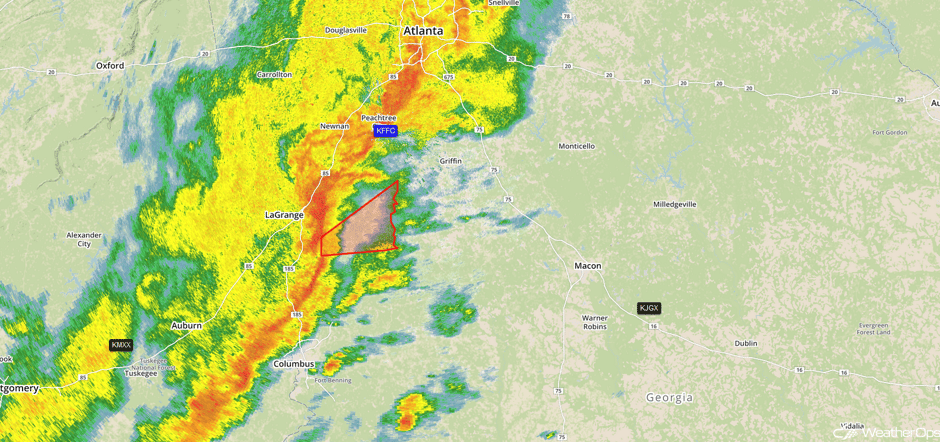 Radar 1:34pm EST
Major Cities in Region: New Orleans, LA, Tallahassee, FL, Birmingham, AL, Atlanta, GA, Myrtle Beach, NC, Raleigh, NC, Washington, DC, Philadelphia, PA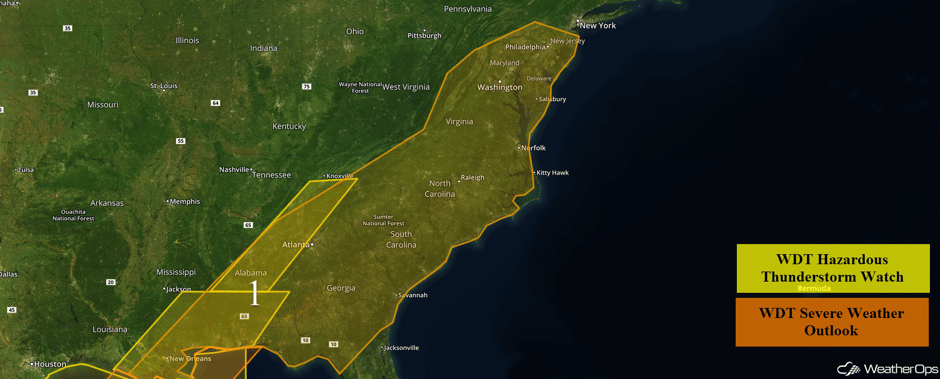 Region 1
Region 2
Strong southerly winds and seas of 5-8 feet will continue this morning ahead of an approaching cold front. Winds will shift to the north-northwest across Region 2 at 15-25 knots. Northerly winds of 15-20 knots are expected through early Thursday behind the front. In addition, thunderstorms are likely ahead of the front with wind gusts in excess of 50 knots and frequent lightning the primary hazards.

Region 2
Region 3
A slow moving area of low pressure will linger over the region through Wednesday, resulting in a continued threat for strong winds and significant accumulating snow. Based on the latest information, the heaviest snow is expected to fall across central and western North Dakota through Wednesday. Several inches of additional snow is likely; combined with strong winds, hazardous travel conditions will be possible. Snowfall should diminish during the afternoon hours on Wednesday.
Major Cities in Region: Minot, ND, Bismarck, ND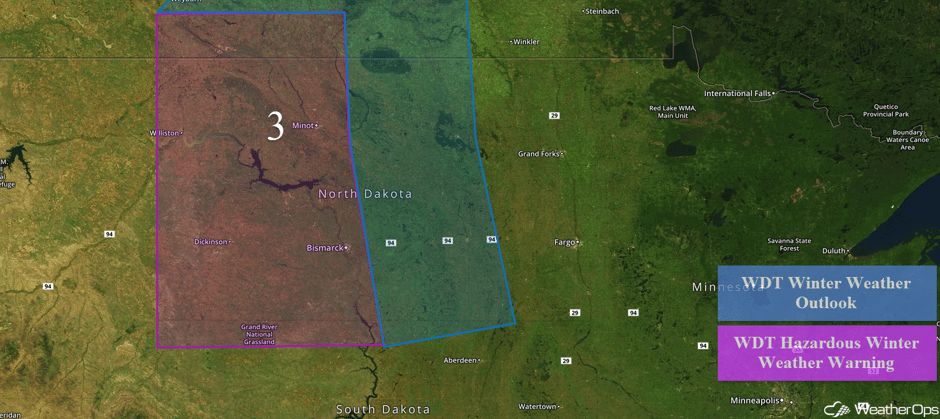 Region 3
Region 4
An intense area of low pressure is forecast to lift northeast into the region late Wednesday night into Thursday evening. This system will bring widespread and possibly heavy precipitation to Region 4. Uncertainty remains in how much cold air will remain in place ahead of the low. Snowfall accumulations of 6-12 inches can be expected. Winds of 25 mph are expected, with the combination of blowing and falling snow reducing visibilities to less than half a mile at times.
Major Cities in Region: Caribou, ME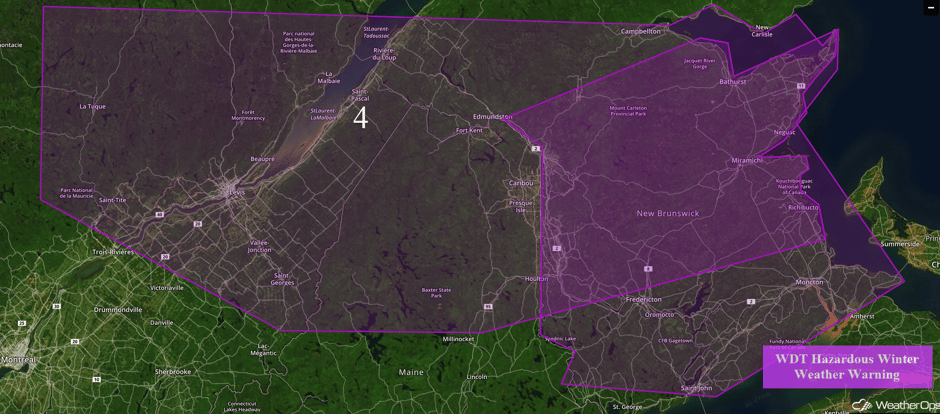 Region 4
Tropical Update
No tropical activity is expected within the next 48 hours.
A Look Ahead
A surface low will develop over Northern Mexico, which will allow moisture to spread northward. This will lead to the potential for heavy rain from portions of eastern Texas into of Georgia over the weekend. Two day rainfall totals of 2-4 inches will be possible for much of this region.
This is just a brief look at current weather hazards. We can provide you site-specific forecast information for the purpose of protecting your personnel and assets. Try a 7-day demo right away and learn how timely precision weather information can enhance your bottom line.