National Weather Summary for Wednesday, November 16, 2016
by David Moran, on Nov 16, 2016 10:20:41 AM
Moderate to heavy snow is expected across the Intermountain West for Wednesday and Thursday as an upper level low moves across the Rockies. As this low continues to move northeastward, snow will spread into portions of the Northern Plains on Thursday and into the Upper Midwest on Friday.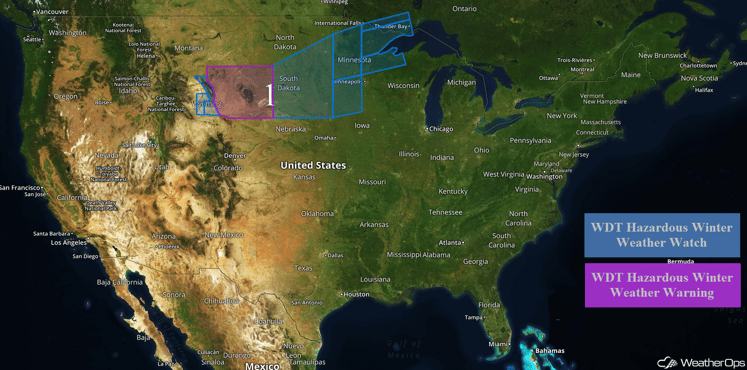 US Hazards
Region 1
The first significant winter storm of the season is forecast to impact portions of the Intermountain West late Wednesday and early Thursday. A strong upper level trough will dig into the Northern Rockies on Wednesday, leading to the development of an area of low pressure in the lee of the Rockies. Cold air will surge southward from Canada northwest of the low, while moisture wraps around from the east. Snow is forecast to develop across western portions of Montana and Wyoming by late Wednesday afternoon, then spread eastward. Widespread snowfall accumulations of 2-4 inches can be expected with locally higher amounts in excess of 6 inches possible in higher elevations.
Further to the east, snowfall accumulations could exceed one foot in the Black Hills and along the foothills of the Bighorn Mountains. As the low continues to move eastward on Thursday, snow is expected across the Dakotas, Iowa, Minnesota, and Nebraska Thursday night into Friday. Snow accumulations of of 1-3 inches with locally higher amounts in excess of 6 inches will be possible across the Dakotas. In addition to the heavy snow, sustained winds of 25-35 mph with wind gusts in excess of 40 mph will allow for blowing snow, visibilities less than two miles, and wind chills below 20°F. Into Minnesota, snowfall accumulations of 4-8 inches with isolated higher amounts in excess of 10 inches will be possible late Thursday into Friday.
By late Friday or early Saturday, snow will move across northern Wisconsin and the Upper Peninsula of Michigan where 4-7 inches and locally higher amounts in excess of 9 inches will be possible.
Major Cities in Region: Casper, WY, Rapid City, SD, Pierre, SD, Sioux Falls, SD, Fargo, ND, Duluth, MN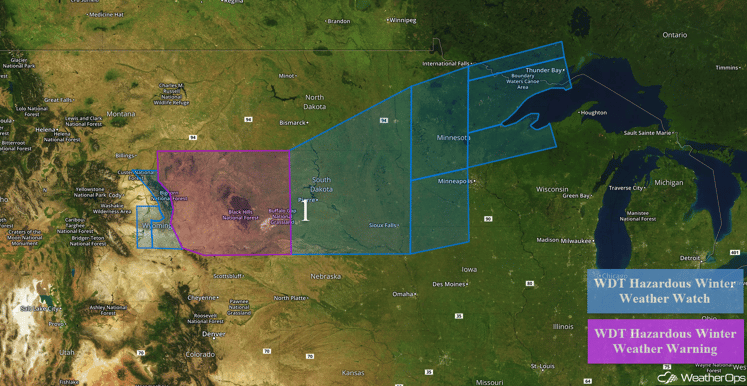 Region 1
Tropical Update
A large area of disorganized cloudiness and showers (green oval) over the southwestern Caribbean is associated with a broad area of low pressure. Environmental conditions are expected to be conducive for slow development of this disturbance during the next several days, and a tropical depression is likely to develop late this week or over the weekend.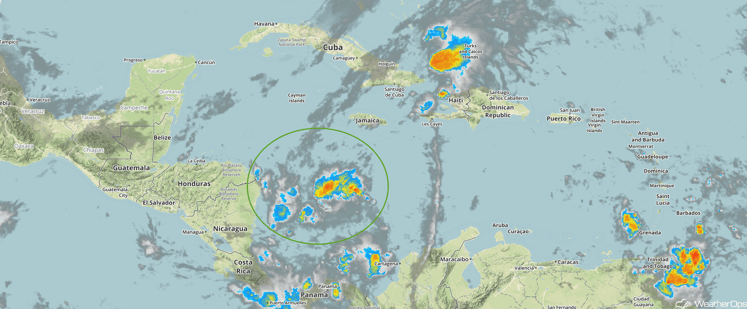 Tropical Infrared Satellite
A Look Ahead
As the area of low pressure described above continues to progress northeastward on Saturday, it will begin to weaken. A secondary low will develop off the coast of New York Saturday afternoon and strengthen. Strong northwesterly winds and cold air will begin to filter into the Great Lakes and Northeast throughout the afternoon and evening on Saturday. Given the warm waters of the Great Lakes, lake effect snow will be possible across Michigan and eastern shores of Lake Ontario and Lake Erie. Snowfall accumulations of 2-4 inches with locally higher amounts possible.
This is just a brief look at current weather hazards. We can provide you site-specific forecast information for the purpose of protecting your personnel and assets. Try a 7-day demo right away and learn how timely precision weather information can enhance your bottom line.