National Weather Summary for Wednesday, March 29, 2017
by David Moran, on Mar 29, 2017 11:12:04 AM
Severe thunderstorms will continue Wednesday for portions of the Southern Plains into the Mid and Lower Mississippi Valley as an area of low pressure lifts northeastward. An area of low pressure developing over the Southern Plains will allow for increased winds and seas throughout the day on Wednesday.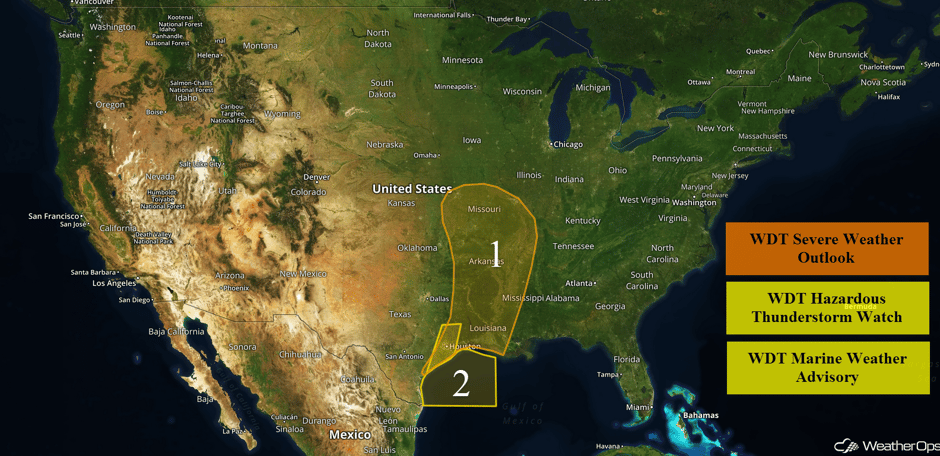 US Hazards
Region 1
As an area of low pressure lifts northeastward over the Plains, an active weather day is expected from east Texas northeastward across Louisiana, Arkansas, and Missouri. As of this morning, showers and thunderstorms are ongoing from eastern Texas into Missouri. The activity over southeast Texas is expected to persist and move across the Houston Metro through early afternoon.
Further to the north and east, current activity will dissipate by midday, allowing more intense thunderstorms this afternoon. The highest tornado threat appears to be focused across Arkansas into southern Missouri. The highest threat for severe winds and hail will be from northern Louisiana northward into central Missouri. By late evening and the overnight hours, thunderstorms will organize into squall lines resulting in the threat for severe wind gusts spreading eastward toward the Mississippi River.
Update 1:28pm CDT: Severe thunderstorm capable of producing large hail and damaging winds northeast of Texas.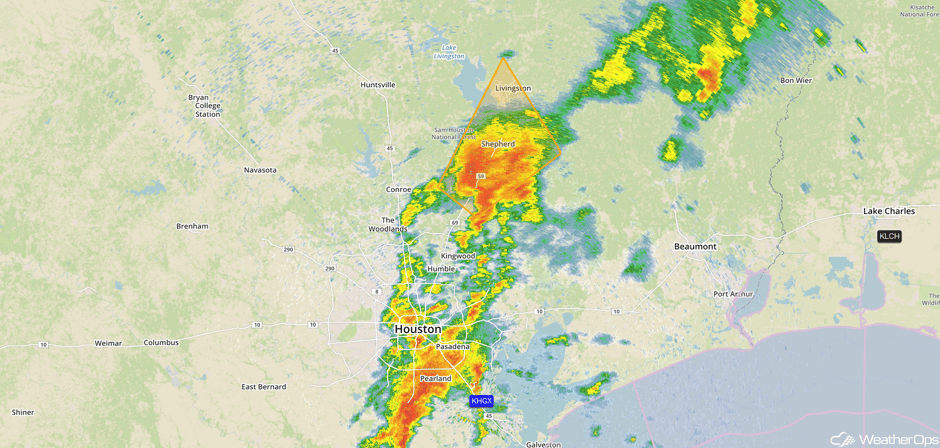 Radar 1:28pm CDT
Major Cities in Region: Houston, TX, Baton Rouge, LA, Jackson, MS, Little Rock, AR, Memphis, TN, St. Louis, MO, Kansas City, MO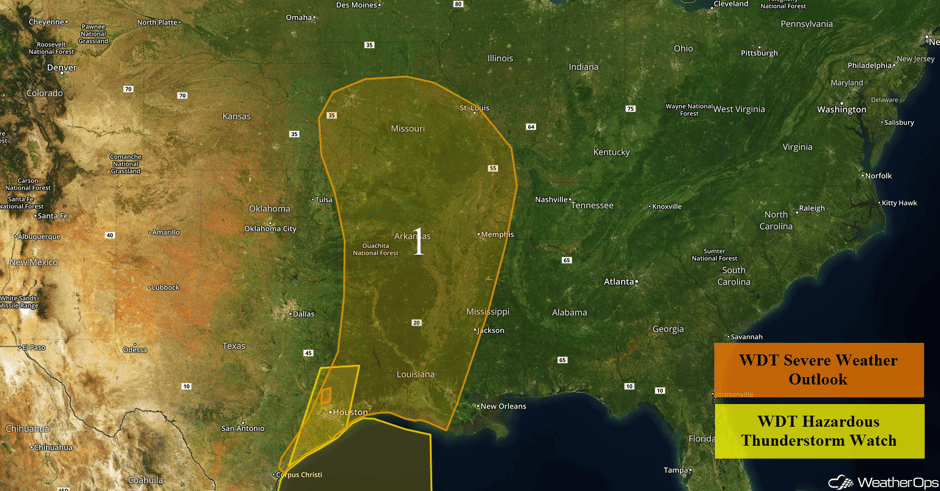 Region 1
Region 2
Winds and seas are expected to increase throughout the day in response to an intensifying area of low pressure over the Southern Plains. Southwesterly winds of 22-28 knots with gusts in excess of 35 knots are expected. Seas of 7-9 feet are expected to persist through the day before decreasing this evening.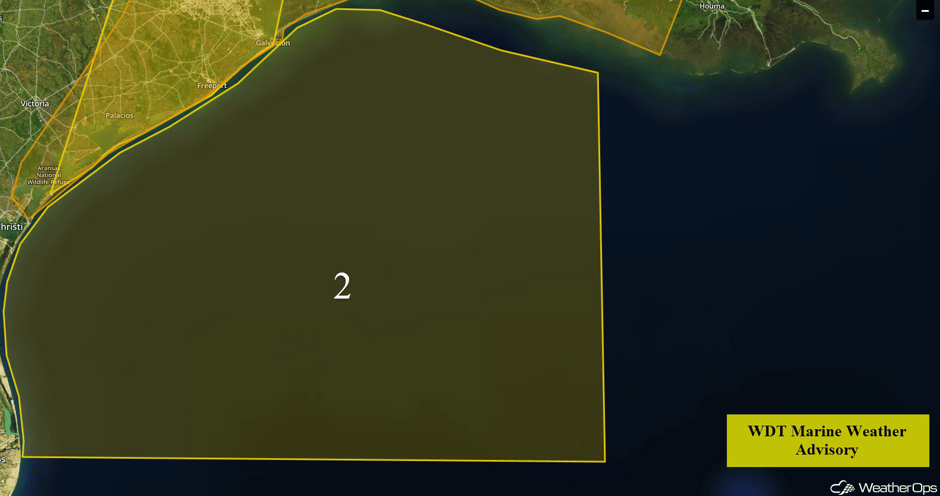 Region 2
Severe Thunderstorms Expected from Lower Mississippi Valley into the Tennessee Valley on Thursday
The severe weather threat will continue to shift eastward on Thursday as an area of low pressure and associated cold front moves across the Mississippi Valley. Morning thunderstorms will be ongoing across the Mississippi Valley from overnight activity. This activity should diminish during the late morning. Activity is expected to redevelop along and ahead of the cold front along the Mississippi River and then increase in coverage and intensity into the evening. The greatest threat for tornadoes will be from northern Mississippi into southern Illinois including the possibility of a Tennessee tornado. In addition to the possibility of strong tornadoes, large hail and damaging winds will also be possible.
Major Cities in Region: Memphis, TN, Nashville, TN, Evansville, IN, Louisville, KY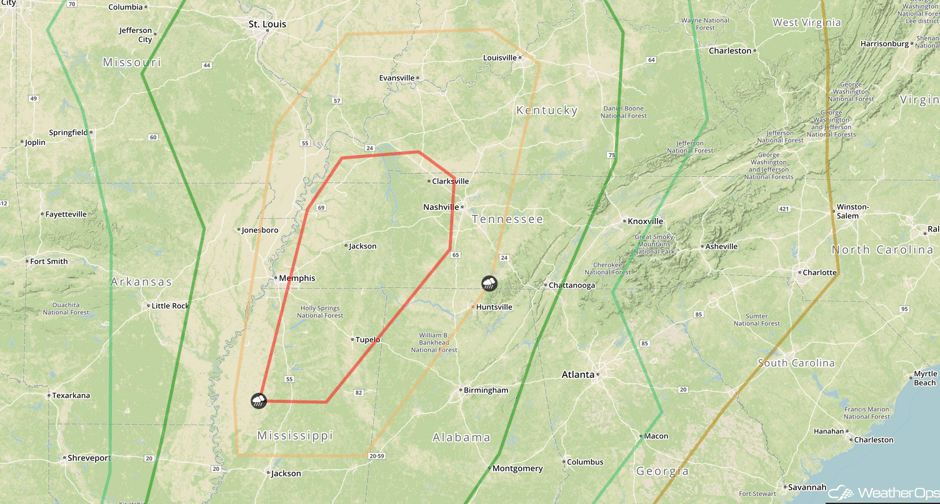 SPC Convective Outlook for Thursday
Strong to Severe Thunderstorms Possible Friday from the Mid Atlantic to the Southeast
Strong to severe thunderstorms will be possible over the Mid Atlantic southward into the coastal areas of the Southeast as an area of low pressure and associated cold front move into the region. Scattered to widespread thunderstorms will be likely for much of the day over the Mid Atlantic, where some thunderstorms may become strong or severe by the afternoon. Primary hazards will be hail and damaging winds with any storms that become severe. Isolated thunderstorms may develop along the Southeast coast during the afternoon before the cold front pushes offshore.
Major Cities in Region: Savannah, GA, Charleston, SC, Wilmington, NC, Norfolk, VA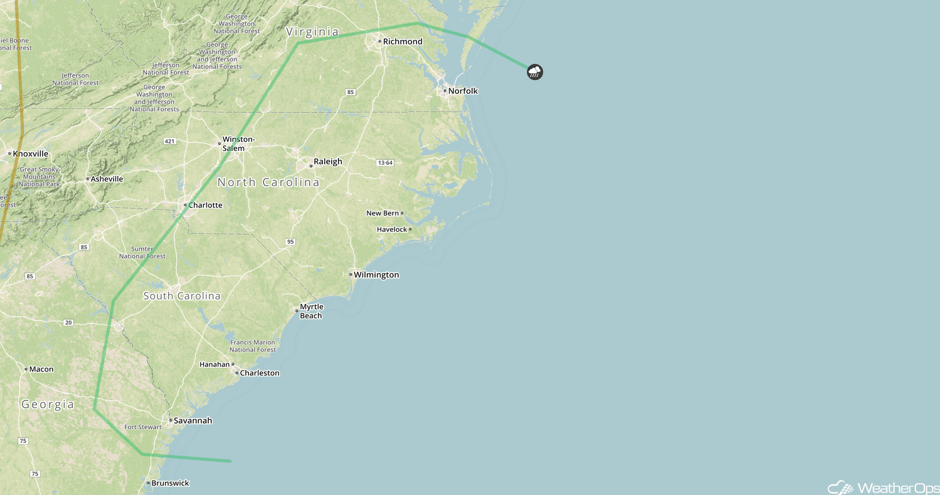 SPC Convective Outlook for Friday
A Look Ahead
Another area of low pressure moving into the Plains will bring the potential for thunderstorms across portions of the Southern Plains on Saturday. Snow is also forecast for portions of the Northeast as an area of low pressure intensifies off the coast. As the area of low pressure over the Plains intensifies, excessive rainfall is possible across the northwestern Gulf Coast on Sunday.
This is just a brief look at current weather hazards. We can provide you site-specific weather forecast information for the purpose of protecting your personnel and assets and to assess your weather risk. Try a 7-day demo right away and learn how timely precision weather information can enhance your bottom line.