National Weather Summary for Wednesday, March 1, 2017
by David Moran, on Mar 1, 2017 10:45:49 AM
Severe thunderstorms are expected for much of the eastern US on Wednesday as a cold front continues to progress eastward. This same cold front will bring elevated winds and seas to portions of the Gulf of Mexico through Wednesday. Snow is expected for portions of the Great Lakes on Wednesday as an area of low pressure progresses through the region.
US Hazards
Region 1
A strong squall line moving across the eastern US will be the focal point for severe weather today. Ongoing storms are currently severe, producing damaging winds and tornadoes. This will likely continue through the day as instability and wind shear remain strong. The strongest activity will be from Tennessee and Kentucky into the Virginias. Further south, activity is expect to develop in the Gulf Coast states during the late morning and early afternoon.
Across portions of the Northeast, some severe thunderstorms may develop. Widespread cloud cover may limit instability, however, the strongest storms will have the potential for damaging winds.
Update 12:03pm CST: Thunderstorms capable of large hail moving across northwestern Alabama.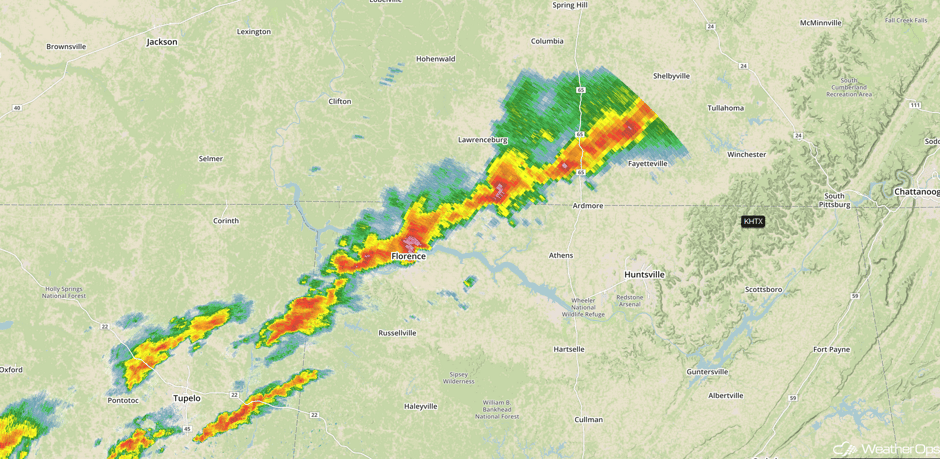 Radar 12:03pm CST
Update 12:14pm CST: Tornado Watch in effect for portions of Alabama, Georgia, Mississippi, North Carolina, and Tennessee until 6pm CST. A Tornado Warning is currently in effect in NW Alabama.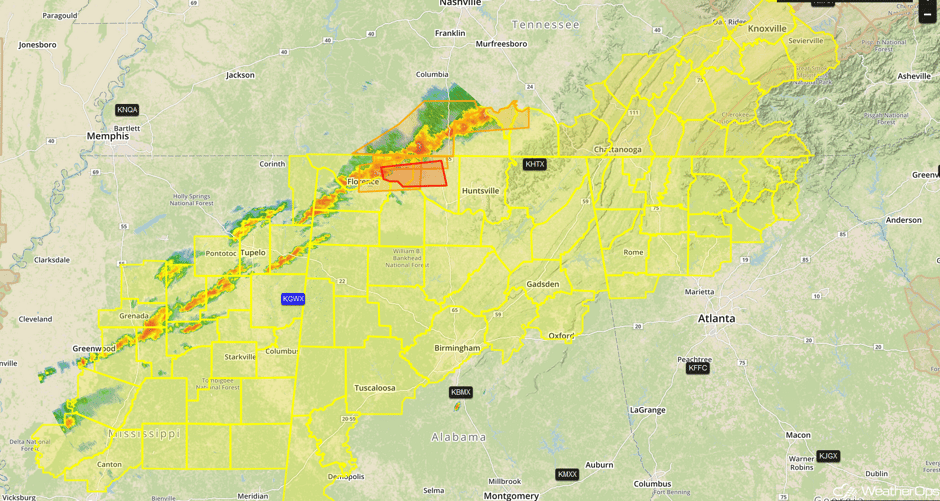 Tornado Watch
Update 1:24pm CST: Severe Thunderstorm Warning extending from eastern Tennessee southwestward into Mississippi.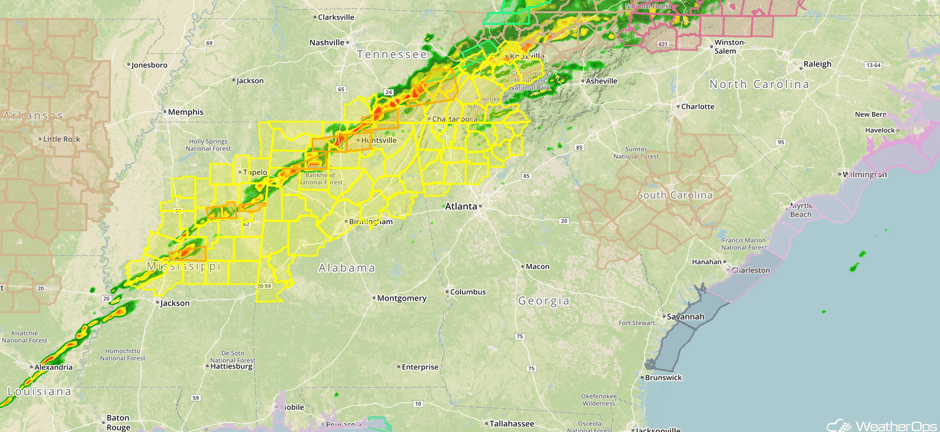 Radar 1:24pm CST
Major Cities in Region: Houston, TX, New Orleans, LA, Birmingham, AL, Tallahassee, FL, Atlanta, GA, Raleigh, NC, Washington, DC, Pittsburgh, PA, New York, NY, Boston, MA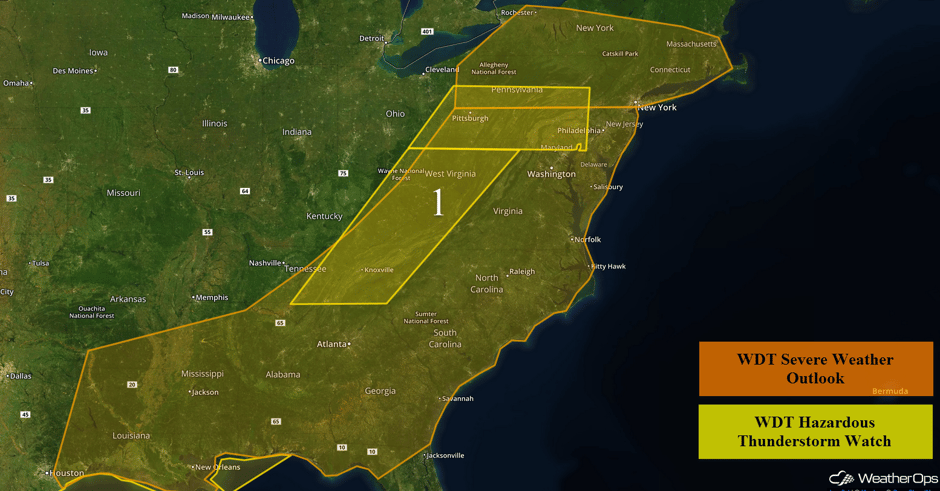 Region 1
Region 2
Snow is expected across portions of the Great Lakes during the day on Wednesday as an area of low pressure tracks through the region. Moderate to heavy snowfall will develop during the afternoon and continue into the evening. Snow accumulations of 3-6 inches are currently expected across portions of Wisconsin and 4-8 inches across the northern portions of Michigan's Lower Peninsula.
Major Cities in Region: Green Bay, WI, Traverse City, MI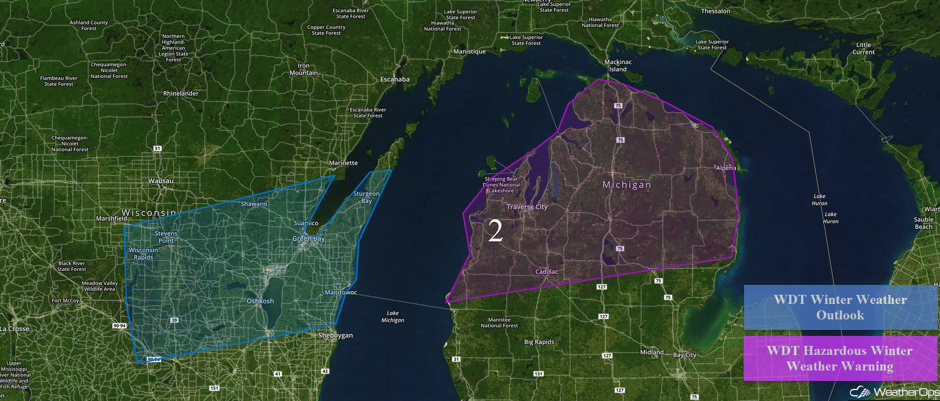 Region 2
Region 3
The cold front currently producing severe weather across portions of the eastern US will extend into the Gulf of Mexico late Wednesday afternoon. Southeasterly winds will decrease and become variable in direction before shifting to the north or north-northeast as the front passes through. In addition, scattered thunderstorms may develop along the front. Seas will build to 8-10 feet in the deep waters and 5-7 feet near the shore. Seas will relax Saturday afternoon into the evening as a ridge of high pressure builds into the region.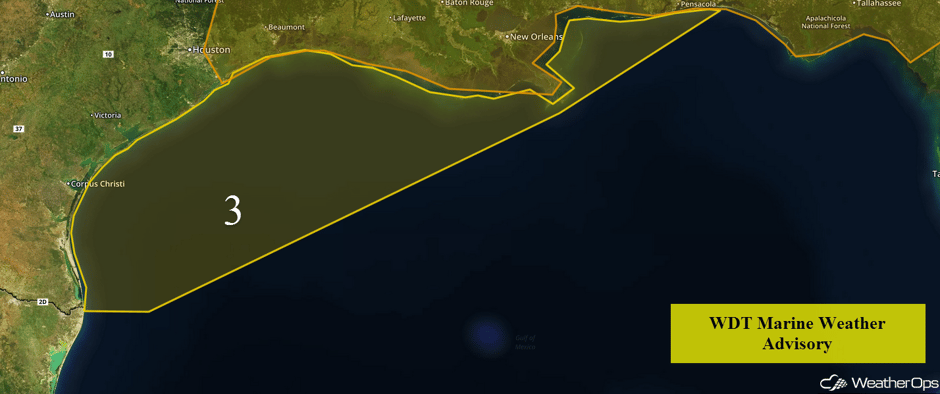 Region 3
A Look Ahead
Heavy snowfall is forecast to increase across the higher elevations of the Northwest Saturday into Sunday as a cold front moves onshore. Two day snowfall totals of 16-20 inches with locally higher amounts in excess of 24 inches will be possible.
Early next week, moisture will increase across much of the Plains. As a cold front moves across the region, thunderstorms may develop across the Plains into Lower and Mid Mississippi Valley.
This is just a brief look at current weather hazards. We can provide you site-specific weather forecast information for the purpose of protecting your personnel and assets and to assess your weather risk. Try a 7-day demo right away and learn how timely precision weather information can enhance your bottom line.