National Weather Summary for Wednesday, June 1, 2016
by David Moran, on Jun 1, 2016 11:12:57 AM
Heavy rainfall is expected on Wednesday across the Southern Plains. Strong to severe thunderstorms will be possible for portions of southern Texas, as well as portions of the Great Lakes and Midwest. The remnants of Tropical Storm Bonnie will bring heavy rainfall to portions of eastern North Carolina. Into Thursday, heavy rainfall is expected to continue across the Southern Plains with strong to severe thunderstorms possible for South Texas.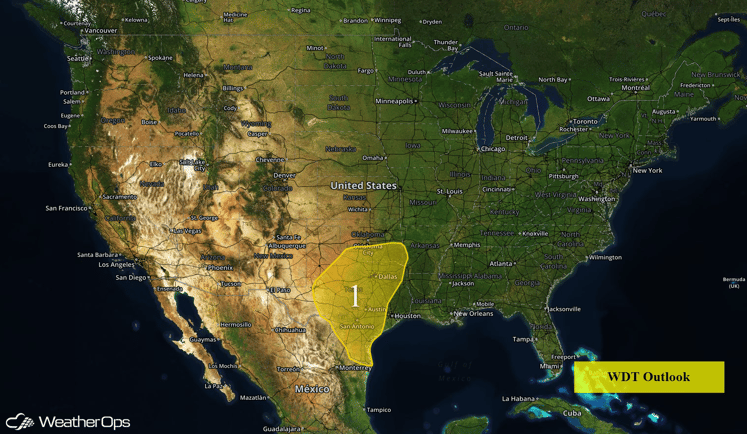 US Hazards
Region 1
An area of low pressure is forecast to move slowly eastward across Texas through the end of the week. Ahead of this low a very moist air mass will be in place across much of central, south and east Texas. As weak disturbances rotate around the low and through this warm and humid air, they will generate rounds of shower and thunderstorm activity. Rainfall rates in stronger thunderstorms may exceed two inches per hour at times during the next few days. Those rainfall rates combined with relatively slow moving storms will set the stage for potentially excessive rainfall amounts over portions of the outlook area during the next few days. A widespread 3 to 5 inches of additional rainfall is forecast across the region. However, localized amounts in excess of 10 inches over that period remain possible. Given the already saturated ground and elevated rivers and streams in much of the area, flooding and flash flooding will become an increasing concern going into Thursday and Friday.
It is important to note that while the potential for excessive rainfall is quite high, the placement and timing of the heaviest precipitation remains very difficult to determine, as it will largely be driven by the behavior of the thunderstorm activity on any given day.
The excessive rainfall threat will slowly transition eastward through the end of the week and by Saturday largely be focused along the upper and central Texas coast southwestward into South Texas. By Sunday, the heavy rain threat for all areas should be decreasing as the low continues eastward and somewhat drier air tries to filter into the region from the northwest.
Across Southern Texas, strong to severe thunderstorms will be possible on Wednesday along a weak cold front as well as residual outflow boundaries from previously existing thunderstorms in the region. Primary impacts with any thunderstorms will include damaging winds and large hail, along with frequent lightning and heavy rainfall leading to flash flooding. Additional thunderstorms are expected on Thursday, but the primary threat will be heavy to excessive rainfall, flooding, and flash flooding.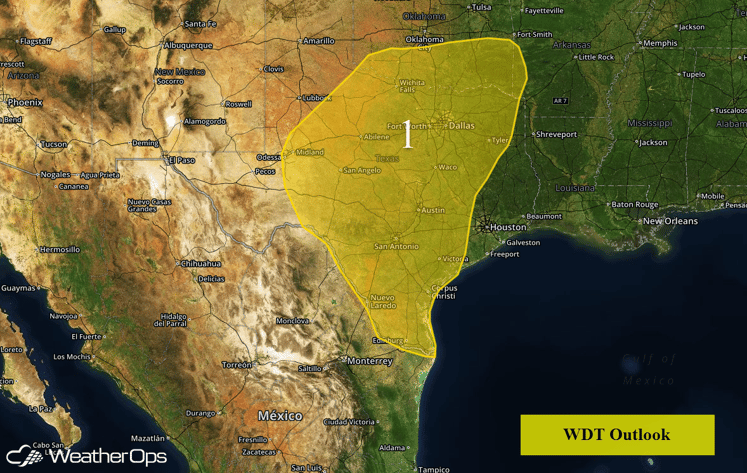 Region 1
Isolated Thunderstorms Possible for the Great Lakes and Midwest on Wednesday
Thunderstorms will be possible across portions of the Great Lakes and Midwest ahead of a cold front moving through the region. Primary impacts with any storm will be hail and damaging winds.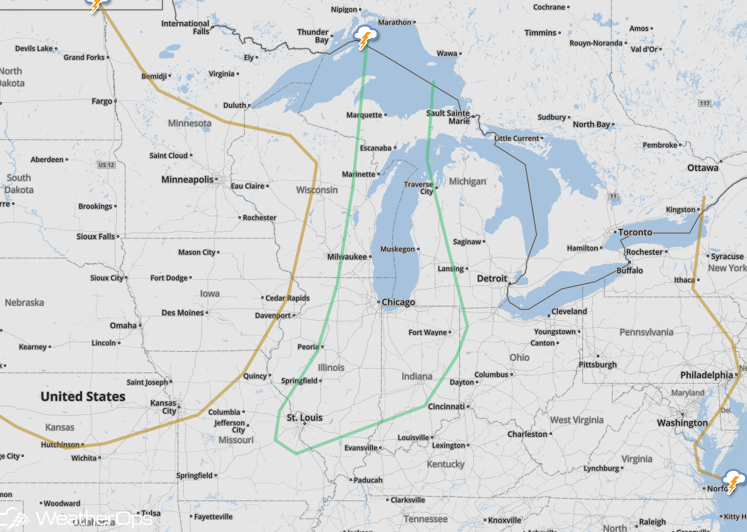 SPC Convective Outlook for Wednesday
Remnants of Bonnie to Impact Portions of Eastern North Carolina
The remnants of Tropical Storm Bonnie will linger off the coast of North Carolina, bringing heavy rain to portions of eastern North Carolina. Rainfall amounts of 1-2 inches with locally higher amounts in excess of 3 inches are possible.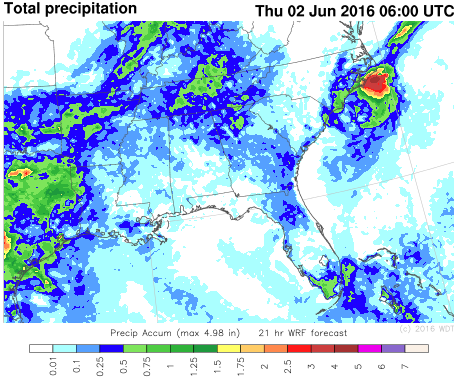 WDT WRF Total Precipitation through 2am EDT
Strong to Severe Thunderstorms Possible for Eastern Great Lakes on Friday
Across portions of Minnesota, Wisconsin, Iowa, and extending into northeastern Nebraska, strong to severe thunderstorms will be possible on Friday. Aloft, an upper level trough is forecast to sweep through the region and provide upper level support for any developing thunderstorms. Coupled with the upper level trough will be a trailing cold front and developing surface low pressure leading to building instability ahead of the front into the afternoon and evening. However, there remains a degree of uncertainty in the available moisture over the region. At this time, due to the forecast developing surface low and upper level trough, there exists the potential for strong to severe thunderstorms. Primary impacts include large hail, damaging winds, frequent lightning, and heavy rain as well as the threat for a few tornadoes.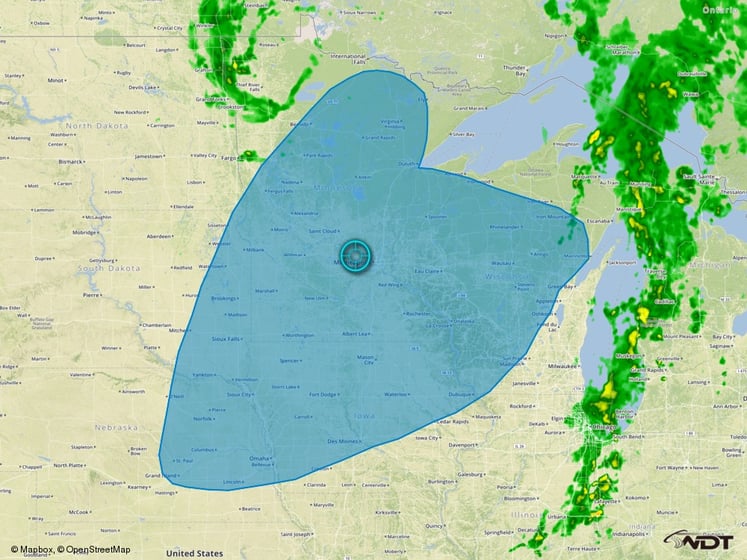 Thunderstorm Risk Outline for Friday