National Weather Summary for Wednesday, January 11, 2017
by David Moran, on Jan 11, 2017 11:03:47 AM
Heavy snow is expected to continue across portions of California through early Thursday morning. A cold front moving through the Plains on Thursday will allow for light to moderate freezing rain across portions of the Plains into the Ohio Valley beginning Friday and continuing through the weekend.
US Hazards
Region 1
Heavy snow will continue across Region 1 through early Thursday morning. Cumulative snowfall totals since Sunday of 3-7 feet are expected. While lighter snow is expected throughout the day on Thursday, the heaviest snow should wind down early Thursday morning.
Working hard to clear the snow on I-80! @CaltransDist3 #donnersummit pic.twitter.com/l8ehrKKq30

— Eileen Javora (@kcrajavora) January 11, 2017
#CAwx #CAstorm #CAflood https://t.co/Ra66MTAihL

— George Kelly (@allaboutgeorge) January 11, 2017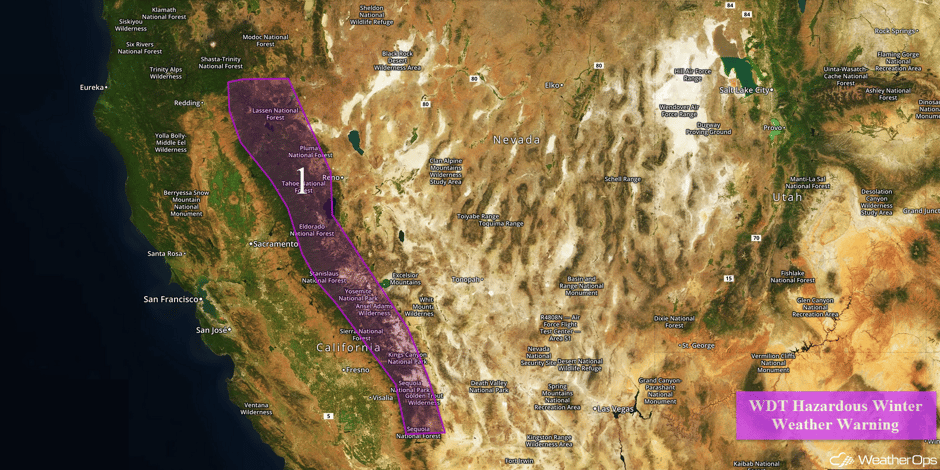 Region 1
Region 2
There will be a risk for widespread freezing rain beginning early Friday and continuing into Sunday. A cold front will move through the region on Thursday, spreading cold air that will likely remain in place through the weekend. For portions of Kansas into western and northern Oklahoma, ice accumulations between a quarter and a half an inch are forecast with locally higher amounts. Across southwestern and central Oklahoma, ice accumulations will range between a tenth and a quarter of an inch. Further east across central and southern Missouri into northern Arkansas, ice accumulations between a tenth and a quarter of an inch of ice are expected. For portions of southern Illinois, Indiana, and Ohio, as well as northern Kentucky, ice accumulations to .2 inches will be possible.
Major Cities in Region: Amarillo, TX, Dodge City, KS, Oklahoma City, OK, Wichita, KS, Topeka, KS, Kansas City, MO, Springfield, MO, St. Louis, MO, Evansville, IN, Louisville, KY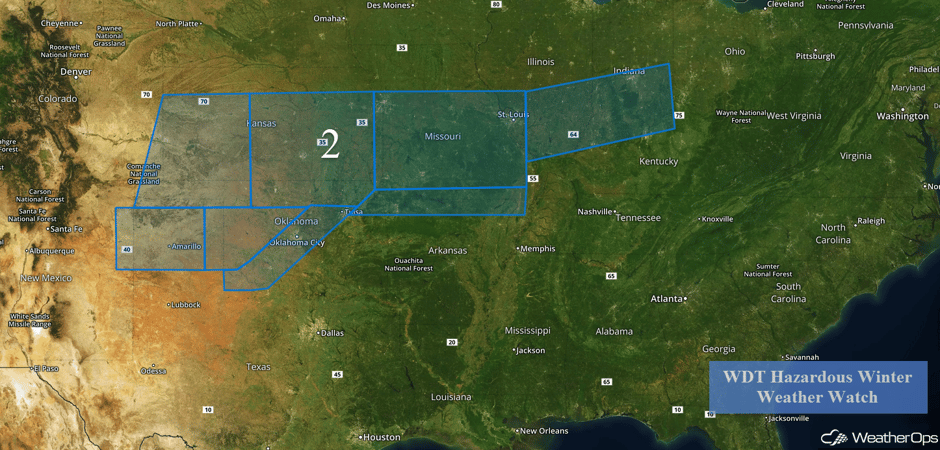 Region 2
Significant Snowfall for Portions of the Rockies on Wednesday
An area of low pressure is forecast to move over the Rockies today with an upper level trough providing support. With the available moisture in the region from the Pacific, moderate to heavy snowfall will be possible for portions of the Rockies. Snow accumulations of 6-12 inches in the higher elevations and 2-6 inches in the valleys are forecast. As a result of the snowfall, and temperatures at or near freezing, the threat of avalanches will be present over the region, especially over western Colorado.
Major Cities in Region: Reno, NV, Boise, ID, Missoula, MT, Helena, MT, Billings, MT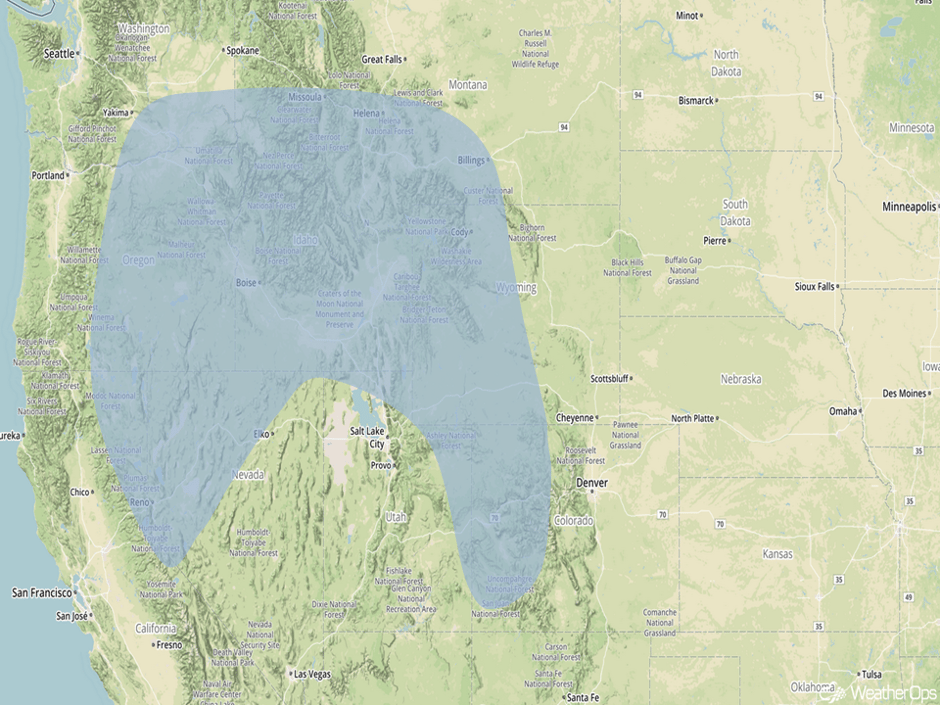 Significant Snowfall Risk Outline for Wednesday
A Look Ahead
As the area of low pressure associated with the freezing rain potential tracks northeastward on Monday, freezing rain and/or sleet will be likely from portions of the Central Plains into the Midwest. To the west of the low, moderate to heavy snow is expected where temperatures are well below freezing. This precipitation will move into the Northern Plains and Great Lakes on Tuesday.
This is just a brief look at current weather hazards. We can provide you site-specific forecast information for the purpose of protecting your personnel and assets. Try a 7-day demo right away and learn how timely precision weather information can enhance your bottom line.