National Weather Summary for Wednesday, January 10, 2018
by Chris Kerr, on Jan 10, 2018 9:52:03 AM
A powerful winter storm will begin to affect the northern and central Plains and Upper Midwest later today. Light rain will fall across portions of the Midwest and into the interior Northeast.
Heavy snowfall will develop across the Plains and spread eastward today.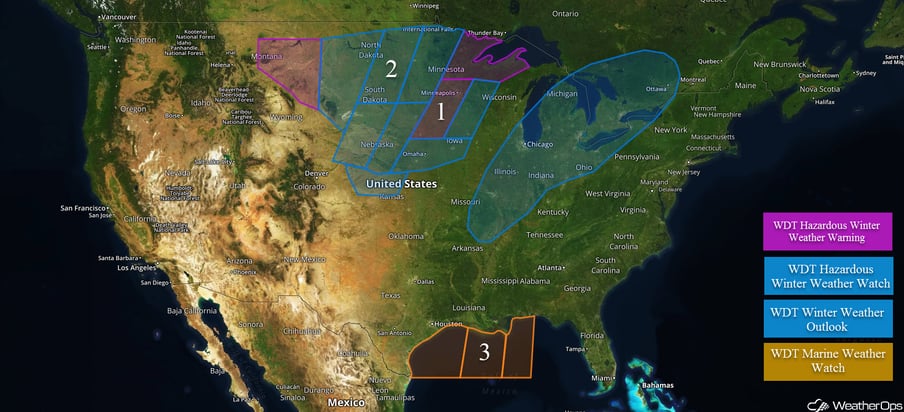 US Hazards
Heavy snowfall will develop across the Plains and spread eastward today.
A series of lows will track across the Central/Northern Plains today, with an expansive area of moderate to heavy snowfall forming along the low's frontal boundaries. Light snow will begin to fall across portions of the western Dakotas to start the day, and increase in intensity and coverage as it moves east to southeastward. Snow accumulations of a 3 to 6 inches can be expected across the threat region, with some areas possibly seeing 8+ inches where some of the heaviest bands setup. Ice accumulation will also be a threat of concern with anywhere from a trace to up to 0.10" possible along temperature transition zones. In addition to snow and ice accumulations, very strong winds will cause near-blizzard conditions across portions of this threat region, which will greatly reduce visibility.
Further south, rain showers will be possible on the warm side of the low across portions of the Southern and Central Plains. Across the southern Rockies, high elevation snowfall will continue to fall. Further west, a warm front approaching the Northwest coast will bring rain showers for today.
Major Cities in Region: Omaha, NE, Des Moines, IA, Sioux Falls, SD, Minneapolis, MN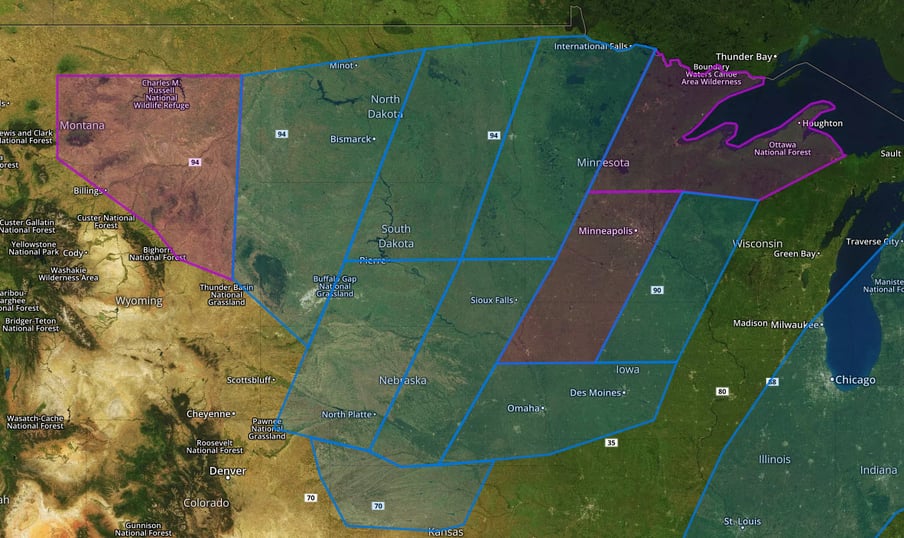 Regions 1 and 2
A Look Ahead
The winter storm affecting the Plains today and Thursday will track eastward into the Midwest/Great Lakes region on Friday and Saturday. There are some uncertainties regarding precipitation type across this region, however major impacts from both ice and snow are expected. As deep, cold air filters into the region later Friday, snow is expected to be the dominant precipitation type. Snowfall amounts in excess of 6 inches are likely, with localized amounts in excess of 8 inches possible.
The storm system mentioned above will push a powerful cold front through the Gulf of Mexico late Thursday and into Friday, allowing for winds to shift from south to north and very rough seas to build.
This is just a brief look at current weather hazards. We can provide you site-specific weather forecast information for the purpose of protecting your personnel and assets and to assess your weather risk. Try a 7-day demo right away and learn how timely precision weather information can enhance your bottom line.