National Weather Summary for Wednesday, December 28, 2016
by David Moran, on Dec 28, 2016 10:46:06 AM
Two weak areas of low pressure will bring snow to portions of the Northeast late Wednesday and Thursday. Across portions of the Southeast, thunderstorms may develop ahead of a cold front. Dense fog is forecast to persist along the Texas and Louisiana coasts through early Thursday.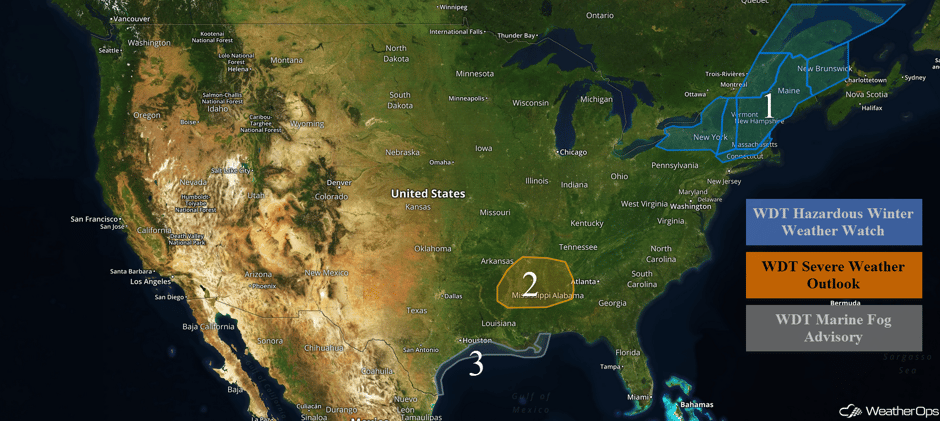 US Hazards
Region 1
Late Wednesday night into early Thursday morning two areas of low pressure will approach the region. The first will be located in the Tennessee River Valley and the second will be located in Canada. As they track eastward early Thursday morning, light to moderate snowfall will begin to overspread the region. By the early afternoon, the area of low pressure in the Tennessee Valley will redevelop off the east coast and track northeastward. As this occurs, snowfall may be heavy at times Thursday afternoon. As the low moves away from the region, snow will begin to taper off Thursday ervening, As westerly winds increase behind the system, some isolated areas of lake effect snow are expected Friday and Saturday. Snow accumulations of 3-6 inches with locally higher amounts in excess of 8 inches are forecast for portions of New York, Connecticut, and Massachusetts. In addition, winds of 10-15 mph with gusts in excess of 25 mph will allow for wind chills between 5 and 15 degrees. Across Vermont, New Hampshire, and Maine, 6-12 inches of snow with locally higher amounts in excess of 15 inches are expected through Friday afternoon. Winds of 20-25 mph with gusts in excess of 35 mph will allow for wind chills between 10 and 20 degrees
Major Cities in Region: Buffalo, NY, Rochester, NY, Syracuse, NY, Albany, NY, Boston, MA, Portland, ME, Augusta, ME, Bangor, ME, Caribou, ME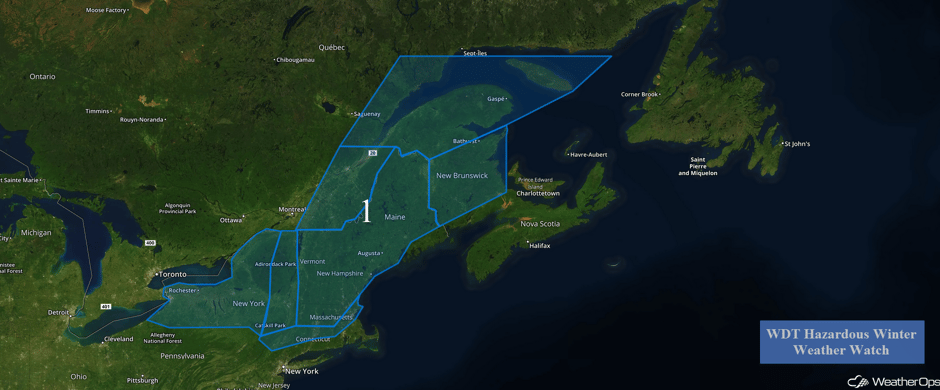 Region 1
Region 2
A cold front moving southeastward across portions of the Southeast today will allow for the development of thunderstorms, especially during the afternoon and early to mid evening time frame. Southwesterly flow ahead of the front will allow for increasing low level moisture to spread across the area. This moisture will allow instability to build and the development of severe thunderstorms. Any storms that develop will have the potential for large hail, damaging winds, and tornadoes.
Major Cities in Region: Memphis, TN, Jackson, MS, Birmingham, AL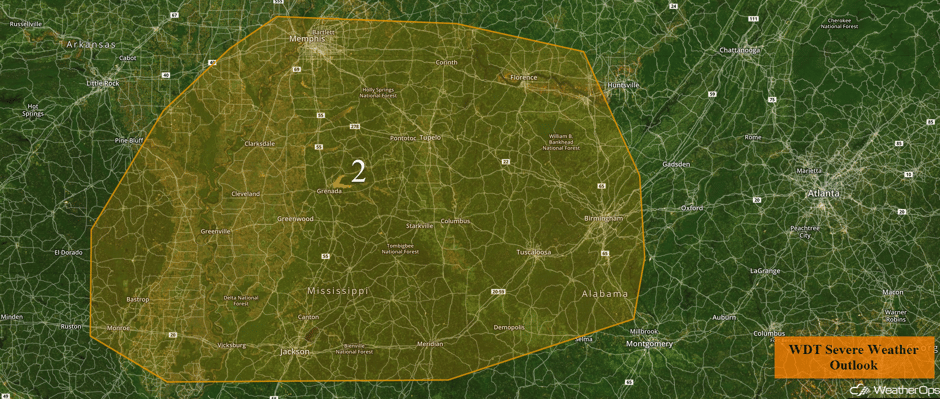 Region 2
Region 3
Conditions will remain favorable for areas of dense sea fog to develop and persist over the near shore waters of the northern Gulf through Thursday morning. The most dense fog is currently forecast to occur offshore the upper Texas and Louisiana coasts. Visibility may fall below one mile until a cold front moves offshore Thursday.

Region 3
A Look Ahead
A stationary front will be draped across the Tennessee River Valley into Oklahoma Sunday into Monday. To the south of the front, southerly flow will continue to bring heavy to excessive rainfall across the Lower Mississippi Valley and into the Southeast. Two day rainfall totals of 2-4 inches with isolated higher amounts in excess of 6 inches may allow for the potential for flooding.
This is just a brief look at current weather hazards. We can provide you site-specific forecast information for the purpose of protecting your personnel and assets. Try a 7-day demo right away and learn how timely precision weather information can enhance your bottom line.