National Weather Summary for Tuesday, September 13, 2016
by David Moran, on Sep 13, 2016 11:09:31 AM
A tropical wave will bring strong to severe thunderstorms and excessive rainfall across portions of Florida and Georgia on Tuesday. Across portions of the Intermountain West, thunderstorms will be possible ahead of an upper level trough. Excessive rainfall is expected for portions of the Southern Plains ahead of a slow moving cold front. By Thursday, an upper level trough moving through the Great Plains will allow for the development of thunderstorms across portions of the Central Plains.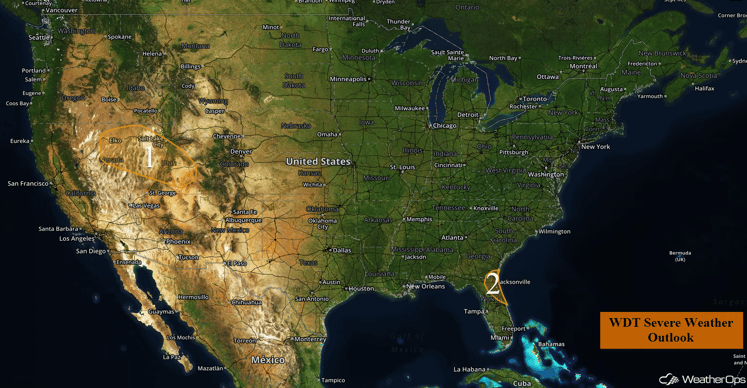 US Hazards
Region 1
An upper level trough will continue to progress slowly through the Intermountain West today bringing only marginal moisture to the region. With forcing in place combined with moderate instability from daytime heating, the development of scattered thunderstorms is expected during the afternoon and evening. A few thunderstorms may become strong to severe as the afternoon wears on, however, these stronger thunderstorms are expected to be more isolated. The primary hazards with any thunderstorm that develops will be large hail and damaging winds.
Update 1:46pm MDT: Severe thunderstorms in southern Utah capable of hail and damaging winds.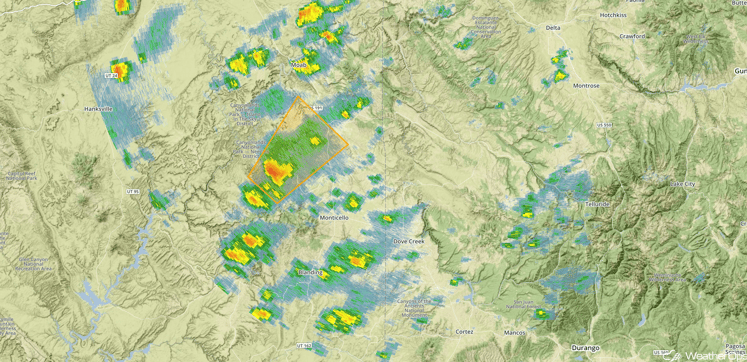 Radar 1:46pm MDT
Major Cities in Region: Elko, NV, Ely, NV, Salt Lake City, UT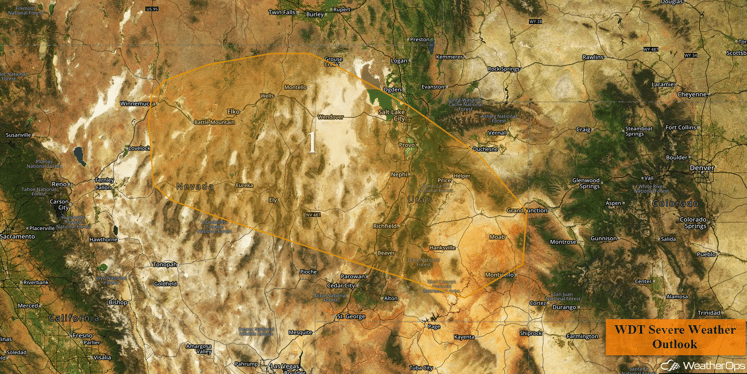 Region 1
Region 2
There will be a chance for some strong to severe thunderstorms across southern Georgia into northern Florida today in association with a tropical wave moving through the region. Showers and thunderstorms will be widely scattered during the day, with conditions becoming favorable for damaging winds and a couple tornadoes by the afternoon.
Update 2:03pm EDT: Tornado Warning south of Melbourne, Florida.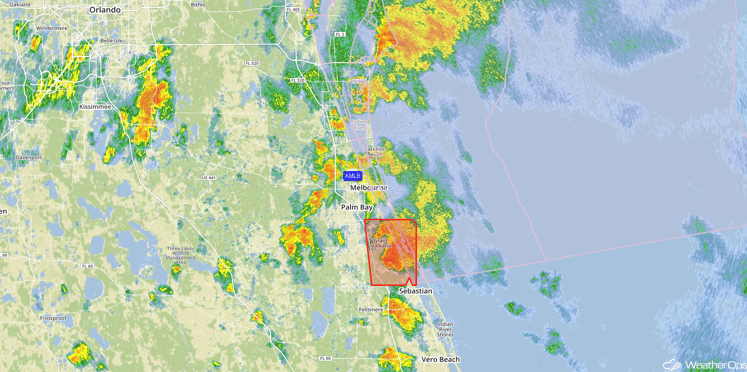 Radar 2:03pm EDT
Major Cities in Region: Brunswick, GA, Jacksonville, FL, Daytona Beach, FL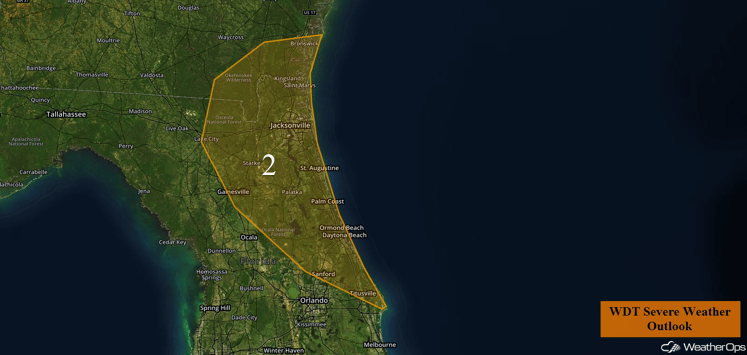 Region 2
Strong to Severe Thunderstorms Possible for the Central Plains on Thursday
On Thursday, a large upper level trough will move into the Great Plains, aiding in the development of an area of low pressure. Showers and thunderstorms are expected across much of the Central Plains during the day, with thunderstorms expected to increase in coverage and intensity during the afternoon hours. Some of this activity may become severe with the main hazard being damaging winds.
Major Cities in Region: Goodland, KS, Dodge City, KS, Grand Island, NE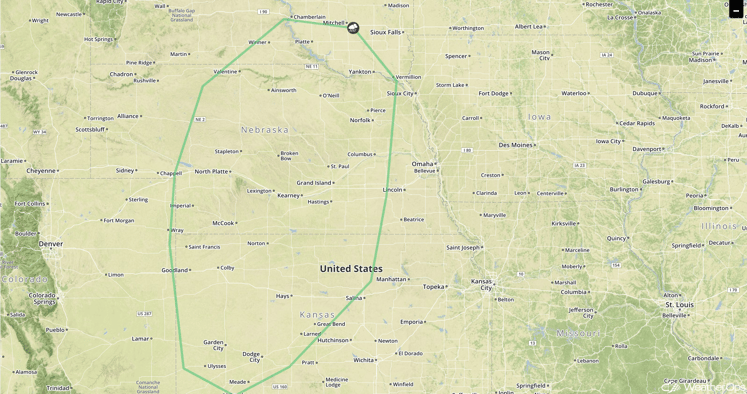 SPC Convective Outlook for Thursday
Tropical Update
Tropical Storm Ian (blue oval) is continuing to move toward the north-northwest, but will turn toward the north and north-northeast and increase in forward speed over the next 48 hours. Sustained winds are near 45 mph with higher gusts. Some slight strengthening is possible during the next couple of days.
An area of low pressure located west of Melbourne, Florida (red oval) is producing a broad area of showers and thunderstorms off the east coast of Florida and over the adjacent Atlantic waters. Significant development is not expected through Wednesday. Locally heavy rain will continue to spread over central and northern Florida today and tonight.
A broad area of low pressure (green oval) associated with a tropical wave located east-southeast of the Cabo Verde Islands is producing a large area of disorganized cloudiness and showers. Slow development of this disturbance is possible during the next several days as it moves west-northwestward over the tropical Atlantic. Regardless of development, locally heavy rains and gusty winds are possible over the Cabo Verde Islands through Wednesday.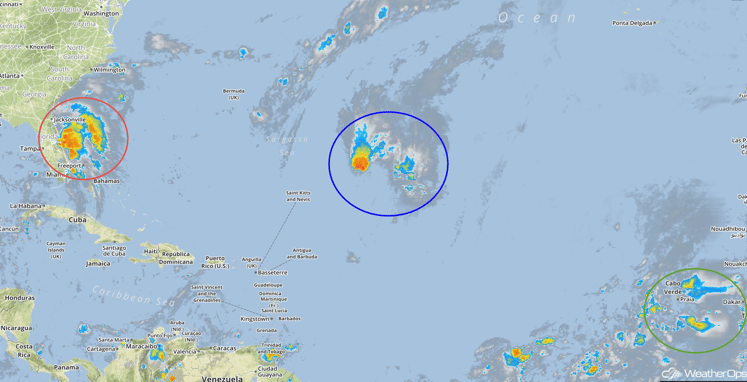 Tropical Infrared Satellite
A Look Ahead
Showers and thunderstorms will move across portions of the Midwest as well as the central and southern Plains on Friday; some storms may be strong, however, no severe weather is anticipated. By the weekend, thunderstorms will be possible ahead of a cold front extending from upstate New York into Texas. Heavy rain will be possible for portions of West Texas on Sunday and the Plains on Monday as an upper level low moves eastward out of the Rockies.
This is just a brief look at current weather hazards. We can provide you site-specific forecast information for the purpose of protecting your personnel and assets. Try a 7-day demo right away and learn how timely precision weather information can enhance your bottom line.