National Weather Summary for Tuesday, October 11, 2016
by David Moran, on Oct 11, 2016 11:20:13 AM
No hazards are currently in effect. As a cold front moves into the Southern Plains on Wednesday, strong to severe thunderstorms may develop across the Midwest. On Thursday, a large area of low pressure and Pacific moisture will move into the Pacific Northwest, allowing for the potential for heavy rainfall.
US Hazards
Strong to Severe Thunderstorms Possible Wednesday across Portions of the Midwest
Isolated strong to severe thunderstorms will be possible from portions of the Ozark Plateau into the Southern Great Lakes across ahead of a cold front. Thunderstorms will likely develop during the morning and early afternoon. Isolated instances of large hail and damaging winds will be possible with these storms.
Major Cities in Region: Springfield, MO, St. Louis, MO, Springfield, IL, South Bend, IN, Lansing, MI, Grand Rapids, MI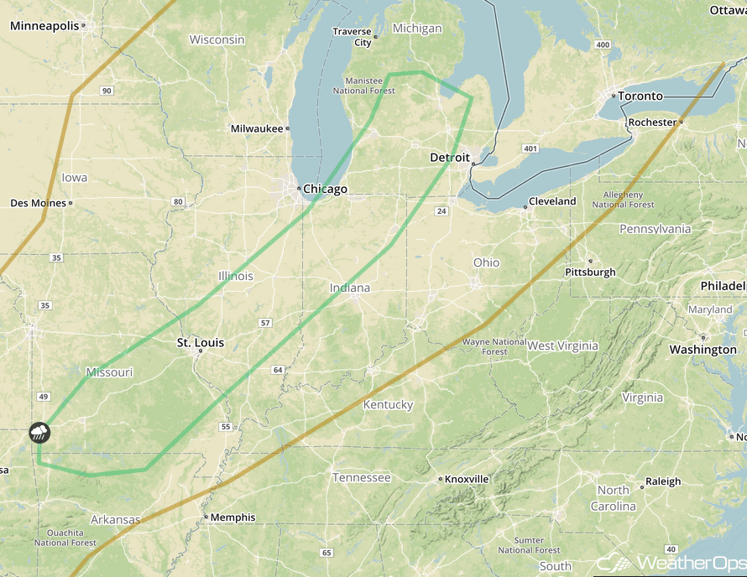 SPC Convective Outlook for Wednesday

Excessive Rainfall Possible for Portions of the Pacific Northwest on Thursday
A large area of low pressure will move into the Pacific Northwest from the west on Thursday. With plentiful moisture ahead of the system, showers will develop along the coast overnight Wednesday into Thursday and increase in coverage and intensity throughout the day into the evening. Rainfall accumulations of 1.5-3.5 inches will be common with locally higher amounts in excess of 4 inches in higher terrain where upslope flow will occur.
Major Cities in Region: Eureka, CA, Portland, OR, Seattle, WA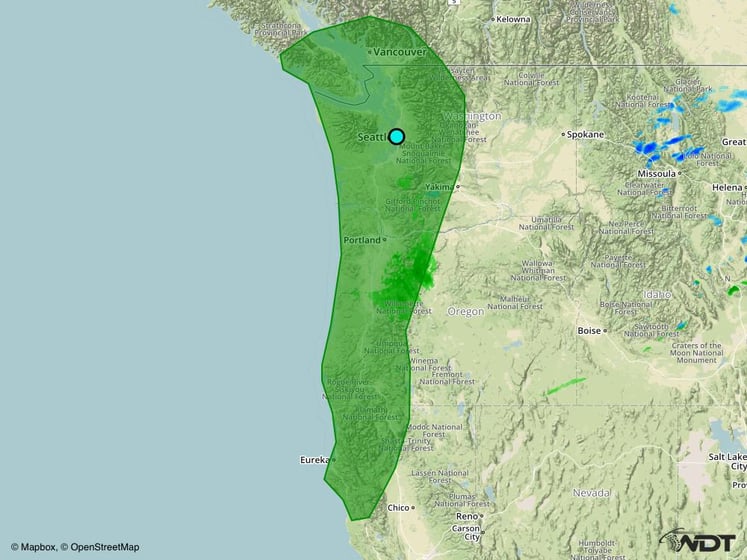 Excessive Rainfall Risk Outline for Thursday
Tropical Update
Tropical Storm Nicole (green oval) is moving toward the west-northwest at 5 miles per hour and this motion should continue throughout the day. A turn toward the north and an increase in forward speed is expected tonight before turning toward the northeast on Wednesday. On the current forecast track, the center of Nicole is expected to approach Bermuda Wednesday night and pass near Bermuda Thursday morning. Maximum sustained winds have increased to near 65 mph with higher gusts. Additional strengthening is expected during the next 48 hours and Nicole is forecast to become a hurricane later today or tonight.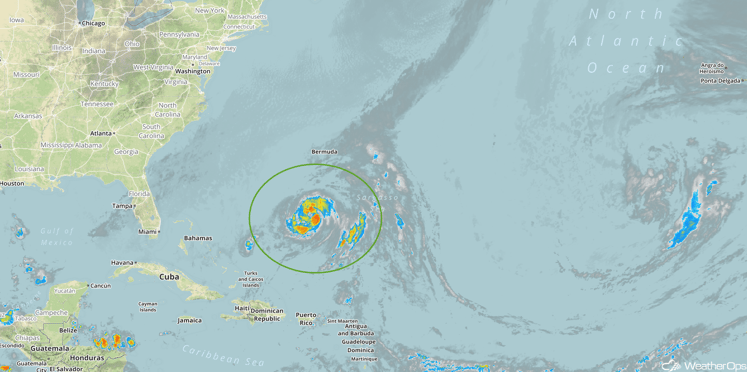 Tropical Infrared Satellite
A Look Ahead
A second and more intense area of low pressure will move into the Pacific Northwest on Saturday. Moisture should be sufficient for widespread showers across the region. Two day rainfall totals of 3-6 inches with isolated higher amounts in excess of 8 inches will be possible. With the heavy rainfall from previous days, there will be the potential for flooding.
This is just a brief look at current weather hazards. We can provide you site-specific forecast information for the purpose of protecting your personnel and assets. Try a 7-day demo right away and learn how timely precision weather information can enhance your bottom line.