National Weather Summary for Tuesday, May 24, 2016
by David Moran, on May 24, 2016 11:28:07 AM
Severe thunderstorms and heavy rain are likely on Tuesday for the Central and Southern Plains. On Wednesday, strong to severe thunderstorms will be possible from the Central Plains and into then Missouri Valley. Heavy rain is possible across the Upper Midwest on Wednesday. The risk for significant severe weather will increase again on Thursday for the Midwest and Southern Plains.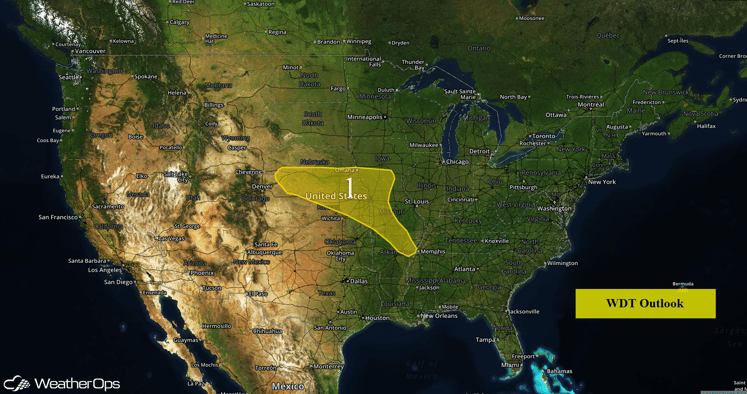 US Hazards
Region 1
Severe thunderstorms that formed late Monday and early Tuesday morning in northern Kansas will move east and southeast this morning, bringing heavy rainfall to the region. Later in the day, storms will develop again across Region 1. These storms will consolidate into clusters overnight and move to the east and southeast, adding to rainfall from this morning's storms. Rainfall totals of 1-2 inches with locally higher amounts in excess of 3 inches possible.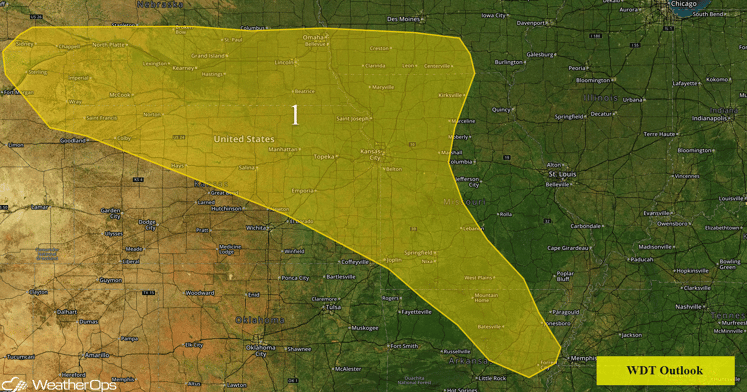 Region 1
Severe Thunderstorms Likely for Central and Southern Plains
Southwesterly flow aloft ahead of a slow-moving upper low over the Southwest will keep a surface low anchored in the lee of the Rockies. Southerly flow ahead of the trough will allow for a rich supply of warm moist air, leading to the potential for strong to severe thunderstorms. Strong to severe thunderstorms are expected to develop during the afternoon in eastern Colorado and western Nebraska as a weak upper level impulse moves over the region. Storm development will also be possible in the Texas Panhandle and western Oklahoma ahead of a dryline. Large hail will be the primary threat, with hail in excess of 3 inches in diameter possible in the strongest storms. Other impacts include wind gusts in excess of 70 mph, heavy rain, and frequent lightning. Isolated tornadoes will also be possible. Activity should continue into the night time hours as thunderstorms consolidate into clusters and move into eastern parts of Nebraska, Kansas, and Oklahoma.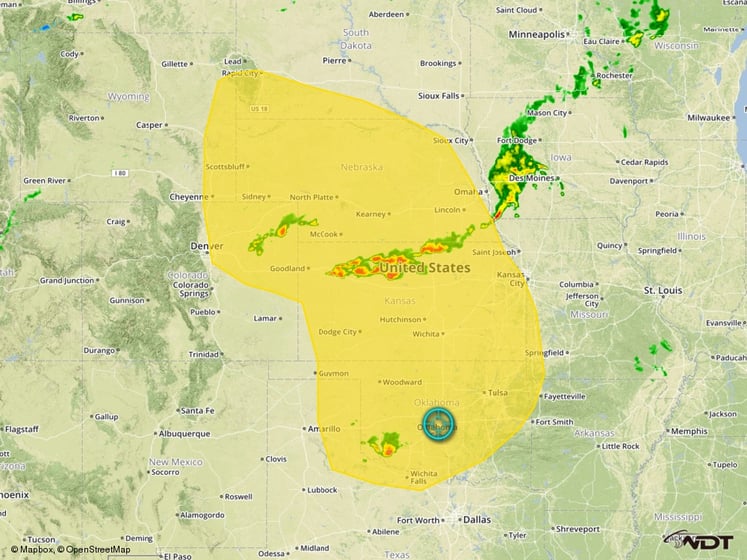 Severe Thunderstorm Risk Outline
Strong to Severe Thunderstorms Possible for Portions of the Central Plains and Missouri Valley on Wednesday
More severe weather is expected on Wednesday, but shifted slightly northward and eastward across the Central Plains and Missouri Valley. A weak impulse will move over the region from the main upper low approaching from the southwest. At the same time, a low in Western Kansas will increase the northward movement of warm moist air to the east. Thunderstorms will form as the impulse moves across the region. Primary threats will be large hail and damaging winds, but an isolated tornado cannot be ruled out. These storms will move eastward during the evening hours into eastern Kansas, Iowa, and Missouri .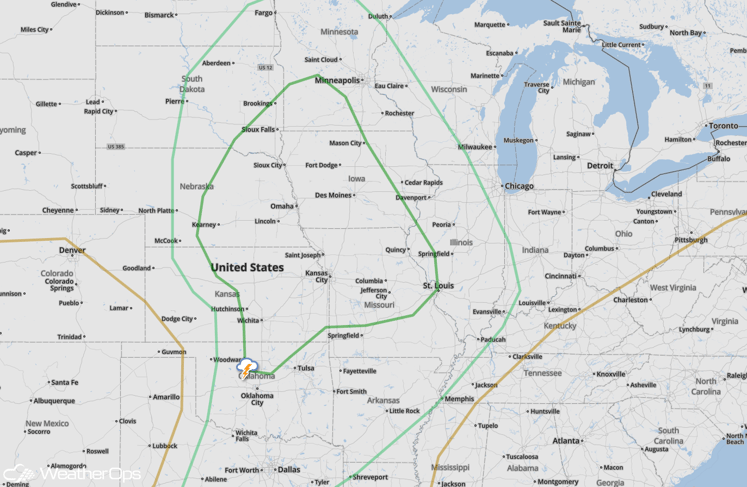 SPC Convective Outlook for Wednesday
Heavy Rainfall Possible for Upper Midwest on Wednesday
Heavy rainfall will once again be a threat as a surface low in western Kansas moves to the northeast. Rainfall totals of 1-2 inches with locally heavier amounts in excess of 3 inches will be possible in eastern parts of Iowa and Minnesota, western Wisconsin and northern Illinois. These rainfall totals will be reached mainly in the evening and overnight hours as storms move into the region from the west and southwest.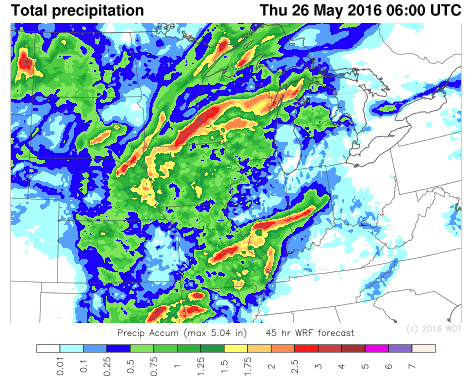 WDT WRF Total Precipitation through 1am CDT Thursday
Severe Thunderstorms Expected Across the Midwest and Southern Plains on Thursday
The risk for significant severe weather will increase Thursday as an upper-level trough over the western CONUS moves closer to the central and southern Plains. The unstable airmass over the region will remain in place, and once again thunderstorms will form as daytime heating causes strong low-level instability to develop throughout the region. Activity will form just northeast of the surface low from eastern and central Nebraska into northwestern Kansas, and southward from the low along a well-developed dryline. The main threat from these storms will be very large hail and damaging thunderstorm wind gusts. The tornado threat will be moderate as well, with more favorable wind shear profiles expected over the area.
As in previous days, heavy rainfall will again be a threat especially later in the evening as storms consolidate into large storm clusters and move eastward. Rainfall totals of 2-3 inches with local amounts in excess of 4 inches will be possible within the region, especially in Central Texas and eastern Nebraska, northeast Kansas, southwest Iowa, and Northwest Missouri.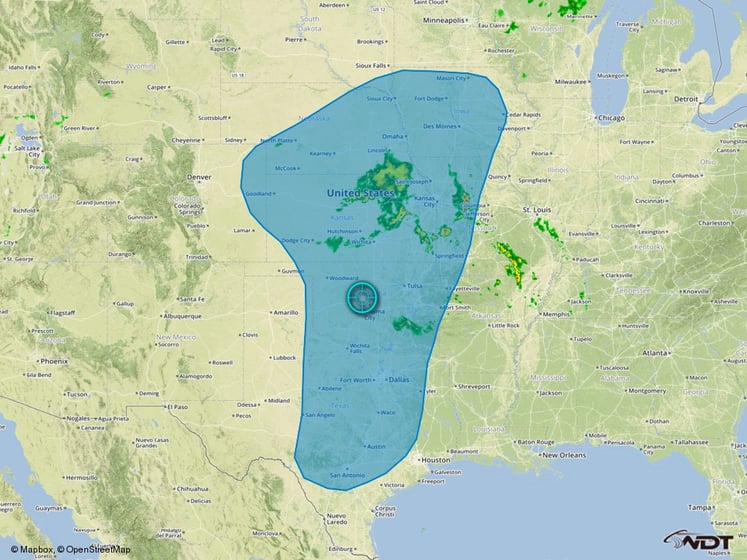 Thursday Severe Thunderstorm Risk Outline