National Weather Summary for Tuesday, March 21, 2017
by David Moran, on Mar 21, 2017 10:36:27 AM
Thunderstorms are expected to develop on Tuesday across the Tennessee Valley ahead of a cold front. Another cold front moving onto the West Coast will be the focus for thunderstorms across portions of California during the day on Tuesday.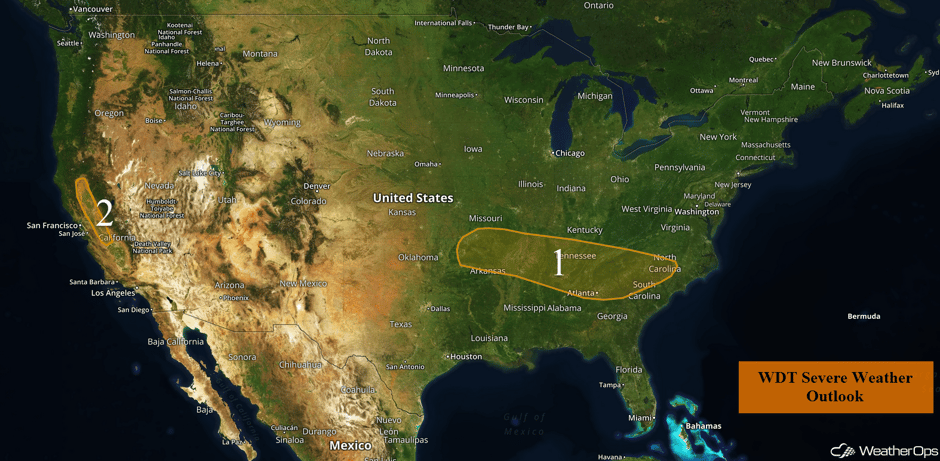 US Hazards
Region 1
A cold front is currently located across the northern Tennessee River Valley and extends westward into the Ozarks and northeastern Oklahoma. Early morning thunderstorm activity along southern Missouri and eastern Oklahoma has already begun to develop as strong to severe thunderstorms continue to track eastward. The primary threat with any of these thunderstorms will be large hail. To the south of the cold front, southerly winds will bring warm moist air into the region. With this warm air in place, instability will increase throughout the day. This will lead to the further intensification of ongoing activity during the afternoon and early evening. A line of thunderstorms will develop and move across Tennessee and the Southeast. Large hail and damaging winds will be the primary hazards with this activity.
Update 10:43am CDT: Severe thunderstorms capable of large hail have developed across southwestern Missouri.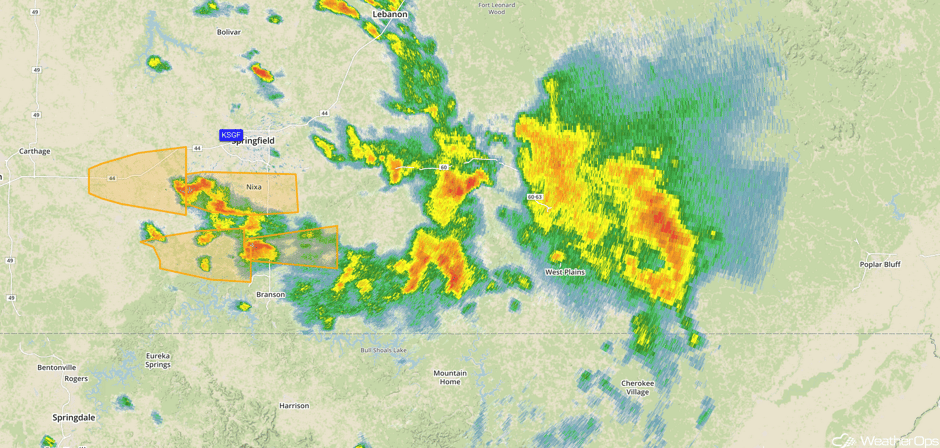 Radar 10:43am CDT
Update 11:39am CDT: Severe thunderstorm capable of producing large hail southwest of Jefferson City, MO.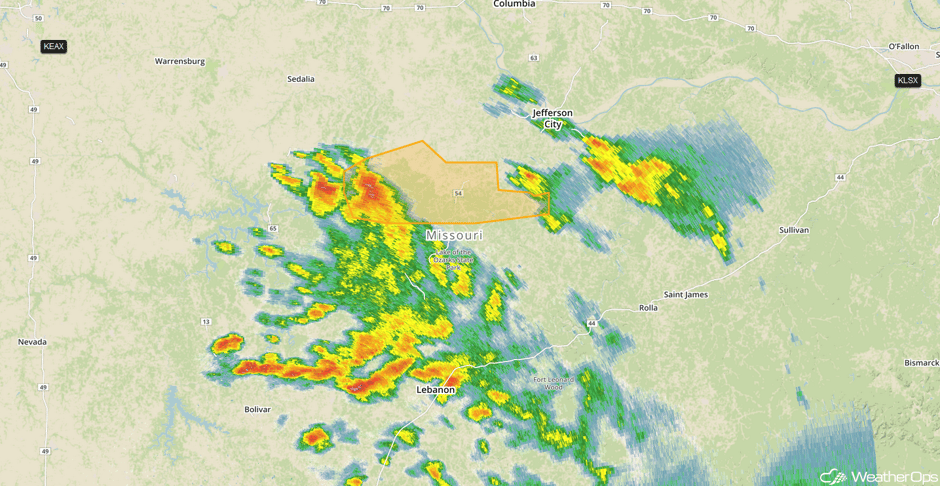 Radar 11:39am CDT
Update 11:46am CDT: Severe thunderstorms producing large hail west of Lebanon, MO.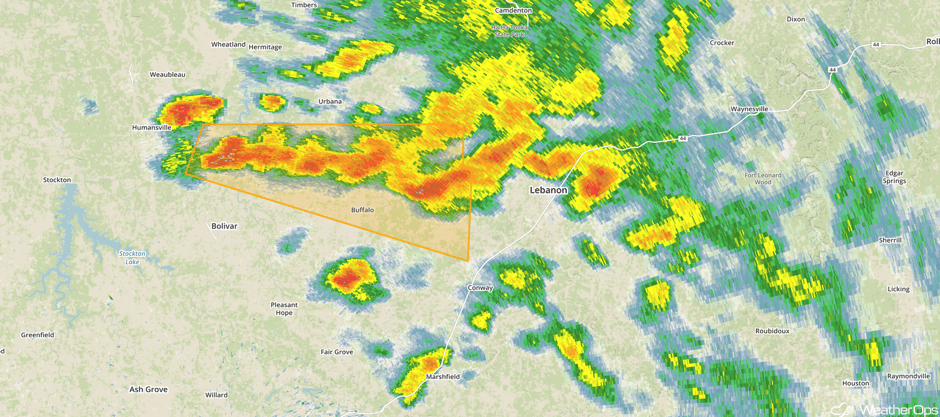 Radar 11:46am CDT
Major Cities in Region: Fort Smith, AR, Springfield, MO, Memphis, TN, Nashville, TN, Chattanooga, TN, Knoxville, TN, Atlanta, GA, Charlotte, NC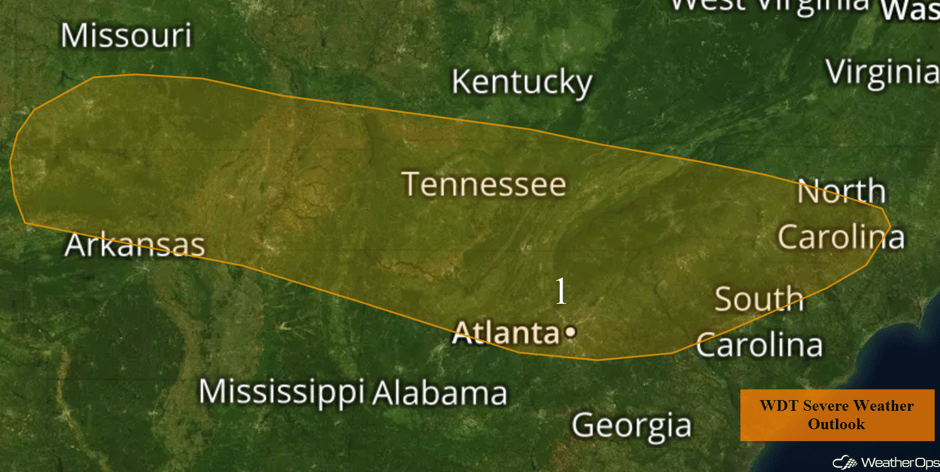 Region 1
Region 2
A cold front will make its way into California bringing scattered showers and thunderstorms into the region. With warm moist air and instability in place, thunderstorms are expected to increase in coverage and intensity throughout the afternoon. Some of these storms will become strong to severe in nature. Large hail and damaging winds will be the primary hazards with these storms, but an isolated tornado cannot be ruled out.
Major Cities in Region: Sacramento, CA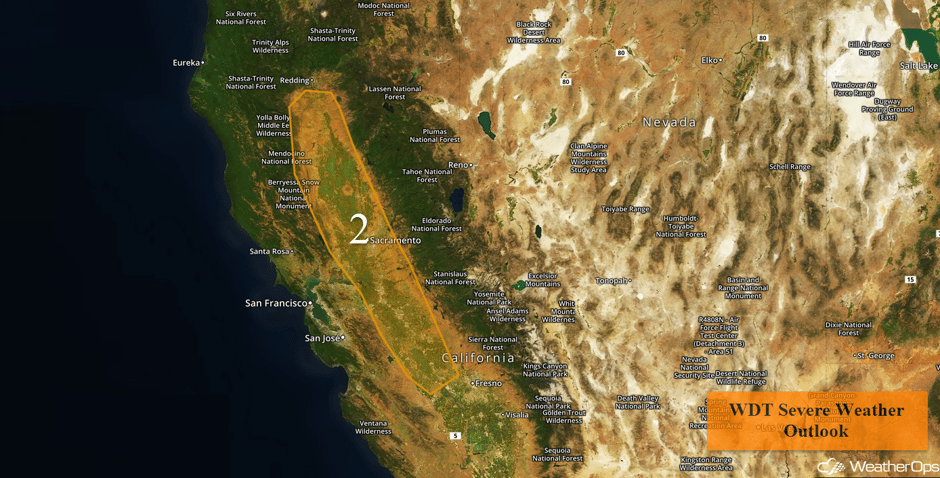 Region 2
A Look Ahead
A strong upper level trough will continue to progress eastward into the central US on Friday, bringing the potential for thunderstorms for portions of the Southern Plains into the Lower Mississippi Valley. Large hail, damaging winds, and tornadoes will all be potential hazards with these storms. Further north, some freezing rain may develop across portions of the Great Lakes to the north of a warm front. Snow may also develop across portions of the Rockies.
Another Pacific low may bring heavy rain to portions of northern California and the Sierra Nevadas on Friday. Rainfall amounts could be in excess of 2 inches in some areas.
Into Saturday, thunderstorms may develop across the Southeast as a cold front continues to move eastward. Large hail, damaging winds, and tornadoes will be possible with these storms.
An area of low pressure will bring the potential for a wintry mix of precipitation to portions of the Great Lakes and Northeast Sunday into Monday. Amounts are uncertain at this time, however, later forecasts will provide more exact details.
This is just a brief look at current weather hazards. We can provide you site-specific weather forecast information for the purpose of protecting your personnel and assets and to assess your weather risk. Try a 7-day demo right away and learn how timely precision weather information can enhance your bottom line.