National Weather Summary for Tuesday, January 10, 2017
by David Moran, on Jan 10, 2017 11:19:32 AM
An area of low pressure approaching the West Coast will bring heavy snow to portions of California and Oregon on Tuesday. Snow will continue through Wednesday morning across the Great Lakes and Northeast as an area of low pressure moves to the north of the region. Strong winds and rough seas are expected across the northwestern Gulf of Mexico as a cold front moves eastward.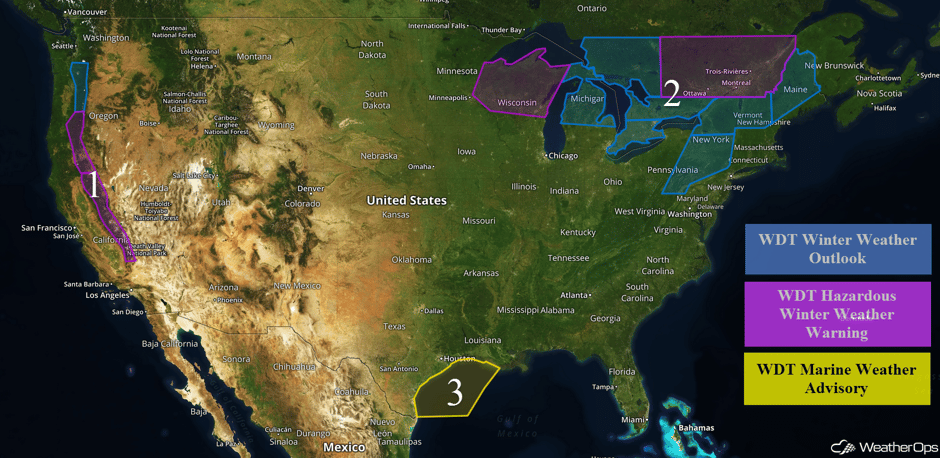 US Hazards
Region 1
A strong area of low pressure will continue to bring moderate to heavy snowfall across the higher elevations of California, Oregon, and Washington through Thursday. Snowfall totals of 3-7 feet are forecast in the higher elevations of California. Further to the north across the southern Cascades, snowfall amounts of 3-6 inches are forecast for elevations between 3,000 and 5,000 feet. Above 5,000 feet, snowfall totals in excess of 2 feet are possible. For areas of southern Washington and northern Oregon, snow accumulations of 3-6 inches with locally higher amounts in excess of 8 inches are forecast below 4,000 feet. Above 4,000 feet, snowfall amounts in excess of a foot are expected. In addition, winds of 15-25 mph will allow for visibilities of less than a mile and wind chills between 0 and 10 F.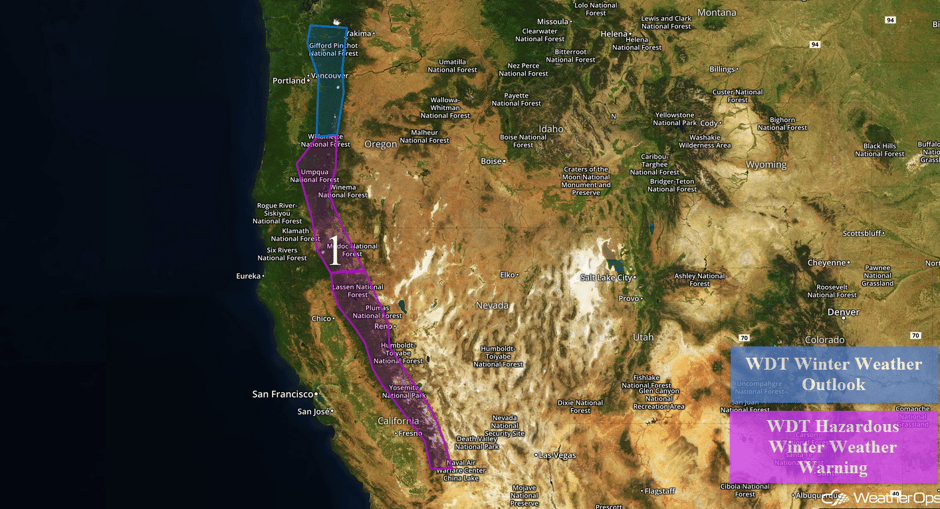 Region 1
Region 2
Snow will continue across the Great Lakes on Tuesday as an area of low pressure moves through the area. Snowfall accumulations of 4-6 inches with isolated higher amounts in excess of 8 inches are expected across portions of Wisconsin. Further to the east across Michigan, 3-5 inches of snow with isolated higher amounts in excess of 6 inches are forecast. As the area of low pressure continues to move eastward, snow and light freezing rain is possible from Maryland northward into Pennsylvania and New York. From northern New York eastward into Vermont and New Hampshire, 3-6 inches of snow in addition to up to a tenth of an inch of ice are expected through early Wednesday. Into Maine, 2-4 inches of snow will be possible.
3" at NWS LSE so far. How much have you had?#mnwx #iawx #wiwx Latest totals:https://t.co/xWpVARbLRq pic.twitter.com/fWWLCD3xqK

— NWS La Crosse (@NWSLaCrosse) January 10, 2017
And then there's this on I-35 near Owatonna. Slow down and be safe if you MUST be out today. #mnwx #wiwx https://t.co/3W9T7GhvZN

— NWS Twin Cities (@NWSTwinCities) January 10, 2017
Update 2:43pm CST: Rain changing to snow across Wisconsin.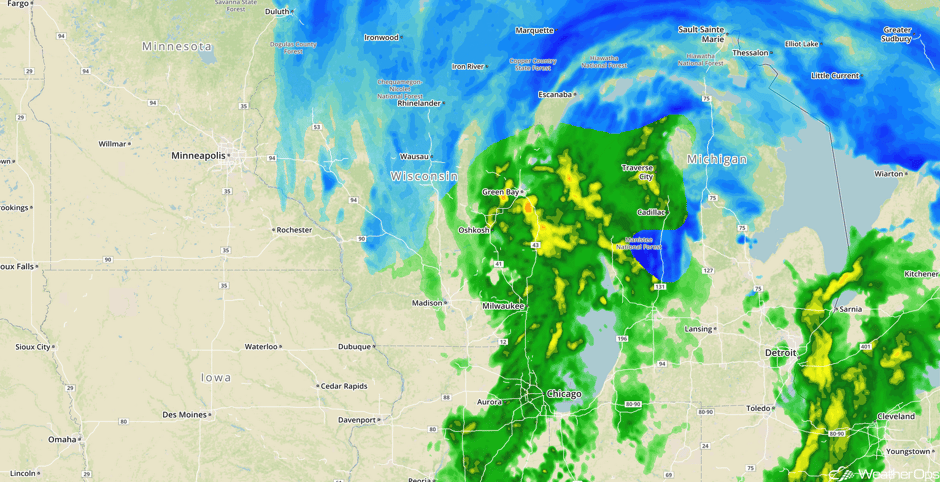 Radar 2:43pm CST
Major Cities in Region: Green Bay, WI, Traverse City, WI, Detroit, MI, Syracuse, NY, Augusta, ME, Bangor, ME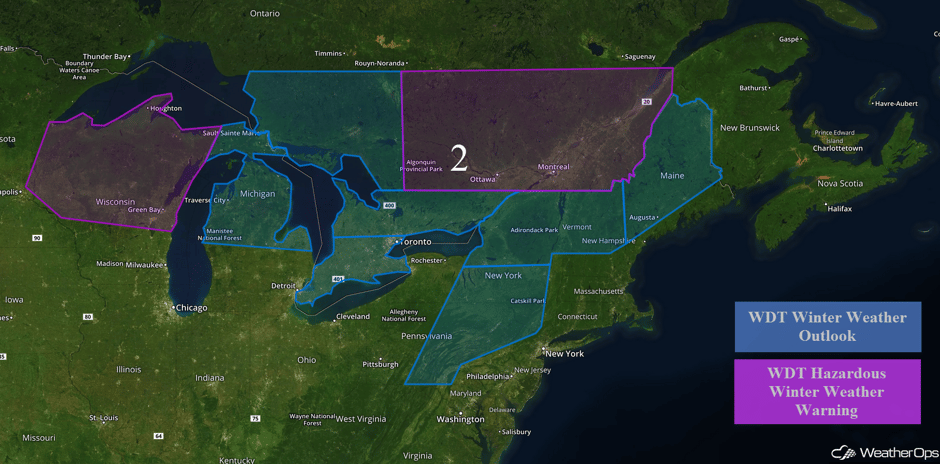 Region 2
Region 3
A cold front associated with an area of low pressure moving toward the Great Lakes will stall across Texas and Arkansas. With strong high pressure in the western Gulf of Mexico, winds will increase across Region 3 to 20-30 knots with gusts in excess of 40 knots. In addition to the enhanced winds, seas will build to 7-10 feet. These conditions will continue through early Tuesday evening.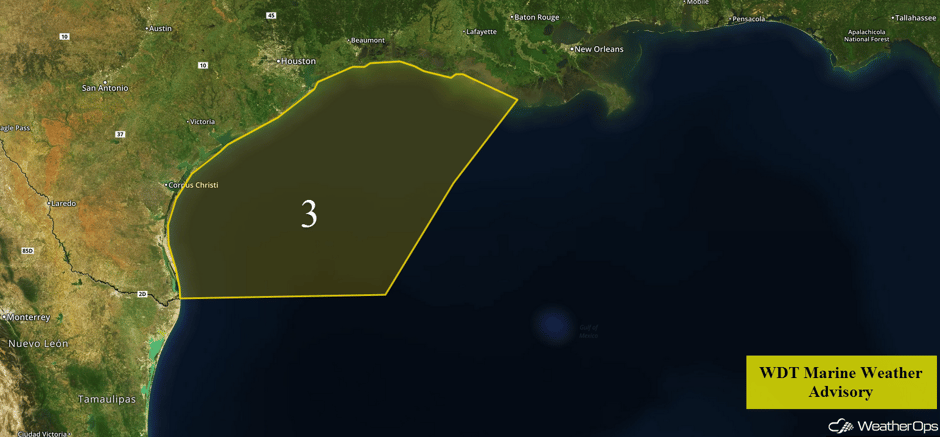 Region 3
Excessive Rainfall for Northern California on Tuesday
Heavy to excessive rainfall is forecast to continue across Northern California on Tuesday. Rainfall amounts of 2-4 inches with isolated higher amounts in excess of 5 inches are forecast.
Major Cities in Region: Eureka, CA, San Francisco, CA, Sacramento, CA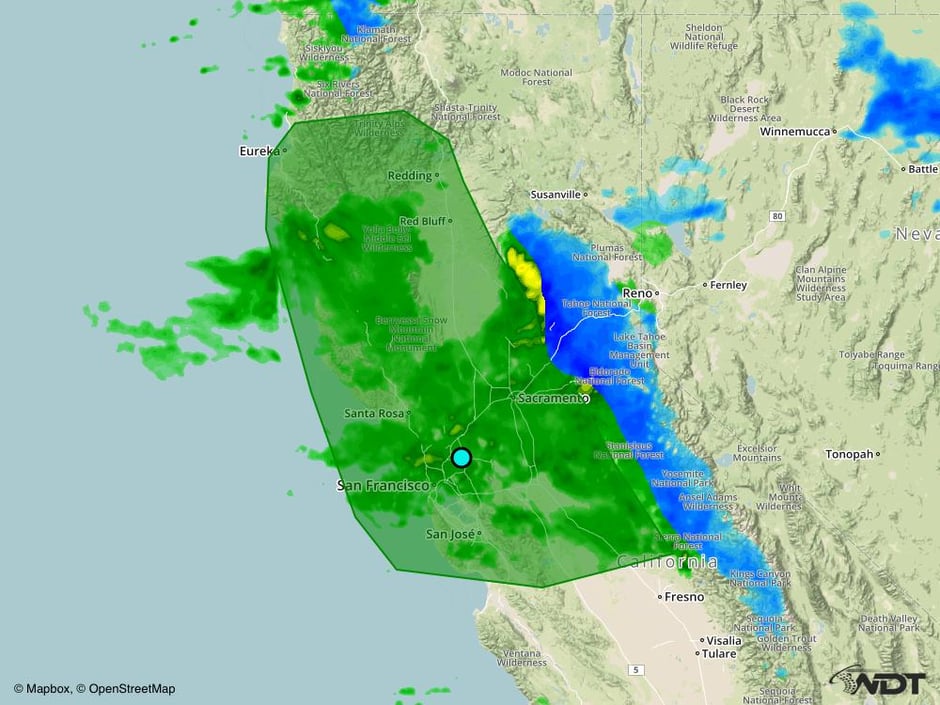 Excessive Rainfall Risk Outline for Tuesday
Significant Snowfall Possible for Portions of the Northwest on Wednesday
As an area of low pressure moves over the Rockies, moderate to heavy snowfall will spread eastward over the Northwest. Total snowfall accumulations of 2-6 inches are expected in the valleys and 6-18 inches in the higher elevations.
Major Cities in Region: Reno, NV, Salt Lake City, UT, Missoula, MT, Helena, MT, Billings, MT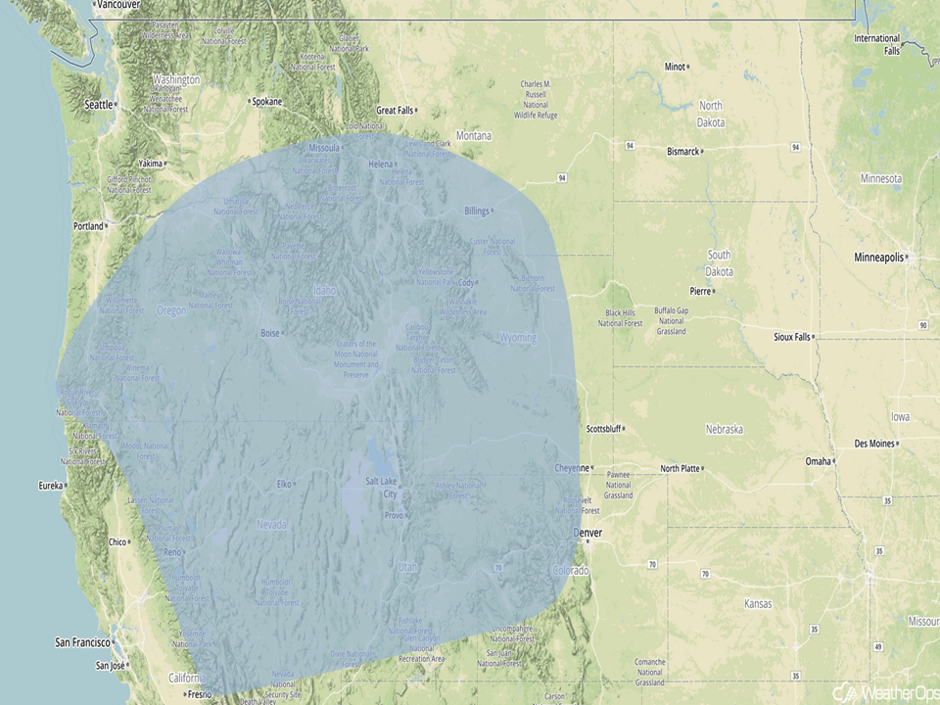 Significant Snowfall Risk Outline for Wednesday
A Look Ahead
As a weak low and stationary front sets up across the Southern Plains and into the Midwest, temperatures near or below freezing are forecast to the north of the front. With Gulf moisture from the south moving into the region and bringing warmer air aloft, there is a threat for a significant ice storm over the region. Model guidance continues to remain consistent in the forecast of temperatures at or slightly below freezing leading to freezing rain and/or sleet due to the warm air aloft. This front is forecast to remain over the region for much of Saturday. The potential for sleet and freezing rain is expected to extend further into the Midwest as the system becomes more established with precipitation continuing in some form of ice over the Southern Plains. As a result, continued significant winter weather will be possible from the Southern Plains and into the Midwest in locations to the north of the stationary front and where surface temperatures fall below freezing. Into Sunday, the upper level pattern will begin to change and shift the area of low pressure and subsequent stationary front out of the Southern Plains and to the east-northeast. Significant winter weather including freezing rain and/or sleet will shift northward ahead of the freezing line ahead of the warm front into Sunday.
As a low tracks into the Central Plains on Monday, the winter weather potential will shift into the Central and Northern Plains. Freezing rain, sleet, and snow will all be possible.
This is just a brief look at current weather hazards. We can provide you site-specific forecast information for the purpose of protecting your personnel and assets. Try a 7-day demo right away and learn how timely precision weather information can enhance your bottom line.