National Weather Summary for Tuesday, February 23, 2016
by David Moran, on Feb 23, 2016 12:26:56 PM
Severe thunderstorms are ongoing across portions of the Southern US on Tuesday. Light ice and snow accumulations are possible across the Northeast.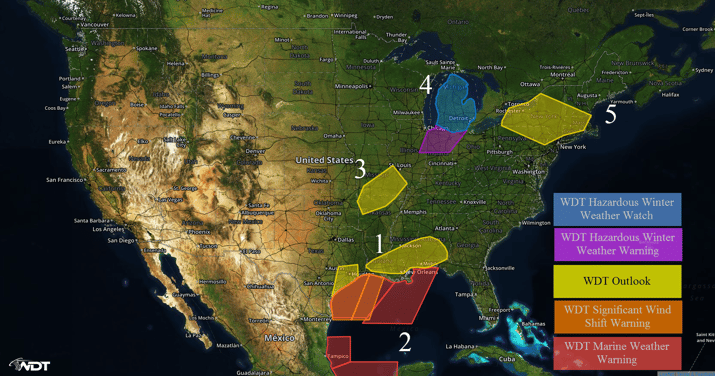 US Hazards
Region 1

A deepening cold front associated with an intensifying area of low pressure is forecast to move across the Gulf Coast region and interior portions of the Deep South. Instability in place ahead of the front will allow for the development of severe thunderstorms into early Wednesday morning. As thunderstorms develop, large hail, damaging winds, and tornadoes will be possible. The highest severe threat will be centered from eastern Louisiana eastward into the Western Florida Panhandle and southwestern Georgia later this afternoon and into the evening and overnight hours. In addition to the severe threat, many locations will be under a threat of excessive rainfall. Rainfall amounts of 1-3 inches with locally higher amounts in excess of 4 inches, will be possible and may lead to an increased threat of flooding or flash flooding.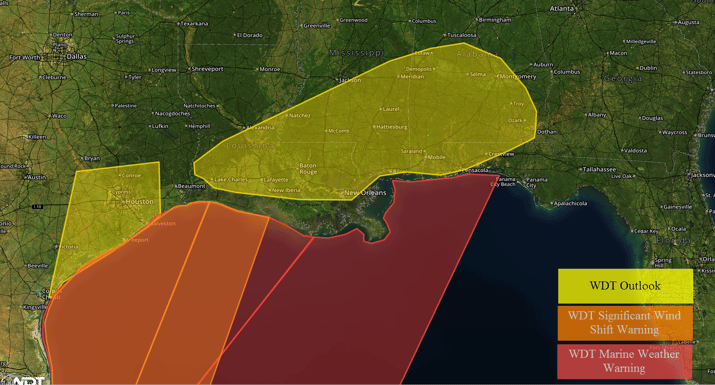 Region 1
Region 2

As an area of low pressure moves through the Lower Mississippi Valley, strong southwesterly winds are expected to develop over the Gulf of Mexico. Gale force winds, along with storm force gusts and very rough seas, can be expected late Tuesday night into Wednesday. Winds will start out southwesterly, then become westerly by Wednesday morning, and Northwesterly by Wednesday night. In addition, severe thunderstorms will be possible Tuesday evening into Wednesday morning.
Further south, a cold front will pass through the Bay of Campeche late Tuesday evening into Tuesday night. This will cause winds to veer from southerly to northwesterly to northerly by daybreak Wednesday. While the winds associated with the initial wind shift are expected to be in the 15-20 knot range, high pressure will build behind the cold front, causing winds to increase by noon Wednesday. Winds of 25-35 knots with gusts in excess of 45 knots will be likely by Wednesday afternoon. In addition, 10-12 foot seas will become likely. These conditions will persist through the rest of the day Wednesday into Wednesday night. Conditions should begin to improve by Thursday morning.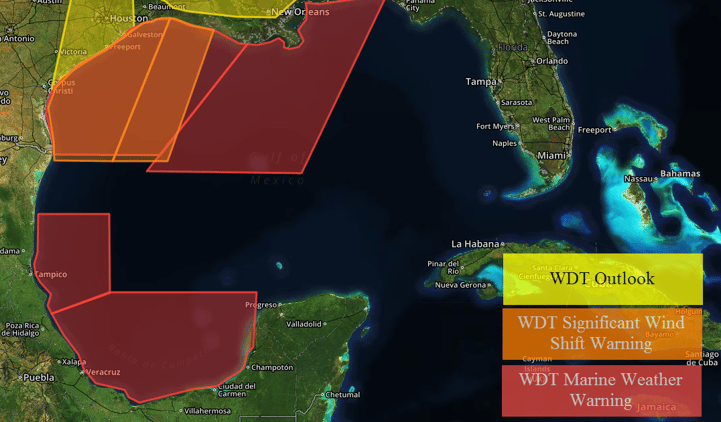 Region 2
Region 3

An area of low pressure moving from the southern states and through the Ohio River Valley will allow for snowfall accumulations of 1-3 inches through midday Wednesday across region 3.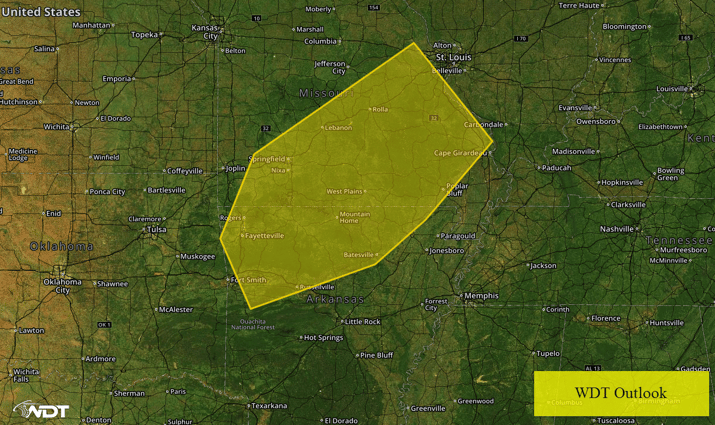 Region 3
Region 4

The low mentioned above will track northeastward into the Ohio Valley and the eastern Great Lakes by early Thursday. Precipitation will likely begin as liquid rain late Tuesday into early Wednesday before transitioning to snow. Much of the transition to snow will occur during the morning hours on Wednesday. Several inches of snow will be possible Wednesday into Thursday morning. In addition, gustry winds could lead to blowing snow and blizzard conditions along with wind chill values below 20F. Hazardous travel conditions will be possible, especially Wednesday afternoon and evening into Thursday morning. Across the Lower Peninsula of Michigan, snowfall accumulations of 6-10 inches with locally higher amounts in excess of 12 inches will be possible. Northerly winds at 20-25 mph with gusts in excess of 30 mph and visibilities of less than a mile will be possible.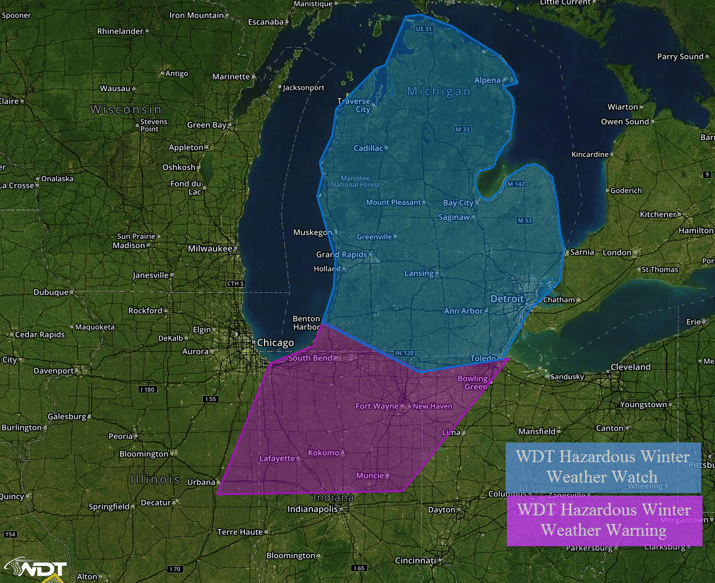 Region 4
Region 5

A wintry mix of precipitation is expected to develop across region 5 as a weak low pressure moves along the Eastern Seaboard. With cold air in place, periods of light snow, sleet, and freezing rain will likely begin across the region this afternoon and evening. Precipitation should transition to liquid rain from south to north Wednesday morning. Ice and snow accumulations should generally be light, but difficult travel conditions may develop, especially on bridges and overpasses.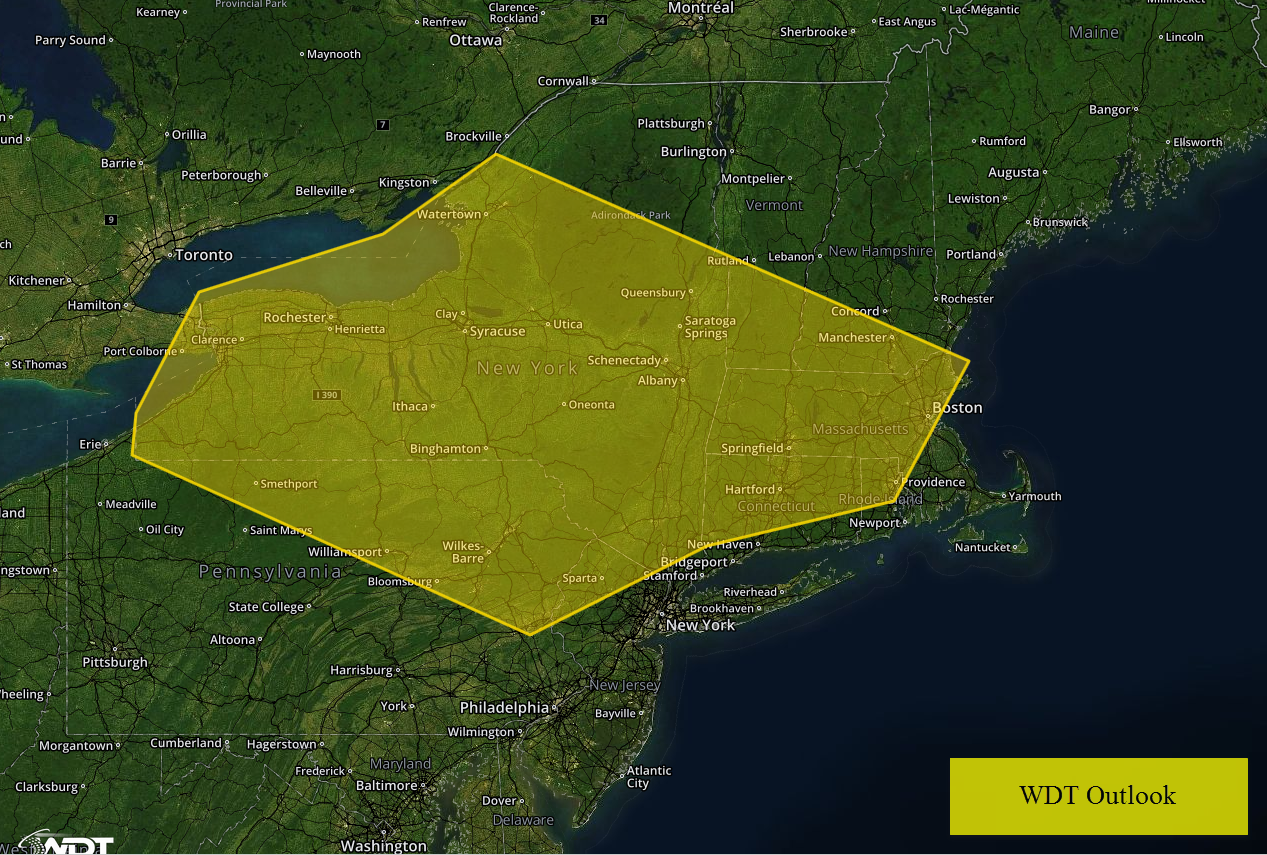 Region 5