National Weather Summary for Tuesday, December 27, 2016
by David Moran, on Dec 27, 2016 10:49:12 AM
A storm system moving into the Pacific Northwest will bring heavy snow to portions of the Cascades and Northern Rockies Tuesday into early Wednesday. Snow is forecast across the Northeast Thursday into Friday as two weak systems move across the region.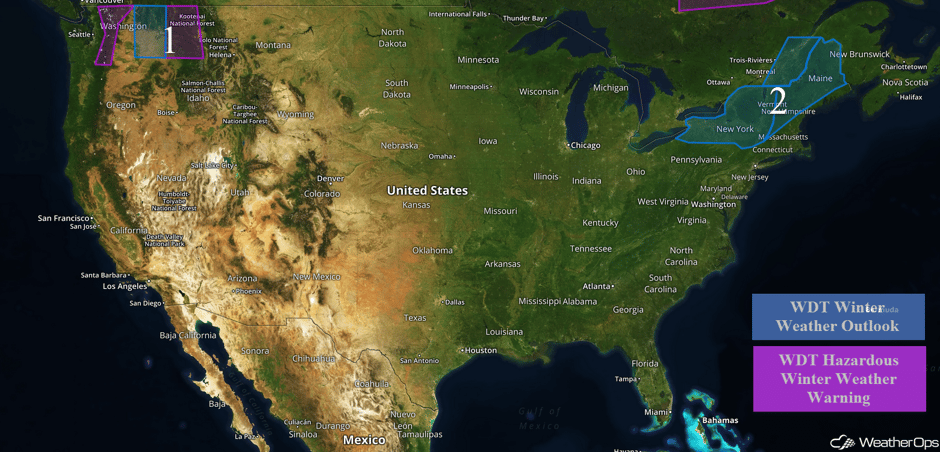 US Hazards
Region 1
A strong Pacific storm system will spread moisture and heavy snow to portions of the Cascades through late Tuesday night. Snow accumulations of 10-13 inches with locally heavy amounts in excess of 15 inches are forecast in the higher elevations. Winds in excess of 35 mph will allow for reduced visibilities due to blowing snow and wind chills below zero. Snow will begin to taper off late Tuesday, becoming light by early Wednesday morning. Across western Washington and northern Idaho, snow accumulations of 3-5 inches with locally higher amounts in excess of 6 inches will be possible. Into western Montana, snow accumulations of 9-12 inches with locally higher amounts in excess of 15 inches are expected. Winds of 10-20 mph with higher gusts will allow for wind chills near zero.
Major Cities in Region: Spokane, WA, Coeur d'Alene, ID
#Spokane saw 4" of new snow over night ❄ What does it look like where you live? Thanks for the pictures, Debbi Chan! @KREM2 #wawx #idwx pic.twitter.com/a1lBEdrQfd

— Molly Trotter (@KREMMolly) December 27, 2016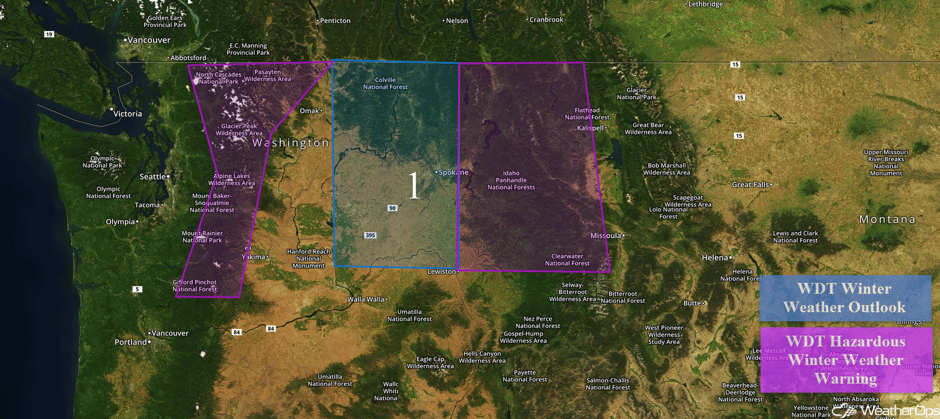 Region 1
Region 2
Two weak systems will make their way into the Northeast Wednesday evening and Thursday morning. The first one will track across Canada near James Bay. The second will be tracking across the Tennessee River Valley. The latter system will redevelop off the coast of New Jersey and New York before tracking north-northeastward. As this storm redevelops off the coast, it will strengthen further. As this storm intensifies, snow will increase in coverage and intensity across portions of New York and Vermont through the afternoon and evening. Snow accumulations of 3-6 inches are currently forecast with isolated higher amounts in excess of 8 inches in the higher elevations. Further east across Massachusetts, New Hampshire, and Maine, snow accumulations of 6-12 inches with isolated higher amounts in excess of 15 inches expected.
Major Cities in Region: Buffalo, NY, Syracuse. NY, Albany, NY, Burlington, VT, Bangor, ME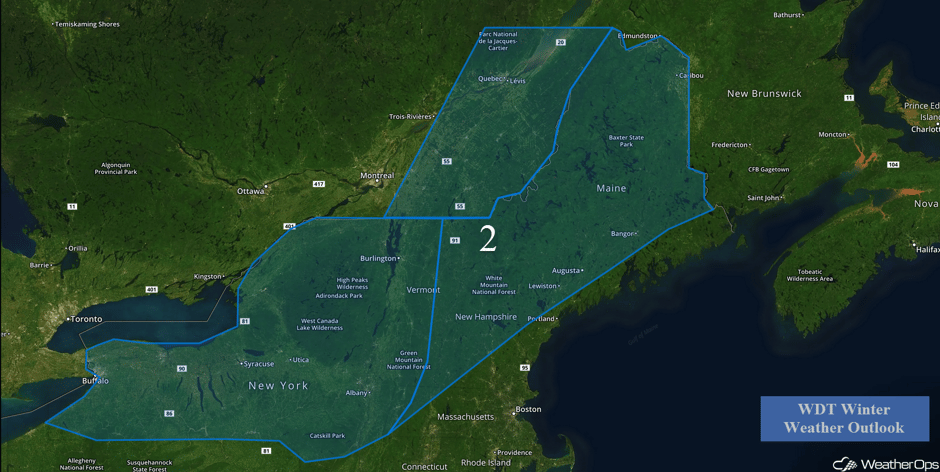 Region 2
A Look Ahead
Light to moderate snow is forecast across portions of Maine through the Mid Atlantic on Friday as an area of low pressure lifts northward into the Canadian Maritimes. This will result in an additional 1-3 inches of light snow across northern Maine. Some light snow is forecast to continue along the border of Maine and Canada, Some Lake effect snow may also develop across the Upper Midwest and Northern Plains on Friday. Heading into the New Year, light to moderate snowfall is expected across portions of the Cascades and Rockies Sunday into Monday. Early next week, an area of low pressure will develop in the lee of the Rockies and track into the Great Lakes on Monday. This will bring light to moderate snowfall across portions of the Northern Rockies and Upper Midwest. To the south of the system, showers and thunderstorms may develop across the Ohio Valley and Northeast.
This is just a brief look at current weather hazards. We can provide you site-specific forecast information for the purpose of protecting your personnel and assets. Try a 7-day demo right away and learn how timely precision weather information can enhance your bottom line.