National Weather Summary for Thursday, September 1, 2016
by David Moran, on Sep 1, 2016 11:20:55 AM
Tropical storm conditions are likely with hurricane conditions possible across portions of the Southeast as Tropical Storm Hermine continues to progress northeastward Thursday through the weekend. An area of thunderstorms are expected across portions of North Carolina and Virginia Thursday afternoon in response to daytime heating. Thunderstorms will be possible across portions of the Northern Plains and Upper Midwest on Sunday as an area of low pressure develops across the region.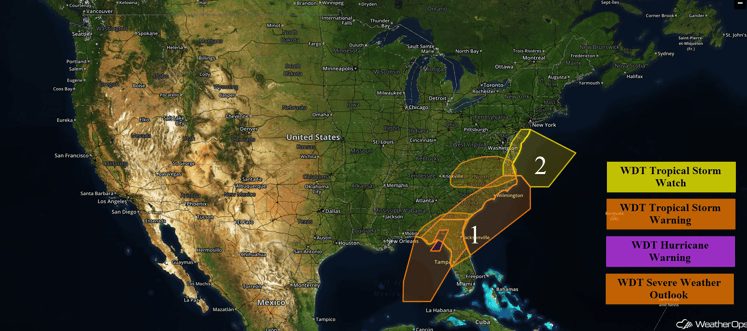 US Hazards
Region 1
Tropical Storm Hermine continues to strengthen as it tracks northeastward toward the Big Bend of Florida. Hermine is forecast to become a minimal hurricane prior to landfall. Tropical storm conditions will be likely across much of the eastern Gulf of Mexico through Friday morning. Sustained winds of 60-70 mph with gusts in excess of 80 mph will be likely, in addition to seas in excess of 20 feet and waterspouts. Rainfall amounts of 6-10 inches with locally higher amounts in excess of 16 inches will be possible in some locations. Tropical storm conditions are ongoing within 120 miles of the center and will spread to the north and east throughout the day today.
Hermine will likely move into the Atlantic off the coasts of Florida, Georgia, and the Carolinas beginning Friday morning through Saturday morning. Conditions will begin to improve late Saturday night into Sunday.
Update 2:16pm EDT: Severe Thunderstorm and Tornado Warnings in effect for portions of Central Florida.

Florida Radar 2:16 pm EDT
Major Cities in Region: Tampa, FL, Orlando, FL, Jacksonville, FL, Tallahassee, FL Savannah, GA, Myrtle Beach, SC, Wilmington, NC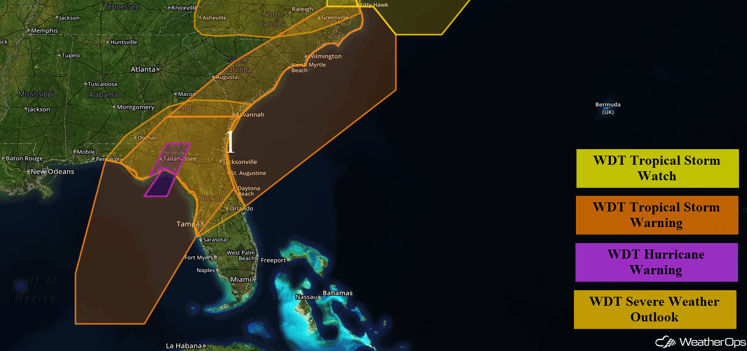 Region 1
Region 2
Plentiful moisture combined with daytime heating should allow for the development of scattered to strong to severe thunderstorms from North Carolina into Virginia today. Damaging winds will be the primary hazard with these storms.
Tropical Storm Hermine will continue to move along the East Coast Saturday through Monday. Some re-intensification is possible as it moves along the East Coast, but is expected to remain a weak tropical storm through Monday. Tropical storm conditions will be possible across the Atlantic waters off the coasts of Virginia, Maryland, Delaware, and New Jersey beginning Saturday morning, with the threat potentially continuing through Monday as Hermine moves slowly toward the northeast. Sustained winds of 40-50 mph with gusts in excess of 60 mph and seas in excess of 12 feet will be possible. In addition to these threats, waterspouts will be possible.
Major Cities in Region: Asheville, NC, Raleigh, NC, Greenville, NC, Kitty Hawk, NC, Norfolk, VA, Dover, DE, Atlantic City, NJ
Region 2
A Look at the Tropics
Hurricane Gaston (yellow oval) continues to move toward the east-northeast at 24 mph toward the Azores and is expected to continue on this track for the next few days. Gaston will move near the western Azores on Friday and pass north of the central Azores Friday night. Maximum sustained winds are near 85 mph with higher gusts. Some weakening is expected during the next 48 hours and Gaston is expected to become a tropical storm by early Friday as it reaches the western Azores.
Tropical Depression Eight (blue oval) has weakened and is moving toward the northeast near 15 mph. Maximum sustained gusts are near 30 mph with higher gusts.
A tropical wave (green oval) over the eastern Atlantic located about 700 miles west of the Cabo Verde Islands continues to produce only limited shower activity. This wave is expected to be in an environment of very dry air for the next few days, which should prevent significant development during that time. Environmental conditions could become a little more conducive for some development during that time when the wave is near the Lesser Antilles early next week.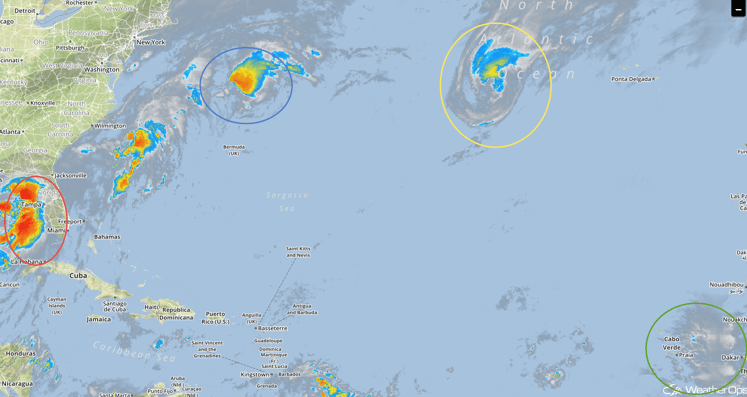 Tropical Infrared Satellite
A Look Ahead
A surface low is forecast to develop over the Northern Plains on Sunday, allowing for the risk for showers and thunderstorms for portions of the Northern Plains and Upper Midwest. Hail and damaging winds will be the primary hazards with these storms.
This is just a brief look at current weather hazards. We can provide you site-specific forecast information for the purpose of protecting your personnel and assets. Try a 7-day demo right away and learn how timely precision weather information can enhance your bottom line.