National Weather Summary for Thursday, October 6, 2016
by David Moran, on Oct 6, 2016 11:42:43 AM
Thunderstorms are expected Thursday across portions of the Plains and Missouri Valley as an upper level trough and cold front moves through the region. Hurricane Matthew will approach the east coast of Florida Thursday evening, bringing the risk for excessive rainfall and flooding. As Matthew continues to move northward along the East Coast, excessive rainfall is likely along the Southeast coast. Excessive rainfall is likely across the coasts of the Carolinas on Saturday.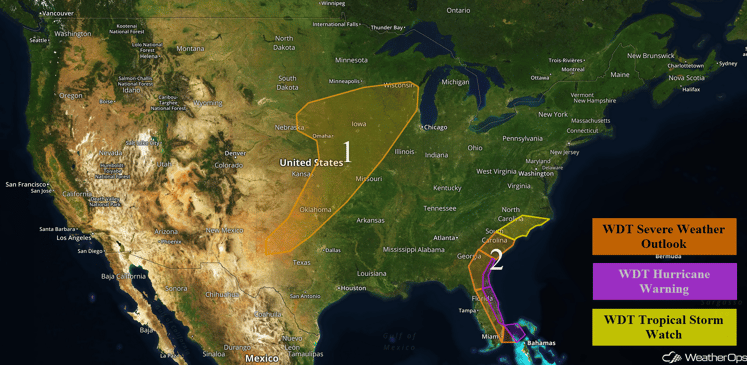 US Hazards
Region 1
An advancing trough through the Central United States is forecast to bring a strong cold front southward and into the Central Plains on Thursday. Late season moisture remains in place ahead of the front and sufficient instability is forecast to build during the daytime hours. This will allow for developing thunderstorms during the late afternoon and evening to become severe with an attendant threat for severe wind and large hail. A line of storms could stretch from Iowa southwestward into Northwest Texas just after dark. Activity will likely wane in strength before midnight, but ongoing shower and general thunderstorm activity will pose a threat for excessive rainfall from Iowa into Oklahoma.
Update 2:21pm CDT: Tornado Watch in effect until 9pm CDT for portions of Iowa, Kansas, Missouri, Nebraska. Hail to 3 inches in diameter, damaging winds to 70 mph and tornadoes will be possible.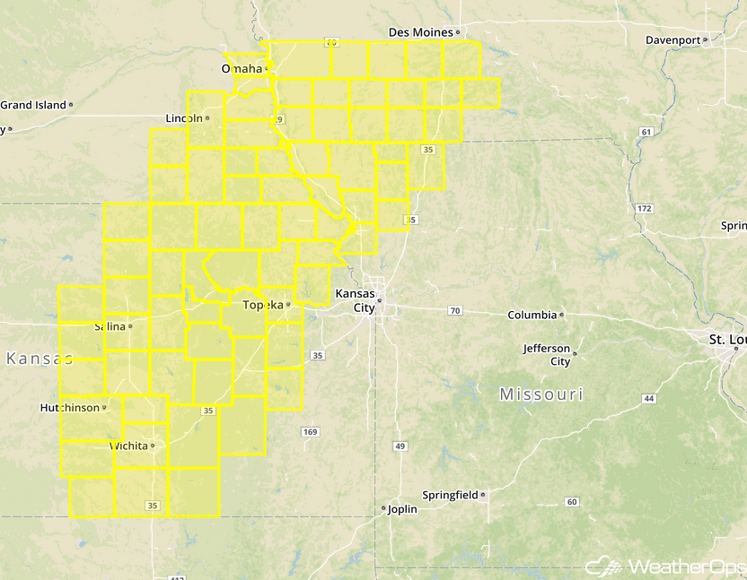 Tornado Watch
Update 2:36pm CDT: Severe Thunderstorm Watch in effect for portions of Oklahoma and Texas until 10pm CDT.
Severe Thunderstorm Watch
Update 2:52pm CDT: Tornado warned storms SE of Wichita, KS.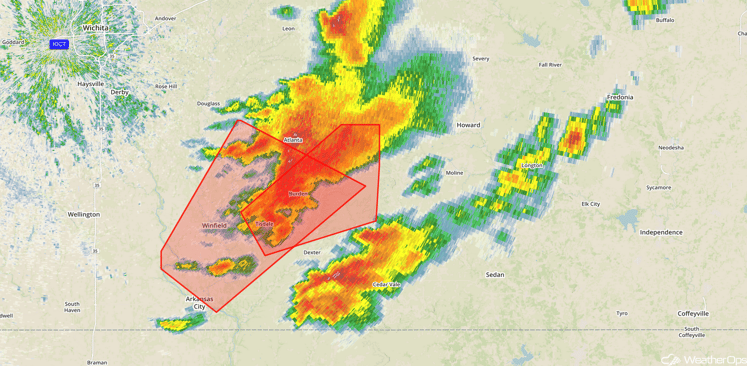 Tornado Warnings
Major Cities in Region: Oklahoma City, OK, Tulsa, OK, Wichita, KS, Springfield, MO, Kansas City, MO, Des Moines, IA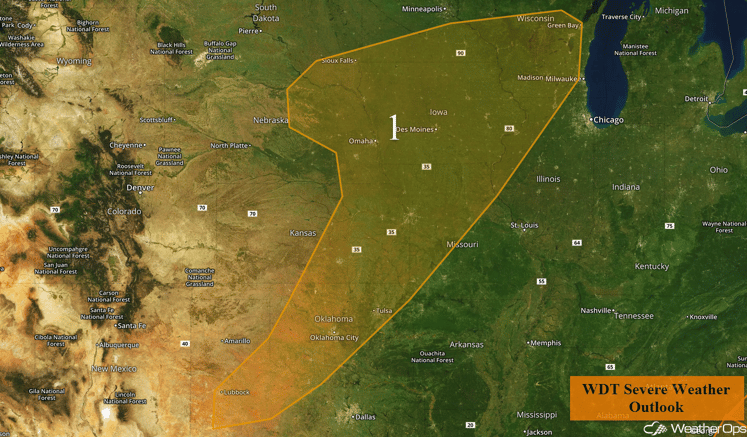 Region 1
Region 2
Meanwhile, Hurricane Matthew is forecast to approach the east coast of Florida on Thursday night. Tropical storm conditions will be possible by or just after dark with increasing shower and thunderstorm activity expected throughout the day and night. Hurricane conditions will reach the coast of east-central Florida by Thursday night or Friday morning. Widespread storm surge flooding of 3 to 6 feet, locally higher than 6ft, appears likely but would increase dramatically if Matthew shifts slightly west and makes landfall.
Update 2:24pm EDT: The eye of Matthew is now visible from radar.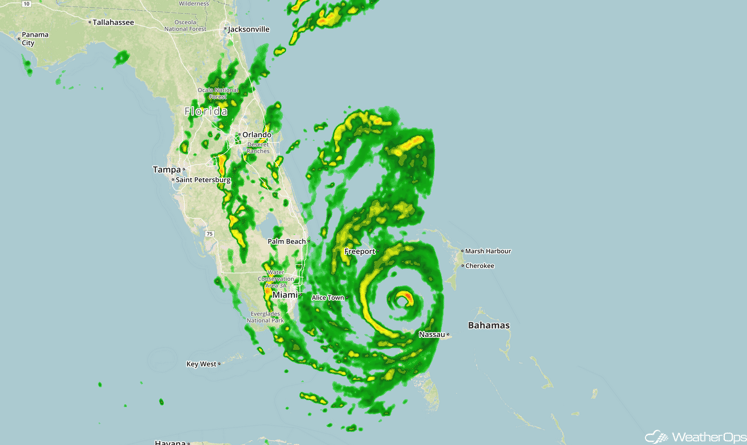 Radar 2:24pm EDT
Major Cities in Region: Miami, FL, Tampa, FL, Orlando, FL, Jacksonville, FL, Savannah, GA, Charleston, SC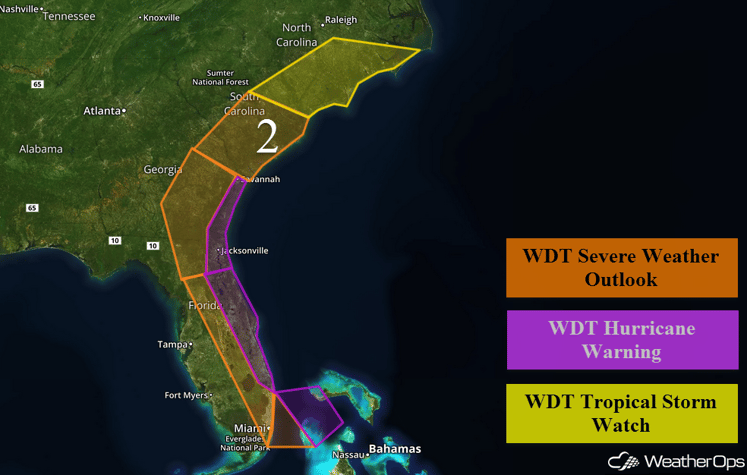 Region 2
Excessive Rainfall Today through Friday for Eastern Florida
Significant rainfall accumulations are anticipated across the eastern half of Florida through Friday morning and locations could see widespread rainfall accumulations of 3 to 5 inches, with extreme amounts in excess of 7 inches possible for coastal areas. As such, an elevated threat for flooding and runoff should be expected.
Major Cities in Region: Miami, FL, Palm Beach, FL, Orlando, FL, Jacksonville, FL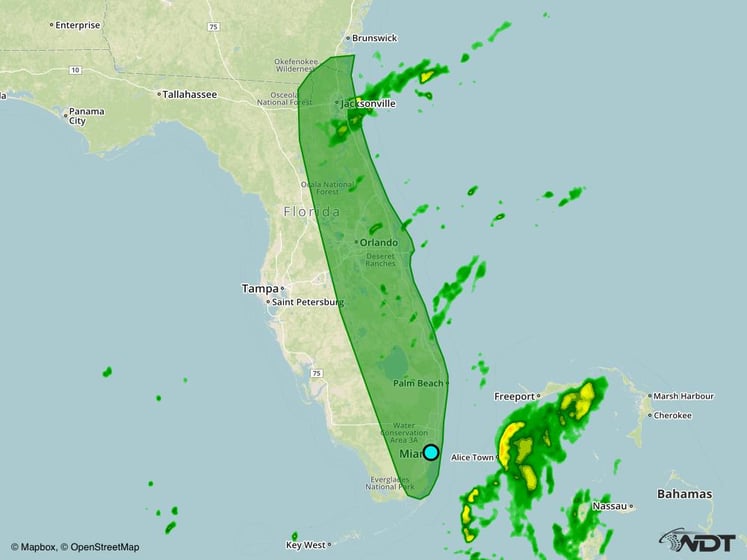 Excessive Rainfall Risk Outline for Thursday
Excessive Rainfall Friday to Saturday for the Southeast Atlantic Coast
Another day of excessive rainfall is forecast as Hurricane Matthew begins lifting northeastward along the Southeast Atlantic Coast Friday into Saturday. Elevated rainfall accumulations are again expected from Northeast Florida into coastal regions of the Carolinas. 3 to 5 inches of total rainfall will be possible along the immediate coastal areas through early Saturday with amounts tapering off into the 1 to 3 inch range with further inland extent. Elsewhere, a cold front moving across the Central United States is expected to weaken somewhat with severe weather unlikely.
Major Cities in Region: Orlando, FL, Jacksonville, FL, Savannah, GA, Chareston, SC, Wilmington, NC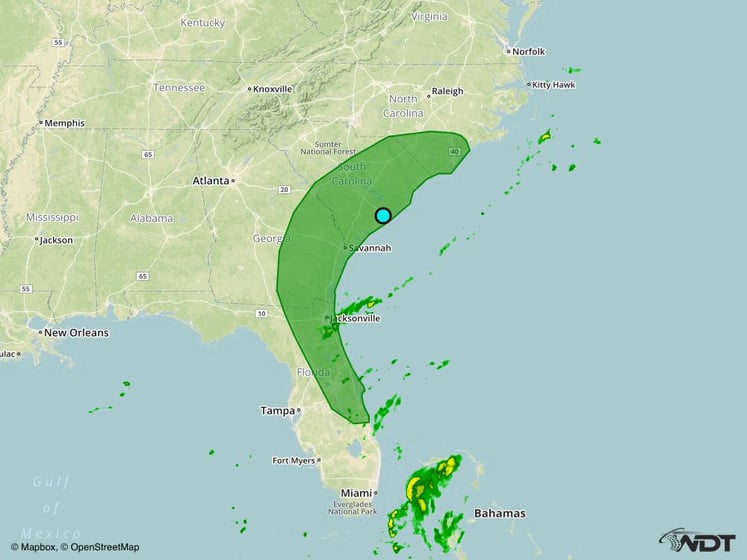 Excessive Rainfall Risk Outline for Friday
Excessive Rainfall Saturday for the Carolina Coasts
Rainfall amounts become less certain over the weekend as the track forecast for Hurricane Matthew could change significantly dependent upon several factors. Models suggest that Matthew will push eastward and off the Southeast Coast on Saturday with rainfall amounts expected to taper off through the latter half of the day. However, rainfall totals of 1 to 3 inches are expected with local amounts in excess of 4 inches possible.
Major Cities in Region: Chareston, SC, Myrtle Beach, SC, Wilmington, NC, Raleigh, NC, Norfolk, NC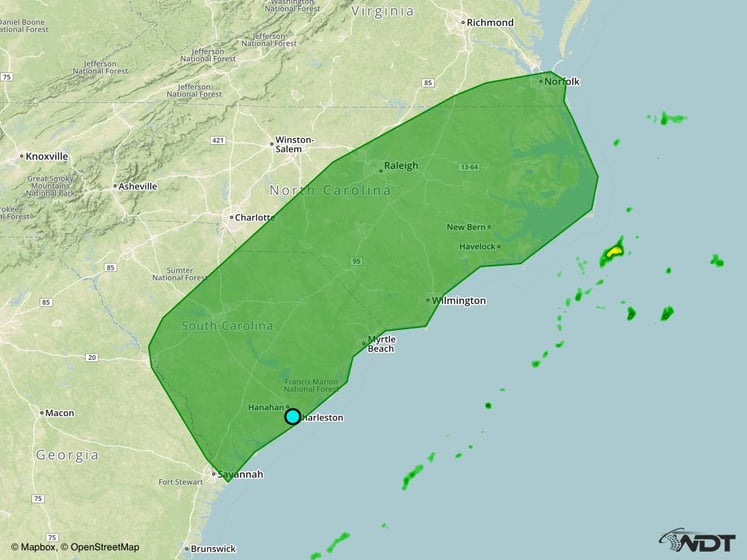 Excessive Rainfall Risk Outline for Saturday
Tropical Update
Matthew (red oval) is forecast to continue northwestward through the next 24-36 hours followed by a northward turn along the Florida coast. A trough moving through the northern United States is then expected to cause Matthew to turn eastward this weekend. Beyond that time forecast guidance is coming into better agreement that a weakened Matthew will turn south and eventually southwest toward the Bahamas beyond day five. It is important to note that uncertainty remains high regarding this portion of the forecast but that as a result of this track the threat from Matthew to Florida and the Bahamas may continue into next week.
Tropical Storm Nicole (green oval) is moving toward the north-northwest at 6 mph, but a turn toward the northwest is expected later today. Maximum sustained winds are near 70 mph with higher gusts. Little change in strength is forecast today, but some weakening may occur Friday.
A tropical wave (blue oval) is producing a large area of disorganized showers and thunderstorms east of the Windward Islands. Development, if any, is expected to be slow while this system moves westward at 10-15 mph during the next several days. Regardless of development, locally heavy rains and gusty winds are possible across the Windward and Leeward Islands as the wave moves through the area.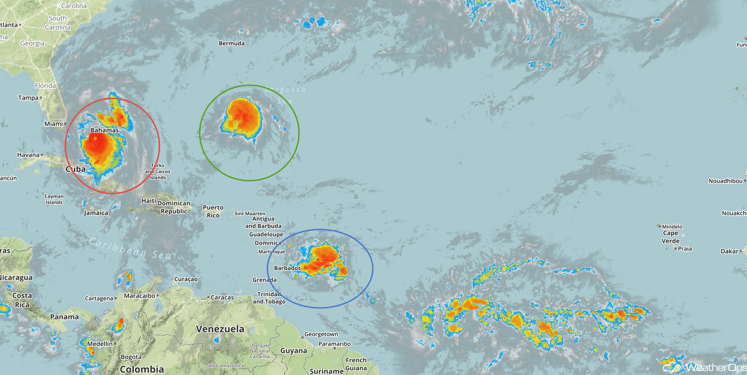 Tropical Infrared Satellite for Thursday
Update 2:45pm EDT: Nicole has become a hurricane with sustained winds of 80 mph moving northwestward at 8 mph.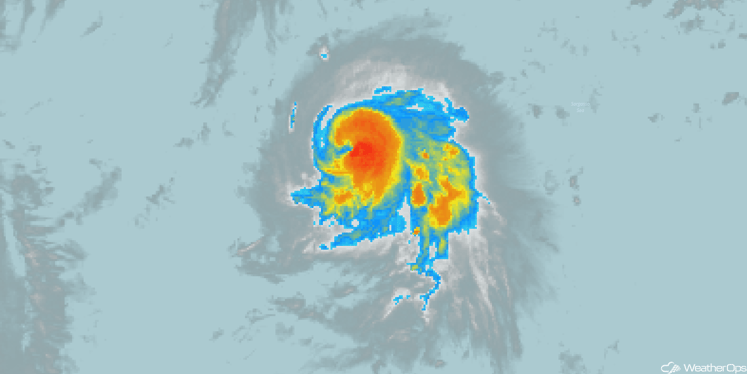 Infrared Satellite
A Look Ahead
Hurricane Matthew's forecast position should keep it far enough offshore of the Southeast Coast on Sunday to keep potential rainfall amounts below excessive rainfall criteria. Meanwhile, high pressure over the Central United States and limited moisture will preclude any severe weather chances during the latter half of the weekend.
This is just a brief look at current weather hazards. We can provide you site-specific forecast information for the purpose of protecting your personnel and assets. Try a 7-day demo right away and learn how timely precision weather information can enhance your bottom line.