National Weather Summary for Thursday, October 13, 2016
by David Moran, on Oct 13, 2016 10:10:18 AM
No hazards are currently in effect. A strong area of low pressure will approach the coast of British Columbia on Thursday, bringing the potential for heavy rain across the Pacific Northwest on Thursday and Friday. Hurricane Nicole is continuing to move across Bermuda as a Category 3 hurricane.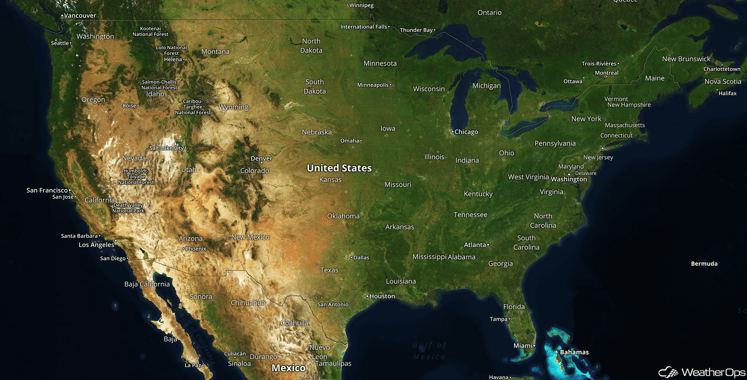 US Hazards
Heavy Rainfall Likely in the Pacific Northwest with Strong Winds Along the Coast
A strong surface low will approach the coast of British Columbia on Tuesday. Deep Pacific moisture will overspread the region ahead of this low. The combination of deep moisture, strong ascent ahead of the low, and enhanced lift from the upslope effects of the Cascade Range will lead to widespread heavy rainfall. Widespread rainfall accumulations of 2-4 inches are expected from northern California to southwestern British Columbia. Locally higher rainfall totals in excess of 8 inches will be possible in some locations. This heavy rainfall will likely lead to flash flooding in some areas. In addition to these heavy rains, strong winds are expected along the coast where sustained winds of 30- 40 mph can be expected, with gusts in excess of 45 mph also likely.
Major Cities in Region: Eureka, CA, Portland, OR, Seattle, WA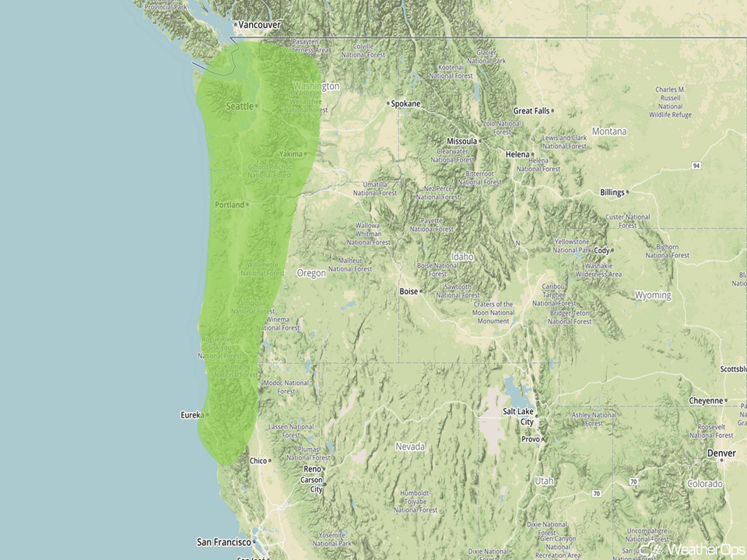 Excessive Rainfall Risk Outline for Thursday
Additional Heavy Rainfall Likely in the Northwest on Friday
Additional heavy rainfall is expected on Friday as a low over the northeastern Pacific Ocean moves south towards the coast. Widespread rainfall accumulations of 1-2 inches are expected from the California/Oregon border to southwestern British Columbia. Locally higher amounts in excess of 4 inches will be possible in some locations. This second day of heavy rainfall for some areas, especially north of the California/Oregon border, could lead to flash flooding and perhaps flooding near rivers, streams, and lakes. Strong winds of 30-40 mph will persist along the coast.
Major Cities in Region: Portland, OR, Seattle, WA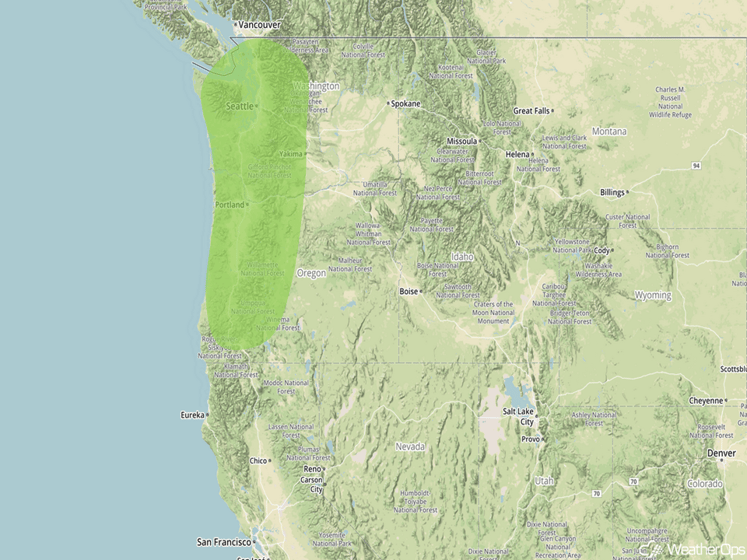 Excessive Rainfall Risk Outline for Friday
Tropical Update
The weather has been deteriorating on Bermuda this morning as powerful Hurricane Nicole draws closer. Most of the island is now in the eye of the hurricane after taking a battering from the northern eyewall and recording hurricane force winds for at least a couple of hours. Nicole has weakened slightly but it is still a major hurricane with winds of 120 mph. The center of the storm is now only about 10 miles from Bermuda and it is moving toward the northeast. After the lull while Bermuda is in the eye this morning, the fierce hurricane force winds will return shortly and persist into the afternoon. Nicole is also expected to bring a storm surge of about 6-8 feet. Nicole is forecast to continue toward the northeast during the next couple of days once it finishes with Bermuda. It should weaken and lose tropical characteristics as it gets over cooler waters and into increasing wind shear, but while this happens the overall wind field is forecast to grow quite a bit larger. Nicole is expected to remain a large and powerful post-tropical storm this weekend. In addition, the storm is expected to stall and meander for a few days early next week to the southeast of Newfoundland before finally getting moving and leaving toward the northeast. The rest of the tropical Atlantic is quiet and there are no other concerns for potential tropical development in the near term. A few longer range forecast models continue to suggest the possibility of tropical development in the southwestern Caribbean Sea next week.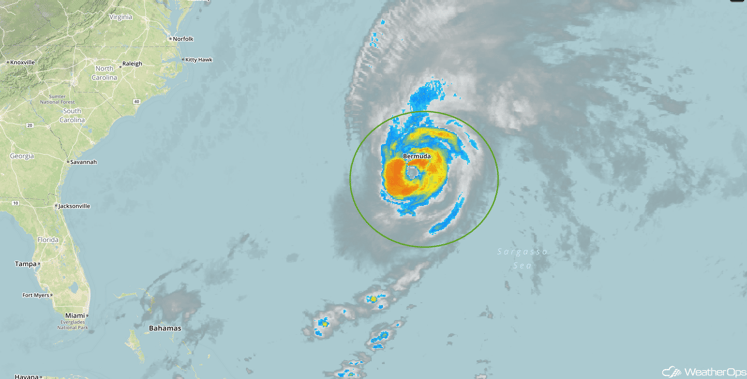 Tropical Infrared Satellite
A Look Ahead
On Tuesday, a cold front will move through much of the central U.S., but dry conditions are expected ahead of this cold front. Rain is expected near the associated surface low over the Upper Midwest, but rainfall totals should remain generally less than one inch. The cold front will continue to push towards the south into Wednesday, with conditions remaining generally dry near the front, except for in the Northeast where light rain will be possible.
This is just a brief look at current weather hazards. We can provide you site-specific forecast information for the purpose of protecting your personnel and assets. Try a 7-day demo right away and learn how timely precision weather information can enhance your bottom line.