National Weather Summary for Thursday, November 17, 2016
by David Moran, on Nov 17, 2016 10:44:54 AM
As an area of low pressure intensifies over the Plains and tracks eastward on Thursday, snow will spread from the Rockies, across the Great Plains, and into the Upper Midwest. Snow will continue across the Upper Midwest on Friday. Further to the south, thunderstorms will be possible across portions of the Southern Plains on Thursday ahead of a cold front. As this cold front continues to progress eastward on Friday, thunderstorms will be possible for portions of the Mid-South.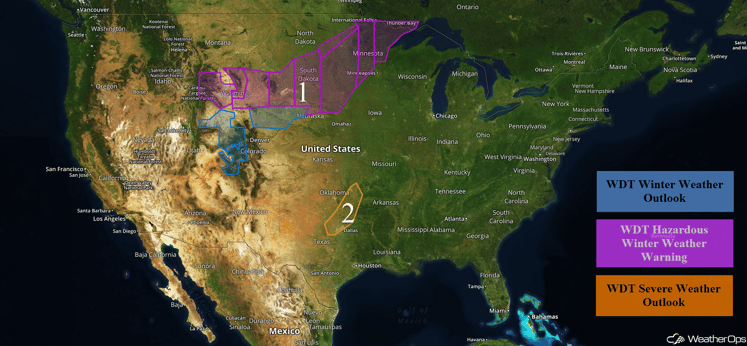 US Hazards
Region 1
A winter storm is expected to impact the Central Rockies on Thursday with light to moderate snow expected for the higher elevations. This activity will linger across the Rockies through early Friday before continuing eastward. Total snowfall accumulations of 2-4 inches with locally higher amounts in excess of 5 inches will be possible. In addition to the snow, westerly breezes will gust in excess of 30 mph, resulting in decreased visibilities and low wind chills.
As the low continues to progress eastward Thursday into Friday, snow and elevated winds will begin late Thursday and into Friday. Snowfall amounts across Nebraska, the Dakotas, and Minnesota of 6-8 inches with locally higher amounts in excess of 10 inches will be possible. Additionally, strong northerly winds gusting to 40 mph will likely result in blizzard-like conditions, dangerous wind chills, and visibilities below a mile. The main system should exit the region early Saturday morning.
Major Cities in Region: Grand Junction, CO, Cheyenne, WY, Pierre, SD, Sioux Falls, SD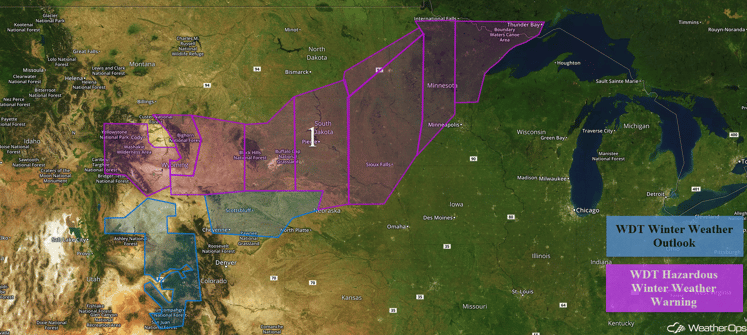 Region 1
Region 2
A strong area of low pressure and cold front will move through the Central and Southern Plains Thursday, bringing rainfall and thunderstorms for Oklahoma and Texas with a chance for an isolated severe thunderstorm or two. Storm activity is not expected to be particularly strong for most of the day, but during the late evening and overnight hours a few stronger storms could develop along the front, with damaging winds the primary hazard. Storms should weaken Friday morning.
Major Cities in Region: Fort Worth, TX, Tulsa, OK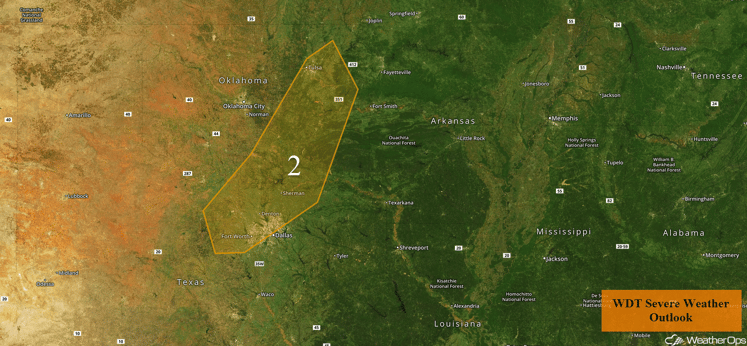 Region 2
Strong to Severe Thunderstorms Possible Friday across the Mid South
A strong cold front is forecast to continue tracking east and southeast on Friday, moving across the Mid-South. Thunderstorms will likely be ongoing during the morning hours and continue into the afternoon before tapering off during the evening. Due to the strength of the front as well as low-level moisture, there will be a potential for some strong to marginally severe thunderstorms capable of producing gusty winds.
Major Cities in Region: Shreveport, LA, Texarkana, AR, Little Rock, AR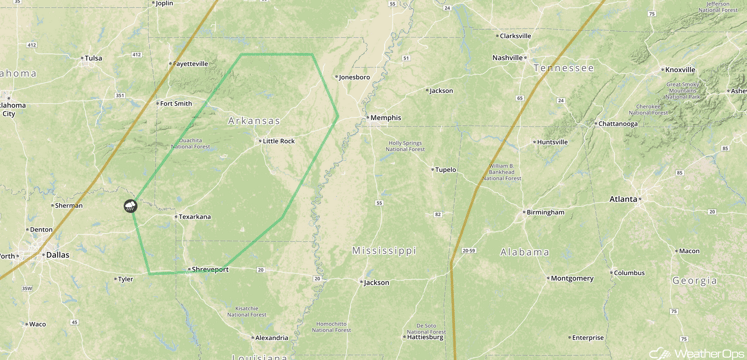 SPC Convective Outlook for Friday
Tropical Update
Cloudiness and showers over the southwestern Caribbean are associated with a broad area of low pressure (green oval). While it has become more disorganized, environmental conditions are expected to become favorable for slow development over the next several days. A tropical depression could develop over the weekend or early next week while the low moves slowly and erratically.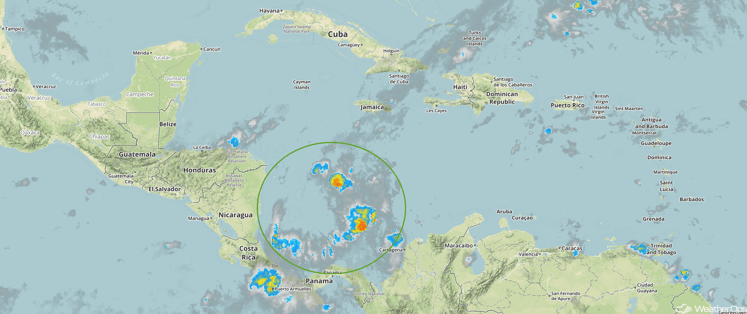 Tropical Infrared Satellite
A Look Ahead
As the area of low pressure moving across the Plains continues to move eastward through the weekend, periods of snow will be possible for portions of the Northeast on Sunday. Precipitation may begin as rain, but transition to snow by late morning or afternoon. Snowfall amounts of 3-5 inches with locally higher amounts in excess of 6 inches will be possible from northern New York to western Maine.
This is just a brief look at current weather hazards. We can provide you site-specific forecast information for the purpose of protecting your personnel and assets. Try a 7-day demo right away and learn how timely precision weather information can enhance your bottom line.