National Weather Summary for Thursday, March 9, 2017
by David Moran, on Mar 9, 2017 11:04:54 AM
Thunderstorms may develop across portions of the Ozarks and Tennessee Valley on Thursday ahead of a cold front. Across portions of the Northeast, snow is expected to develop late Thursday into Friday as an area of low pressure tracks to the south of the region. A stalled frontal boundary over the Northern Plains will be the focus for the development of snow through noon Saturday. Dense fog is expected along the Texas coast through early Friday.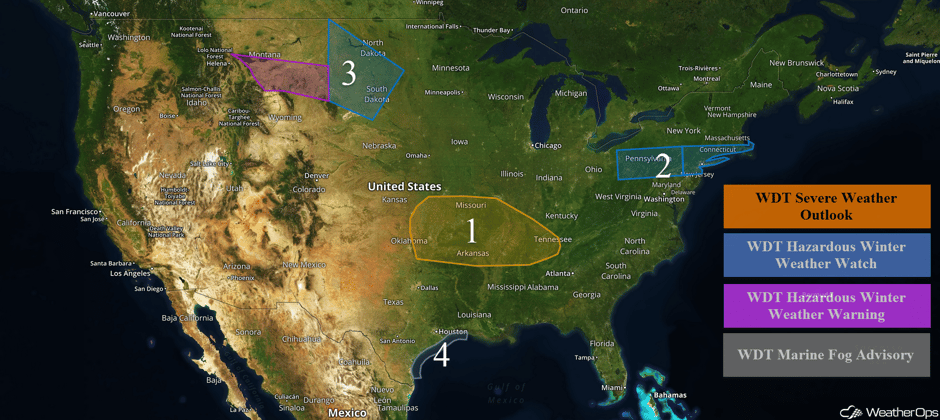 US Hazards
Region 1
A weak area of low pressure will move eastward along a southward-moving cold front across Kansas and Missouri throughout the day. In addition, a dryline will extend southward into central Oklahoma before it is overtaken by the advancing cold front late in the afternoon and evening. A couple of isolated severe thunderstorms capable of producing large hail and damaging winds may develop across southeastern Kansas as early as late this morning. Any activity that develops would shift into central and southern Missouri by early to mid afternoon. Storm coverage is forecast to increase during the mid to late afternoon with additional scattered thunderstorms expected across southern Missouri. A squall line may build into portions of eastern and central Oklahoma, posing a risk for large hail and damaging winds. An isolated tornado cannot be ruled out. During the evening, storms will congeal into a squall line that will surge southward across portions of Arkansas and Tennessee. Damaging winds along the leading edge of the line will be the primary hazard. Storms may move into northern portions of Mississippi and Alabama overnight.
Update 11:20am CST: Severe Thunderstorm Watch in effect for portions of southeastern Kansas and southwestern Missouri until 7pm CST.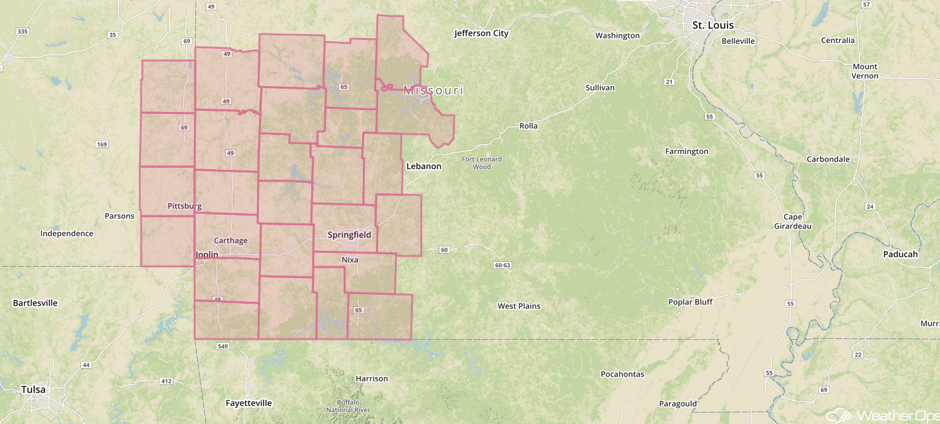 Severe Thunderstorm Watch
Impressive amount of hail on HW54 between LaHarpe and Moran, KS. Thick fog, too. Snow plows are removing it. 11:24 am. #kswx pic.twitter.com/x89qytRQW6

— Jason Keller (@jasonkellerpt) March 9, 2017
Update 11:58am CST: Supercell in SW Missouri. Should pass just south of Nevada.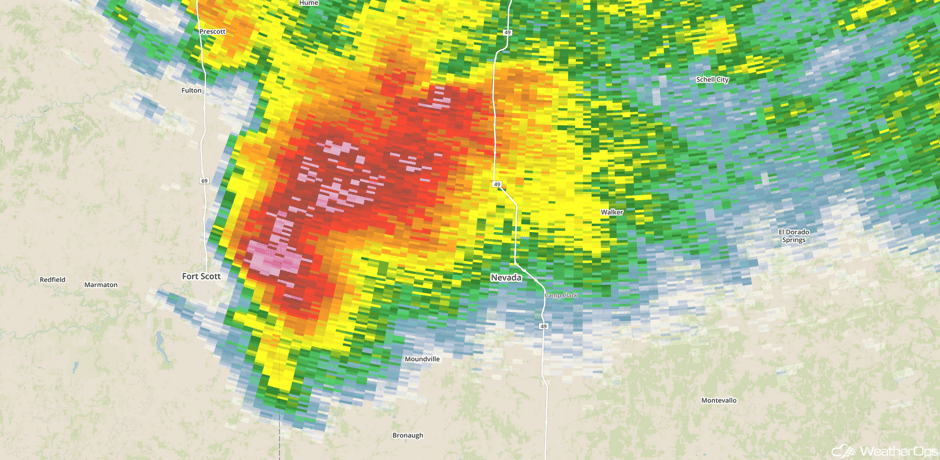 Radar 11:59am CST
Update 12:49pm CST: Severe thunderstorms south of Kansas City capable of large hail.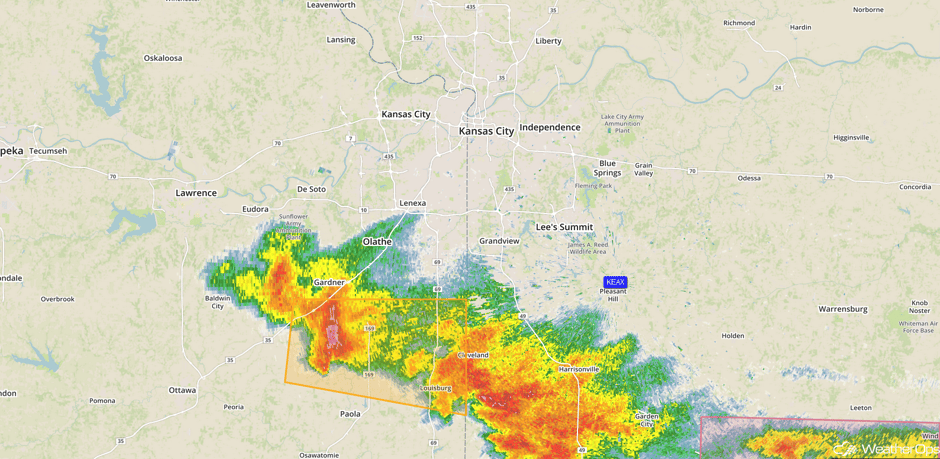 Radar 12:49pm CST
Major Cities in Region: Tulsa, OK, Springfield, MO, Little Rock, AR, Memphis, TN, Nashville, TN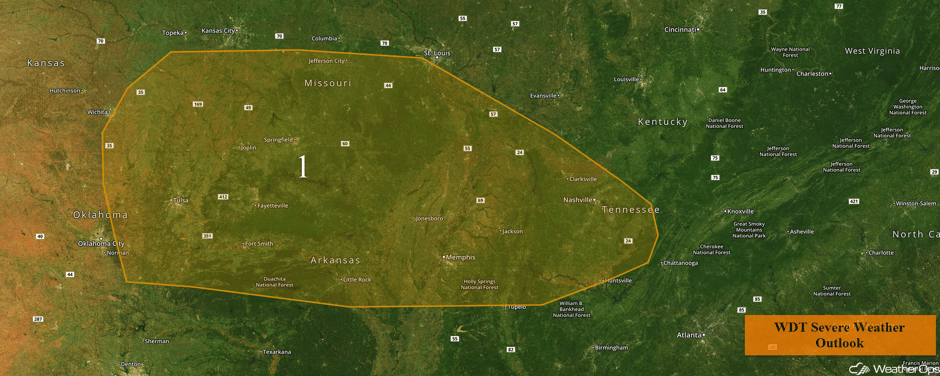 Region 1
Region 2
Snowfall is expected from western Pennsylvania eastward into southern Massachusetts late Thursday into Friday as an area of low pressure moves to the south of the region. Snow accumulations of 3-6 inches are expected.
Major Cities in Region: Pittsburgh, PA, New York, NY, Providence, RI

Region 2
Region 3
Snow is currently falling across Region 3 and will increase as an upper level disturbance approaches. Snow may become heavy at times with snowfall accumulations of 4-6 inches with locally higher amounts in excess of 8 inches. Winds gusting in excess of 25 mph will reduce visibilities to less than 2 miles. Wind chills between -5 and -10 are also expected. Snow will spread into the Plains late Friday and continue through noon Saturday.
Major Cities in Region: Great Falls, MT, Billings, MT, Bismarck, ND, Pierre, SD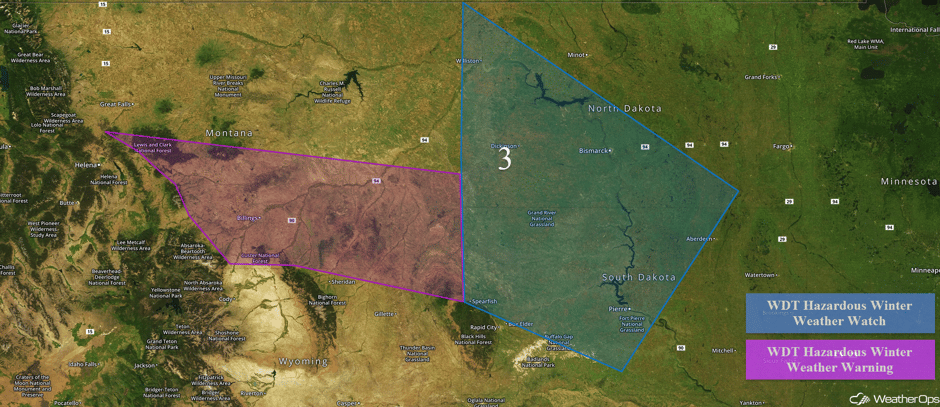 Region 3
Region 4
Sea fog has started to form along the Texas coast and is expected to increase in coverage through the overnight hours. Reduced visibilities less than 3 miles are expected up to 60 miles from the coast. The most dense fog will be confined to the immediate coast with visibilities less than a mile at times.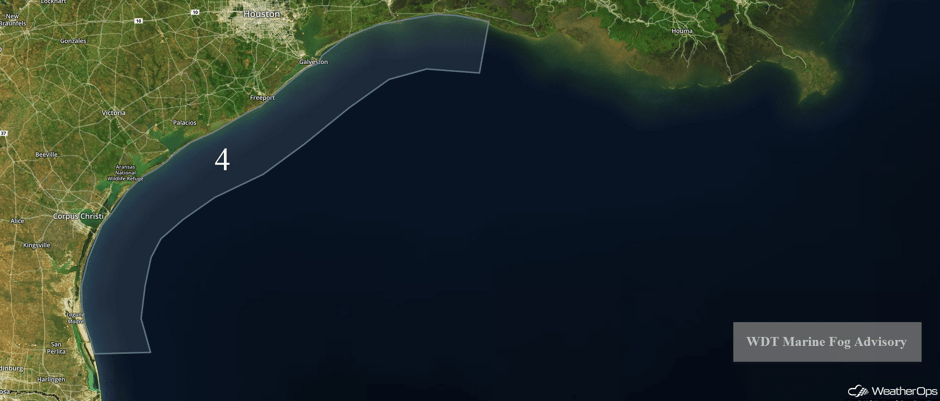 Region 4
Significant Snowfall Possible for the Midwest and Tennessee River Valley on Saturday
Snowfall will continue to shift southeastward into the Midwest and Tennessee Valley. While there is some uncertainty, there will be the potential for at least a few inches of snow. Across the Tennessee Valley, rain will transition to snow for portions of southern Tennessee and northern Kentucky. No significant accumulations are expected.

Major Cities in Region: Omaha, NE, Kansas City, MO, Des Moines, IA, St. Louis, MO, Louisville, KY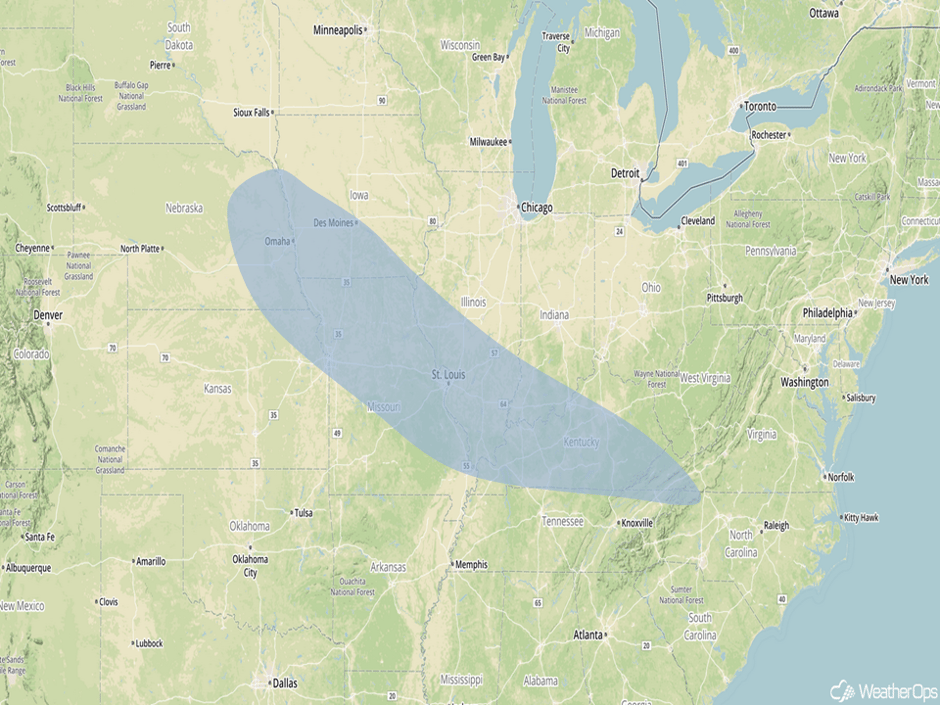 Significant Snowfall Risk Outline for Saturday

A Look Ahead
Into Tuesday and Wednesday, there will be the potential for a late winter Nor'Easter Tuesday into Wednesday. Model guidance is starting to come into agreement on this potential. Latest indications show that a large upper level trough will move into the eastern US on Tuesday, with a surface low to deepen off the Atlantic coast while tracking northeast. Cold air will likely be in place across the region, therefore, significant winter weather will largely depend on placement and strength of the aforementioned low. If this low tracks along the coast, several inches of snow and strong winds will be possible across a large portion of the Northeast Tuesday into Wednesday.

This is just a brief look at current weather hazards. We can provide you site-specific weather forecast information for the purpose of protecting your personnel and assets and to assess your weather risk. Try a 7-day demo right away and learn how timely precision weather information can enhance your bottom line.