National Weather Summary for Thursday, March 23, 2017
by David Moran, on Mar 23, 2017 10:36:36 AM
Thunderstorms may develop across portions of the Plains on Thursday ahead of an upper level trough. A cold front pushing through Florida will allow for the development of thunderstorms across central and southern Florida. Across the northwestern Gulf of Mexico, elevated winds and seas are expected Thursday ahead of a developing area of low pressure.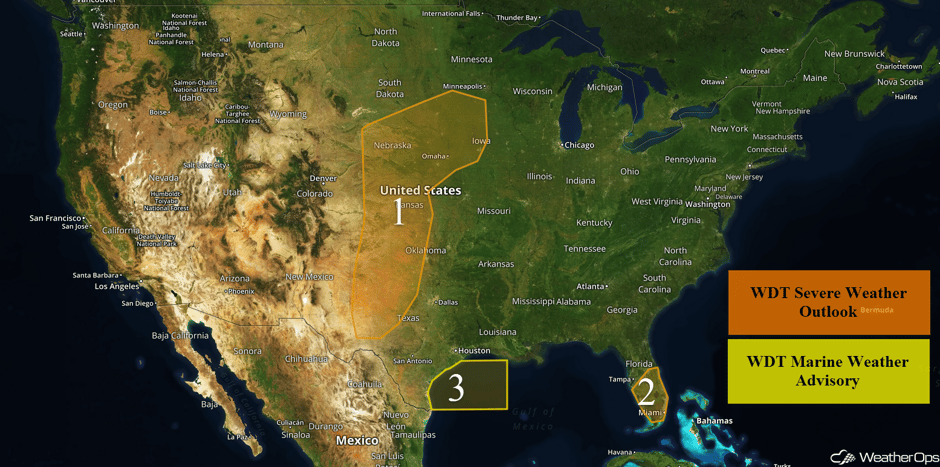 US Hazards
Region 1
An upper level trough will aid in the development of a surface low over the High Plains on Thursday. This low, as well as a cold front and dryline extending southward and a warm front extending into the Upper Mississippi Valley, will provide a focus for thunderstorm development beginning during the early evening hours. There is some uncertainty in regard to overall coverage. However, any storms that develop will have the potential for large hail and damaging winds. Isolated tornadoes cannot be ruled out early in the event from western and central Nebraska southward into the overnight hours. Activity should weaken during the overnight and early morning hours.
Major Cities in Region: Lubbock, TX, Amarillo, TX, Wichita, KS, Omaha, NE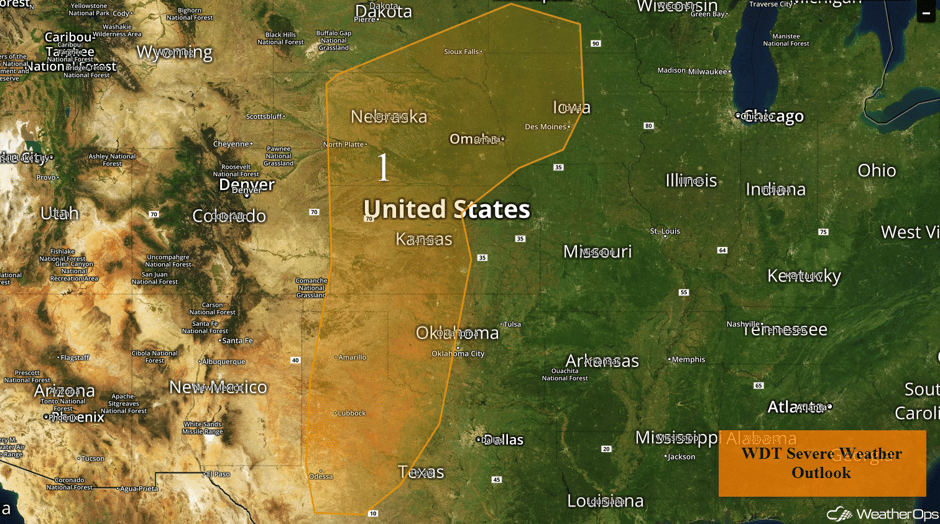 Region 1
Region 2
A slow moving cold front pushing southward through the Florida Panhandle will provide a focus for thunderstorm development across the region. Thunderstorm activity is currently limited to the eastern coast and offshore, but will gradually increase into the afternoon and evening before dissipating. Due to increased instability along and south of the front, there will be a potential for a few strong to severe thunderstorms. Gusty winds and hail will be the primary hazards with any thunderstorms that develop.
Major Cities in Region: Fort Myers, FL, Orlando, FL, Miami, FL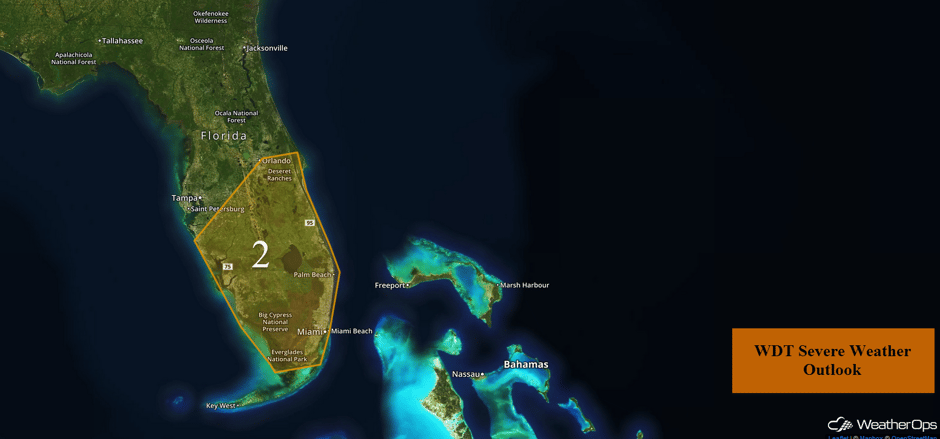 Region 2
Region 3
A developing area of low pressure across the Southern Plains will increase winds and seas across the northwestern Gulf of Mexico. Winds of 23-27 knots with gusts in excess of 32 knots are expected. Seas will build to 6-8 feet near the shore and 7-9 feet in the deeper waters.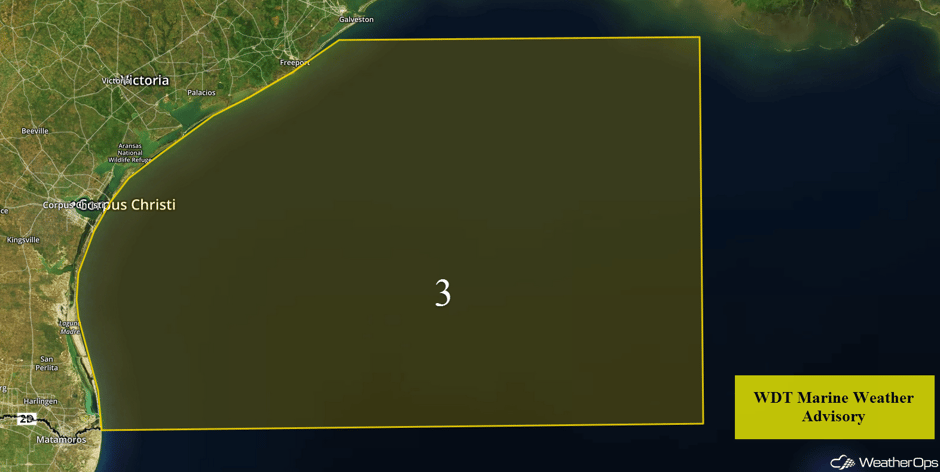 Region 3
Strong to Severe Thunderstorms Possible Friday for Portions of the Southern Plains through Lower Mississippi Valley
An area of low pressure will continue to slowly move eastward across southern Kansas on Friday. A few thunderstorms may develop ahead of a dryline and cold front. Lack of daytime heating will limit thunderstorms in the morning. However, as instability builds during the afternoon, thunderstorms are expected to develop across portions of Kansas, Missouri, Oklahoma, Arkansas, Texas, and Louisiana. Damaging winds will be the primary hazards. but there will also be the potential for large hail and isolated winds. Later in the evening, thunderstorms will merge into a squall line with damaging winds the primary hazard. Storms are likely to continue into the lower to mid Mississippi Valley through the overnight hours.
Major Cities in Region: Dallas, TX, Tulsa, OK, Shreveport, LA, Little Rock, AR, Memphis, TN, Jackson, MS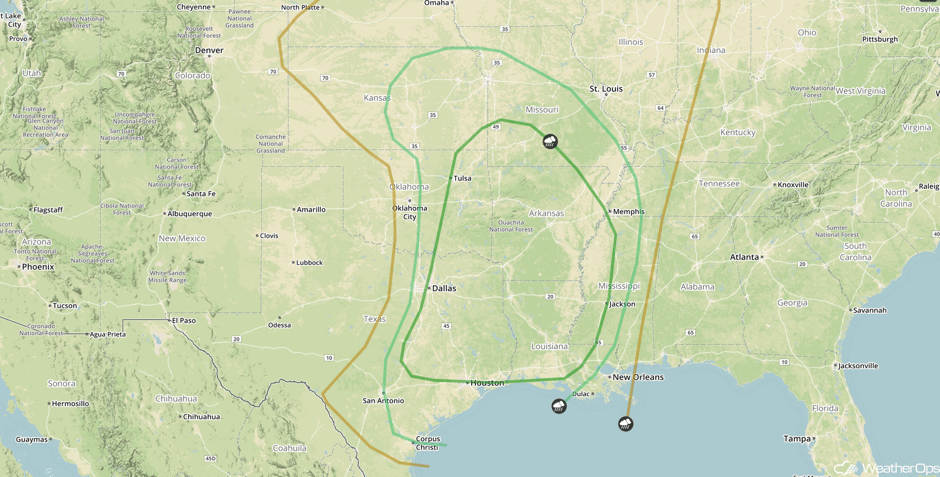 SPC Convective Outlook for Friday
Strong To Severe Thunderstorms Possible Saturday from Central Gulf Coast to Tennessee Valley
The area of low pressure responsible for the threat of severe thunderstorms across the Plains Thursday and Friday will weaken as it moves across Missouri on Saturday. However, an ongoing squall line along a trailing cold front is likely to move through the Gulf Coast States and Tennessee Valley during the morning and early afternoon hours. Storms are likely to weaken by mid afternoon, but damaging winds are likely in association with the squall line before significant weakening occurs.
Major Cities in Region: St. Louis, MO, Memphis, TN, Jackson, MS, New Orleans, LA, Birmingham, AL, Nashville, TN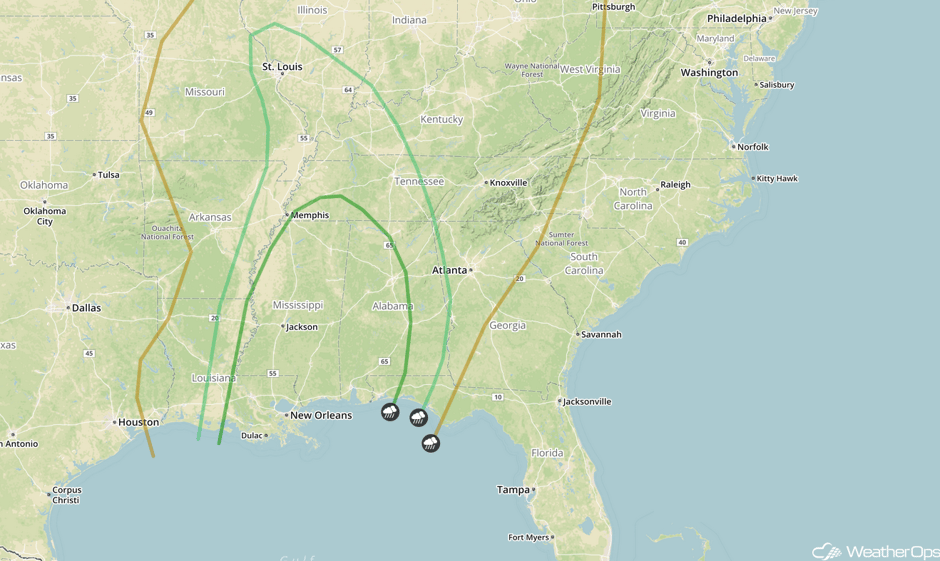 SPC Convective Outlook for Saturday
A Look Ahead
A second system moving into the Plains on Sunday will bring a risk for thunderstorms for portions of the Southern Plains on Sunday. Thunderstorms will be possible from eastern Kansas southward to Dallas. These storms will progress eastward into the Ozarks. By Monday, the thunderstorm potential will move into the Lower Mississippi Valley.
This is just a brief look at current weather hazards. We can provide you site-specific weather forecast information for the purpose of protecting your personnel and assets and to assess your weather risk. Try a 7-day demo right away and learn how timely precision weather information can enhance your bottom line.