National Weather Summary for Thursday, January 19, 2017
by David Moran, on Jan 19, 2017 11:43:39 AM
Thunderstorms will continue across the Southeast as an area of low pressure and cold front moves eastward. As an upper level low moves across the Pacific Northwest and Northern Rockies, snow and some light ice are expected across portions of Southern Idaho through Thursday afternoon. This same system will bring snow to portions of the Four Corners region through early Saturday.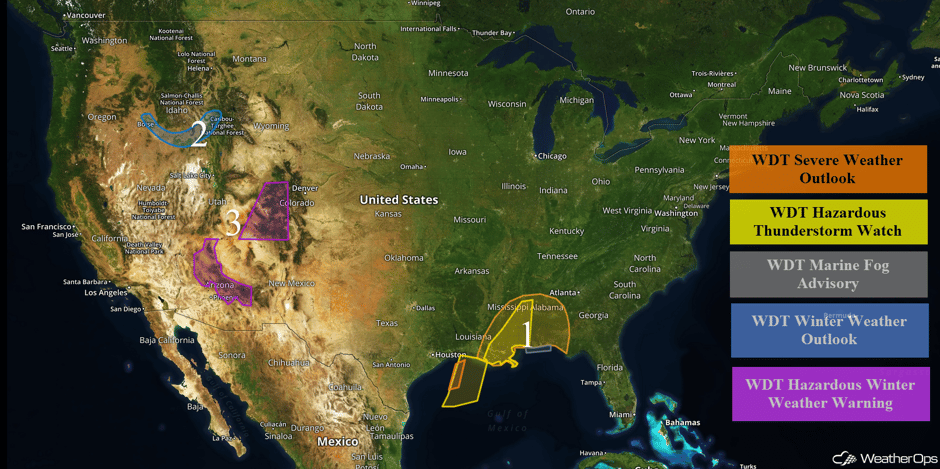 US Hazards
Region 1
An upper level trough will continue to track through the Central Plains today with its associated surface low currently lifting northeastward toward the Midwest. The cold front associated with this low will slowly track eastward with warm moist air ahead of the front. Some of these thunderstorms may become severe during the morning and late afternoon across the Central Gulf Coast and Southeast. The one limiting factor may be the current ongoing thunderstorms and overall cloudiness in the region. Given the current upper level pattern, severe weather appears possible regardless of the limited instability with severe thunderstorms developing. The primary hazard with any thunderstorms that develop will be damaging winds, as well as an isolated tornado or two. Thunderstorms will extend into the northwestern Gulf of Mexico with wind gusts in excess of 45 knots, waterspouts, heavy rain, and frequent lightning the primary hazards. Along the coast of Alabama and northwest Florida, fog will produce visibilities below 3 miles and occasionally below 1 mile during the mid to late morning.
Major Cities in Region: Baton Rouge, LA, Jackson, MS, New Orleans, LA, Mobile, AL, Birmingham, AL, Montgomery, AL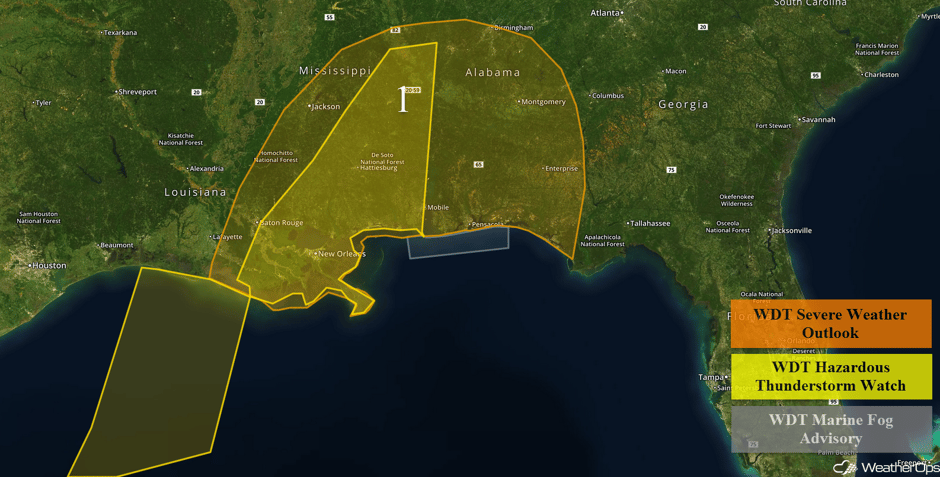 Region 1
Region 2
Snow will continue across the portions of the Northern Rockies as moisture overspreads the region. General snowfall accumulations of 2-4 inches with locally higher amounts in excess of 6 inches are forecast. In addition, light icing up to a tenth of an inch of ice is expected. This may lead to hazardous travel across the region.
Major Cities in Region: Boise, ID, Idaho Falls, ID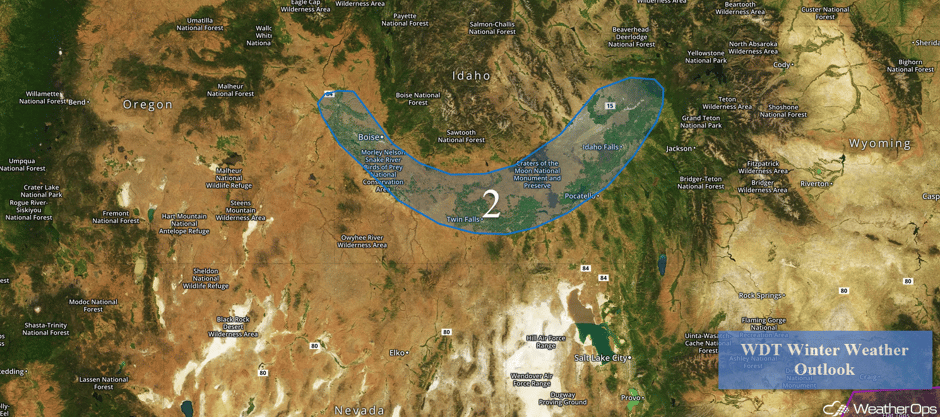 Region 2
Region 3
A prolonged period of winter weather is expected for the higher elevations of central and northern Arizona this week. Areas of light snow will spread eastward across the watch area Thursday before increasing in intensity Thursday night. The snow will then diminish Friday before a second storm system brings heavy snow to the area Friday evening through early Saturday. Heavy snow is likely above 6,000 feet with these systems but snow levels will drop as low as 4,500 feet Thursday night and again by early Saturday. Further to the east, snow is expected across western Colorado through early Saturday. Accumulations of 9-13 inches with isolated higher amounts in excess of 14 inches are expected. In addition, wind gusts in excess of 35 mph will limit visibilities to less than half a mile at times.
Major Cities in Region: Flagstaff, AZ, Grand Junction, CO, Aspen, CO
Region 3
Strong to Severe Thunderstorms Possible for Gulf Coast on Friday
With a cold front moving out of the region, moisture should begin to return across the Gulf Coast states quickly on Friday. During the evening and overnight hours, clusters of thunderstorms are likely to develop in response to this deepening moisture. Overnight, upper level winds will then become supportive of these storms, where a very isolated severe risk exists with wind and hail the primary hazards. An isolated tornado cannot be ruled out.
Major Cities in Region: Beaumont, TX, Baton Rouge, LA, New Orleans, LA, Jackson, MS, Birmingham, AL, Montgomery, AL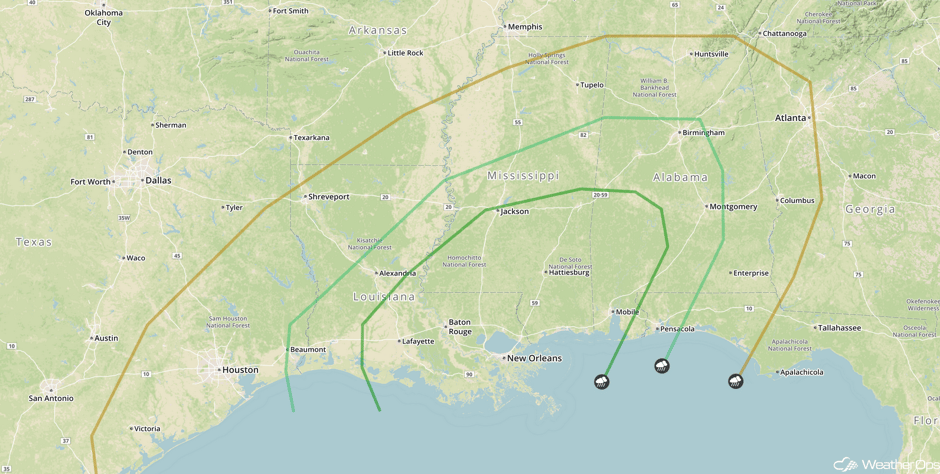 SPC Convective Outlook for Friday
Significant Snowfall Possible for Sierra Nevada Thursday and Friday
Snow will continue across the Sierra Nevada through Friday as a series of storms continue to impact the region. Two day snowfall totals in excess of 2 feet are expected in the higher elevations.
Throwin snow up on Donner! Please slow down and give our workers plenty of room to work. pic.twitter.com/NOfQ1VNd3Z

— Caltrans HQ (@CaltransHQ) January 19, 2017
Major Cities in Region: Reno, NV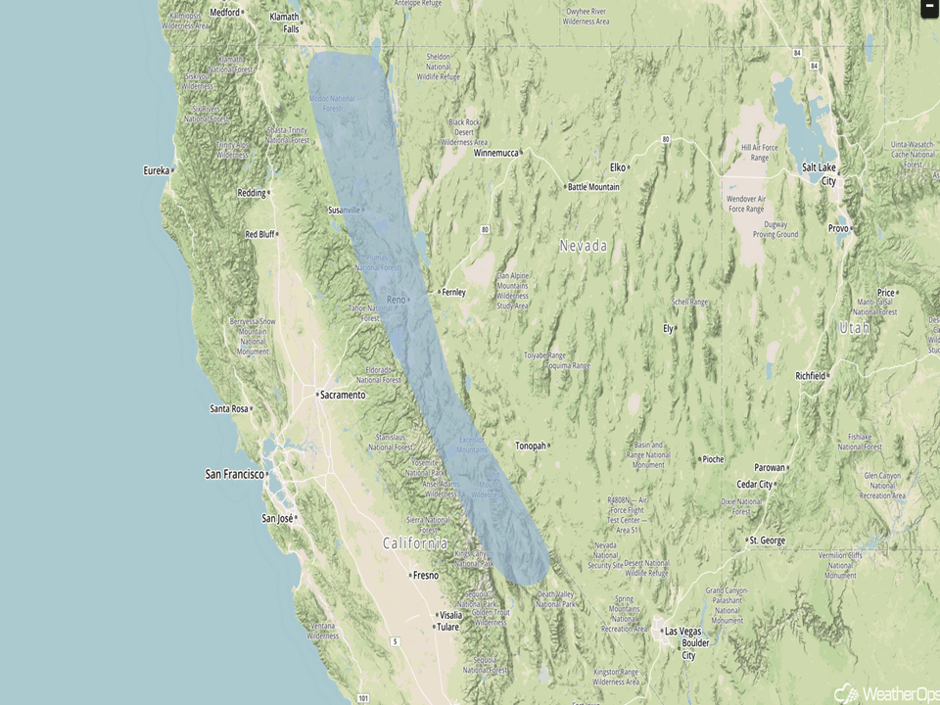 Significant Snowfall Risk Outline for Thursday and Friday
Severe Thunderstorms Expected for the Gulf Coast on Saturday
The environmental conditions for an outbreak of severe weather may be coming together in the southern states, especially from Saturday evening into Sunday morning. Showers and thunderstorms will likely continue into Saturday, but cloud cover may inhibit stronger convection. However, by late Saturday afternoon, the arrival of the storm system should initiate the development of strong to severe thunderstorms, including supercells. Localized flooding, hail, damaging winds, and tornadoes will all be possible with these storms.
Major Cities in Region: Baton Rouge, LA, New Orleans, LA, Jackson, MS, Mobile, AL, Birmingham, AL, Atlanta, GA, Tallahassee, FL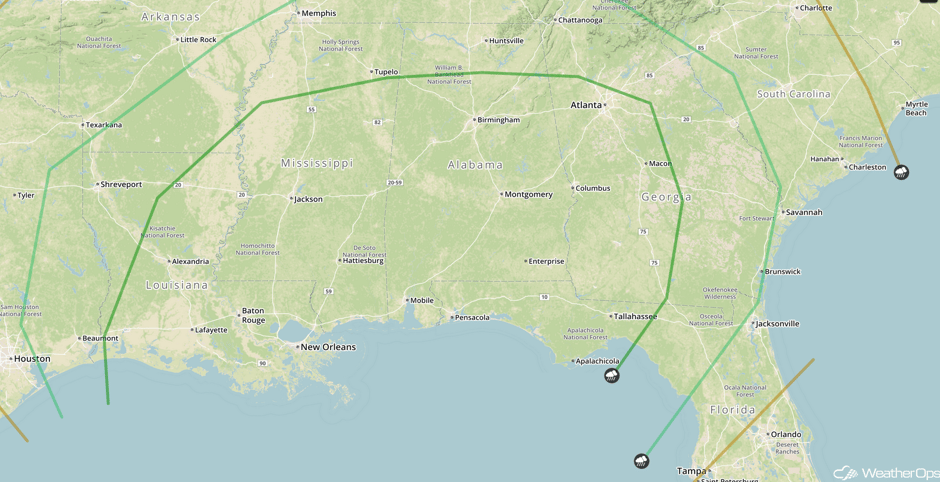 SPC Convective Outlook for Saturday
A Look Ahead
Severe thunderstorms will continue to move eastward across the Southeast on Sunday; damaging winds will be the primary hazards with these storms, but isolated tornadoes cannot be ruled out. Heavy snowfall will continue across the Sierra Nevada ahead of a new storm system. Further east, snow is expected across the Great Basin; accumulations in excess of a foot are expected. By Tuesday, an area of low pressure will bring freezing rain and snow to portions of the Northeast.
This is just a brief look at current weather hazards. We can provide you site-specific forecast information for the purpose of protecting your personnel and assets. Try a 7-day demo right away and learn how timely precision weather information can enhance your bottom line.