National Weather Summary for Thursday, January 12, 2017
by David Moran, on Jan 12, 2017 11:18:27 AM
Freezing rain is likely to develop cross the Plains and Midwest early Friday and continuing into Sunday ahead of a storm system over the southwestern US.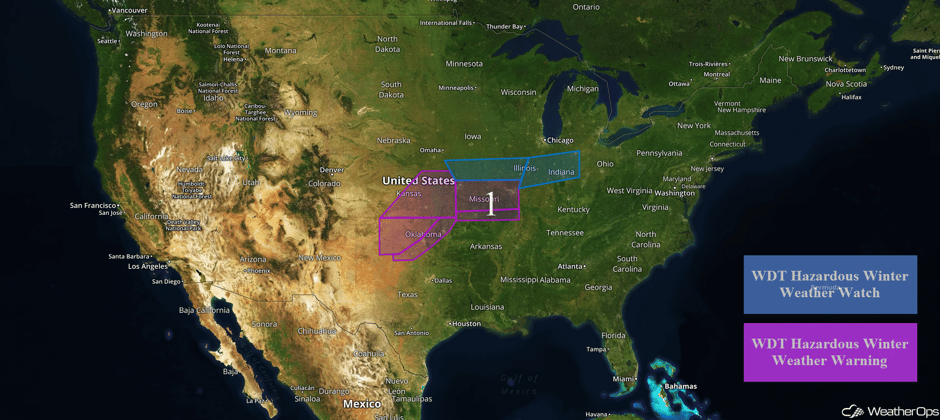 US Hazards
Region 1
Confidence is increasing that a widespread ice storm will affect portions of Oklahoma Friday and through the weekend. Freezing temperatures will be in place, with freezing drizzle beginning to develop Friday morning and persisting throughout the day. More significant accumulation is expected Saturday into Sunday as an area of low pressure develops, increasing rainfall rates. Freezing rain will taper off Sunday evening into early Monday. A quarter inch of ice will be common throughout the warning area, with the potential for extreme amounts of over an inch possible in far northwest Oklahoma. Further to the east, from southwestern Oklahoma through central Oklahoma and into northeastern Oklahoma, ice accumulations from .1 inch to .25 inch with locally higher amounts are expected. Travel will likely become difficult Friday and power outages may be possible by Friday night into early Saturday. It is also important to note that subtle temperature changes will significantly impact the amount of ice accumulation.
Further to the north, ice accumulations between .25 and .75 inches and locally higher amounts are forecast across portions of Kansas through Sunday. From Missouri into Illinois and Indiana, ice accumulations between .10 and .25 inches with isolated higher amounts are expected.
Here is a map of potential impacts from ice this weekend. #okwx #texomawx pic.twitter.com/uXIRNXg3eX

— NWS Norman (@NWSNorman) January 12, 2017
Here is an our recent/updated forecast of ice accumulations. #okwx #texomawx pic.twitter.com/WWE62hZ8ka

— NWS Norman (@NWSNorman) January 12, 2017
Major Cities in Region: Lawton, OK, Oklahoma City, OK, Tulsa, OK, Ponca City, OK, Wichita, KS, Topeka, KS, Kansas City, MO, Joplin, MO, St. Louis, MO, Springfield, IL, Indianapolis, IN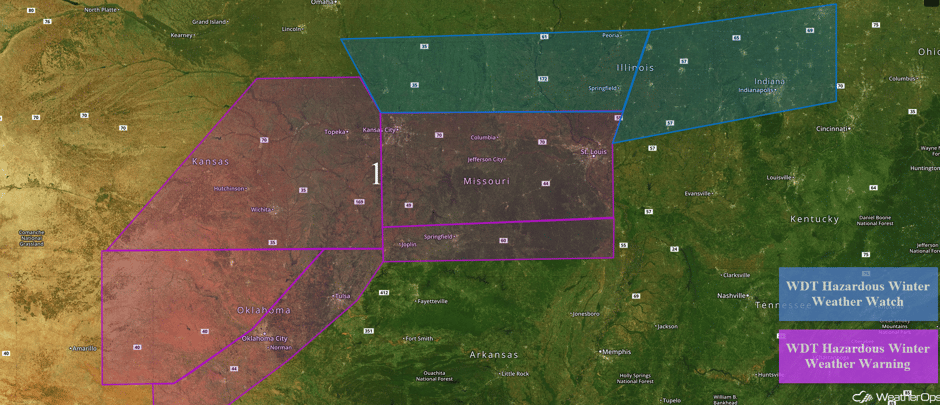 Region 1
Strong to Severe Thunderstorms Possible for the Southern High Plains on Saturday
As an upper level low over the Southwest begins to move eastward, thunderstorms will be possible along a front over portions of eastern New Mexico and Texas. The main timing for thunderstorms will be during the afternoon and evening hours, perhaps continuing into the overnight time frame. There will be a marginal risk of strong to severe thunderstorms across the region. With cold air aloft, large hail will likely be the primary threat, though gusty winds may develop within some of the stronger activity as well.
Major Cities in Region: Roswell, NM, Carlsbad, NM, Odessa, TX, Midland, TX, Lubbock, TX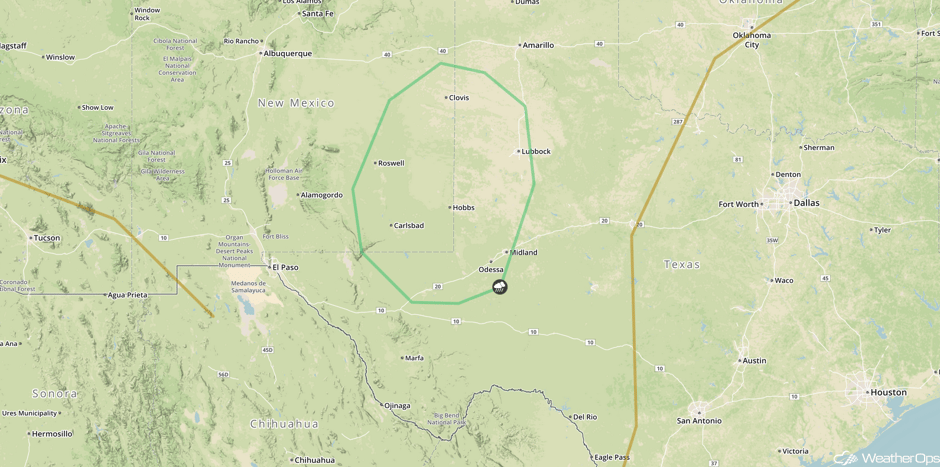 SPC Convective Outlook for Saturday
A Look Ahead
The ice storm across the Plains and Midwest is forecast to continue for portions of the Central Plains eastward into the Mid Mississippi Valley Sunday into Monday. As an area of low pressure intensifies, an area of freezing rain will develop across the Northern Plains and Upper Midwest. Ice accumulations around a tenth of an inch are expected. Snow is expected to develop along the Colorado Front Range; snow accumulations could range from 4-8 inches with locally higher amounts in excess of 10 inches. This activity is forecast to continue into Monday across the Plains and Midwest.
Across the Southern Plains, thunderstorms may develop on Sunday ahead of a cold front. If thunderstorms are able to develop, hail, gusty winds, and an isolated tornado or two will be the main hazards.
Early next week, an upper level low will move into the Pacific Northwest, bringing the potential for excessive rainfall from western Washington to Northern California. Some higher elevation snow will be possible for the Cascades and Northern Rockies.
This is just a brief look at current weather hazards. We can provide you site-specific forecast information for the purpose of protecting your personnel and assets. Try a 7-day demo right away and learn how timely precision weather information can enhance your bottom line.