National Weather Summary for Thursday, February 23, 2017
by David Moran, on Feb 23, 2017 10:59:02 AM
Severe thunderstorms are expected for portions of the Plains Thursday afternoon as a warm front moves northward. Snow will continue across the Northern Plains and into the Great Lakes as an area of low pressure moves northeastward. Showers and thunderstorms will continue for portions of Florida this morning as an area of low pressure remains off the East Coast.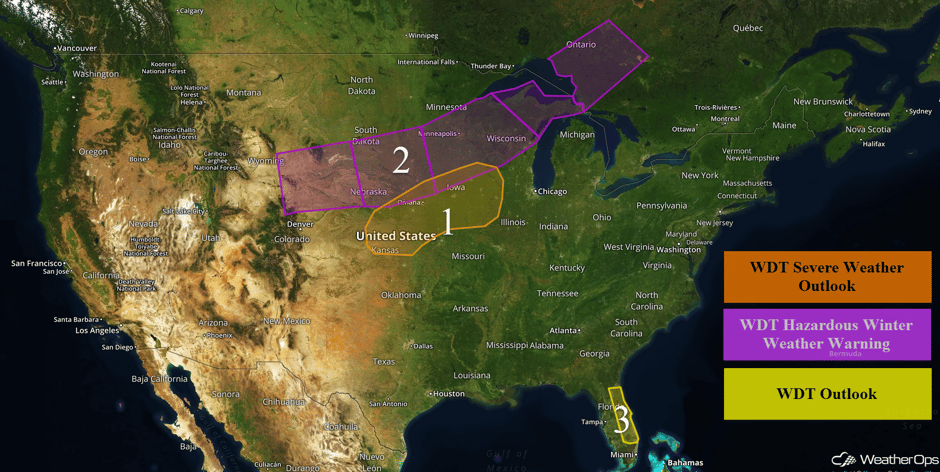 US Hazards
Region 1
Severe thunderstorms are expected to develop across Region 1 this afternoon and evening as a warm front lifts through the region. Large hail will be the primary hazard, but damaging winds cannot be ruled out.
Major Cities in Region: Topeka, KS, Omaha, NE, Des Moines, IA, Cedar Rapids, IA, Davenport, IA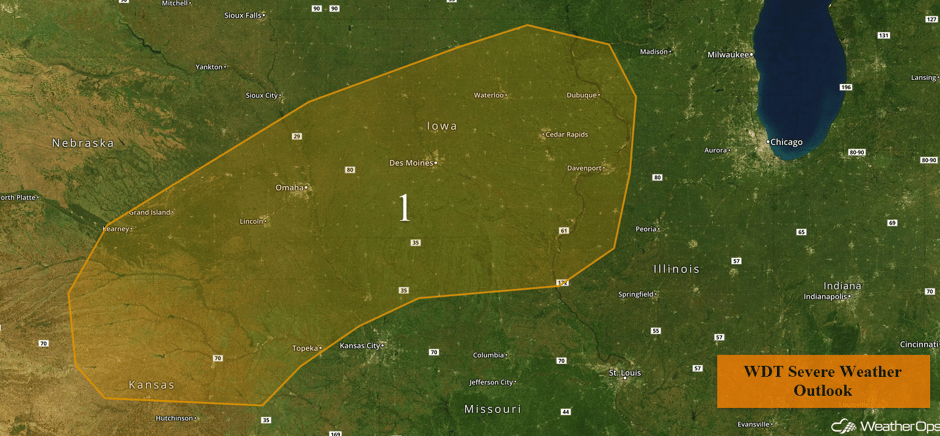 Region 1
Region 2
Heavy snow will continue across portions of the Plains through the day on Thursday as an area of low pressure continues to intensify and move northeastward throughout the day. Snowfall amounts of 6-12 inches with locally higher amounts are forecast from eastern Wyoming northeastward into the Great Lakes. Snow will begin across portions of Minnesota and Wisconsin late Thursday and continue into Saturday afternoon. In addition to the snow, winds of 15-25 mph with gusts in excess of 30 mph will allow for areas of blowing snow and wind chills below zero.
Snow slowly working east from the western Nebraska but has to really arrive in south central #NeWx. pic.twitter.com/Foiow9nqmS

— NWS Hastings (@NWSHastings) February 23, 2017
Update 12:25pm CST: Heavy snow falling across north central Nebraska.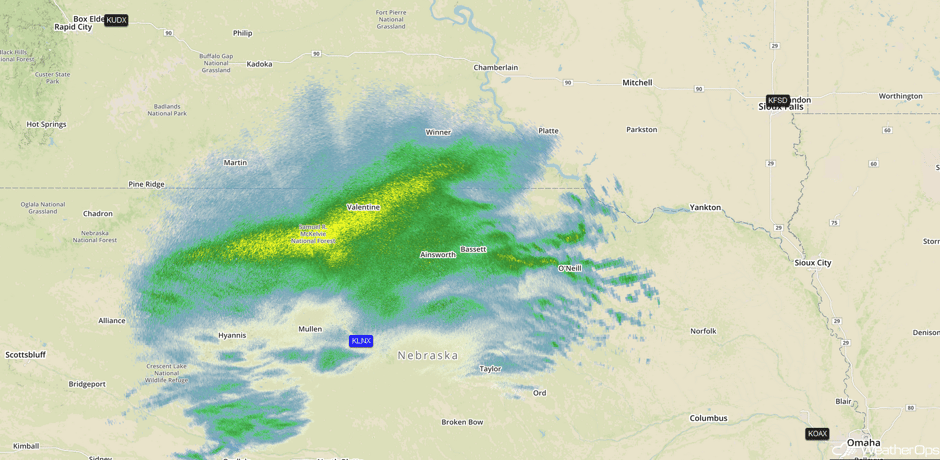 Radar 12:25pm CST
RT RT NWSSiouxFalls: Snow has moved into Mitchell! Webcam image form SouthDakotaDOT #sdwx pic.twitter.com/OUBsOnWb1i

— Jason Bechler 😎🤓 (@jasonbechler) February 23, 2017
Major Cities in Region: Cheyenne, WY, Pierre, SD, Sioux Falls, SD, Minneapolis, MN, Green Bay, WI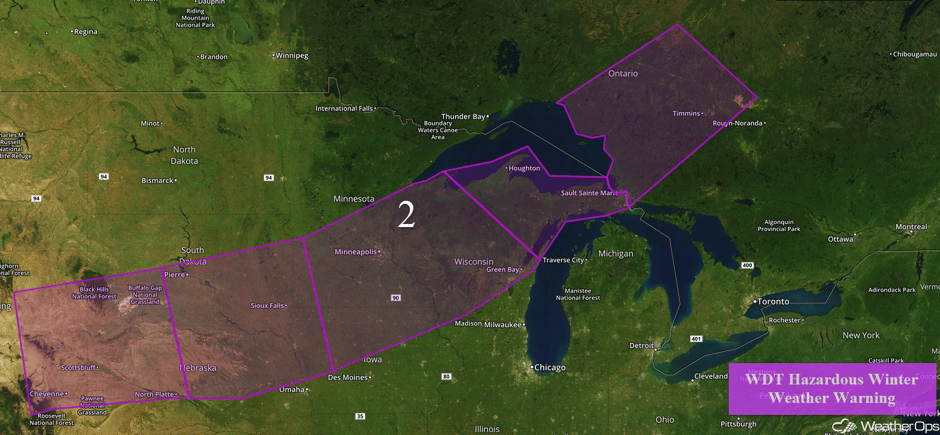 Region 2
Region 3
An area of low pressure centered off the east coast of Florida this morning is nearly stationary. This will allow for continued periods of light to moderate rainfall tracking westward to west-southwestward through the late afternoon hours on Thursday. An additional 0.1-0.3 inch of rainfall will be possible by this evening. While occasional lightning strikes cannot be ruled out, organized and significant thunderstorm activity is not expected. However, lingering shower activity will be possible through midnight. As the low finally moves off to the east, precipitation will gradually diminish. In addition to the rainfall, northeasterly winds of 20-25 mph will be possible this afternoon with gusts in excess of 30 mph at times.
Major Cities in Region: Orlando, FL, Daytona Beach, FL, Palm Beach, FL
Region 3
Severe Thunderstorms Expected for the Ohio Valley and Southern Great Lakes
A cold front associated with a strong area of low pressure will provide a focus for the development of thunderstorms Friday afternoon. These storms will continue through the evening and into the overnight hours as they evolve into a squall line. Hail and damaging winds are expected with the strongest storms. Early in the event, there will be a tornado threat before evolving into a squall line. The highest risk for severe thunderstorms will be from central and northern Indiana as well as northwestern Ohio.
Major Cities in Region: Indianapolis, IN, Cincinnati, OH, Toledo, OH, Columbus, OH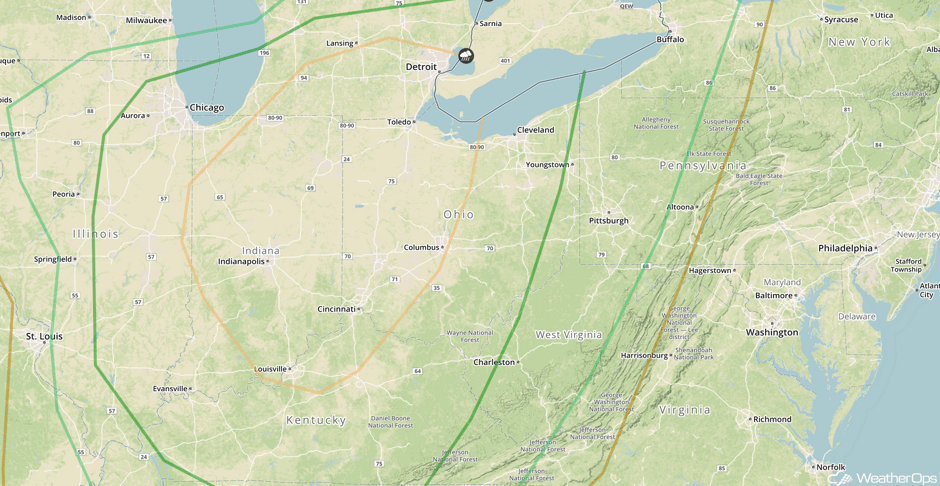 SPC Convective Outlook for Friday
Strong to Severe Thunderstorms Possible for the Eastern Great Lakes and Central Appalachians on Saturday
The squall line described above will continue to move eastward across portions of eastern Ohio into eastern Kentucky. The storms should weaken through the morning, but may intensify later in the day as they move into western portions of New York and Pennsylvania southward into West Virginia. While instability will be limited, favorable wind shear will bring a risk for strong to severe thunderstorms across the region, with gusty winds and hail possible.
Major Cities in Region: Buffalo, NY, Richmond, VA, Washington, DC, Baltimore, MD, Philadelphia, PA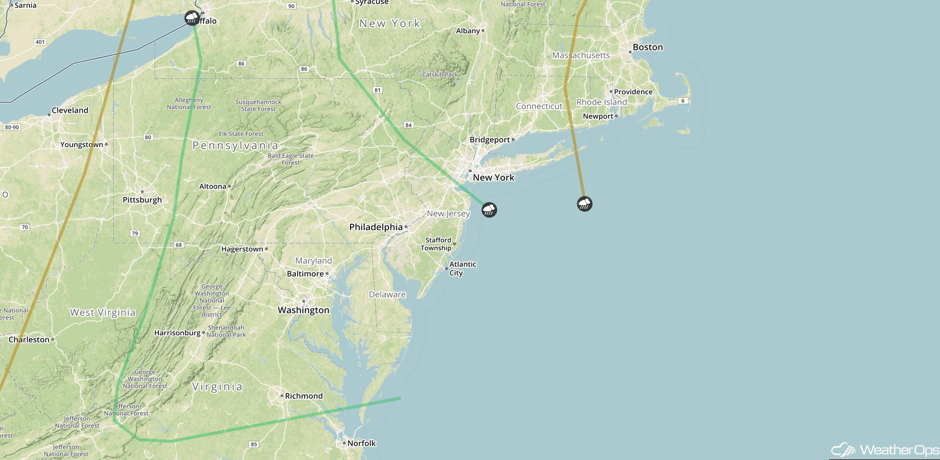 SPC Convective Outlook for Saturday

A Look Ahead
An area of low pressure will develop across the Rockies and track northeastward across the Great Plains and into the Great Lakes. Snowfall will develop along the northern side of the low Tuesday into Wednesday as cold air moves southward out of Canada, There is the potential for at least a few to perhaps several inches of snow across portions of the Upper Midwest and western Great Lakes. In addition, gusty winds will likely develop within the vicinity of the low and produce areas of blowing snow.
This is just a brief look at current weather hazards. We can provide you site-specific forecast information for the purpose of protecting your personnel and assets. Try a 7-day demo right away and learn how timely precision weather information can enhance your bottom line.