National Weather Summary for Thursday, February 2, 2017
by David Moran, on Feb 2, 2017 11:06:29 AM
Snow will continue across the higher elevations of California on Thursday in association with an area of low pressure. By late Thursday, a wintry mix of snow and freezing rain will start across the Pacific Northwest and Northern Rockies. Dense fog is forecast to develop and persist along the Texas and Louisiana coasts through early Friday.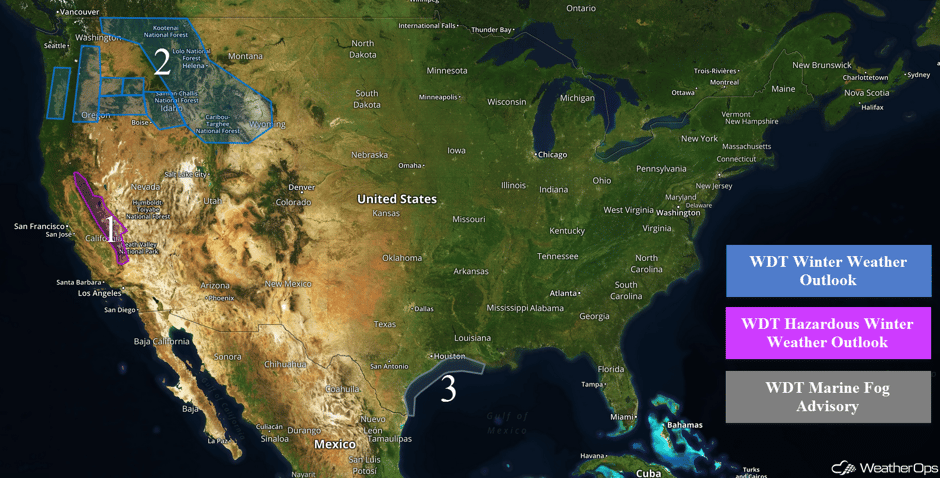 US Hazards
Region 1
Snow will continue across the higher elevations of California through early Saturday as an area of low pressure continues to move west-northwestward. Snow accumulations of 4-8 inches in the mid elevations and 1-2 feet in the higher elevations with locally higher amounts are forecast.
Major Cities in Region: Carson City, NV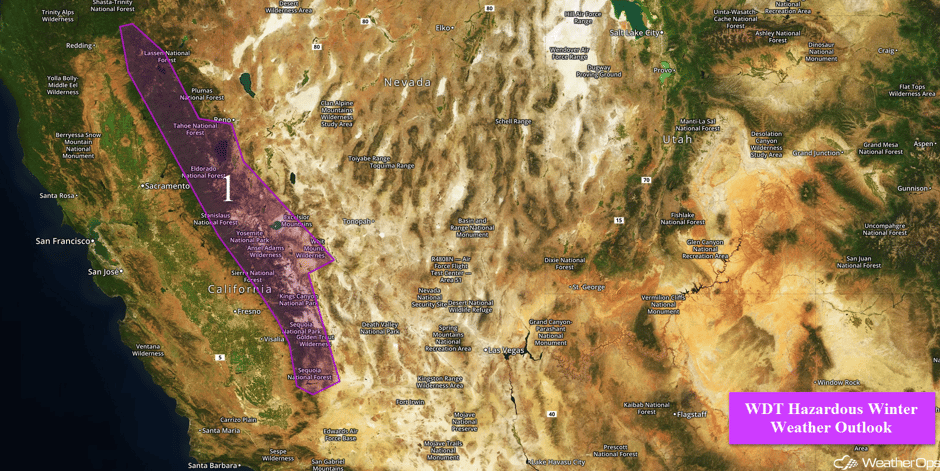 Region 1
Region 2
A wintry mix of precipitation is expected across the Pacific Northwest and Northern Rockies through Sunday afternoon as a series of systems move across the region. Snow will transition to freezing rain across portions of Oregon on Friday. Snowfall accumulations of 3-6 inches are expected for the valleys of Oregon and 6-12 inches in the higher elevations. The highest elevations may see over a foot of snow. In addition, freezing rain of up to 0.2 inch is expected. Further east from eastern Oregon to western portions of Montana and Wyoming, 6-10 inches of snow are possible with as much as 15 inches in the higher elevations. Far eastern portions of Region 2 will have the potential for snowfall amounts in excess of 18 inches.
Update 11:19am PST: Light snow continuing across portions of Oregon and Idaho.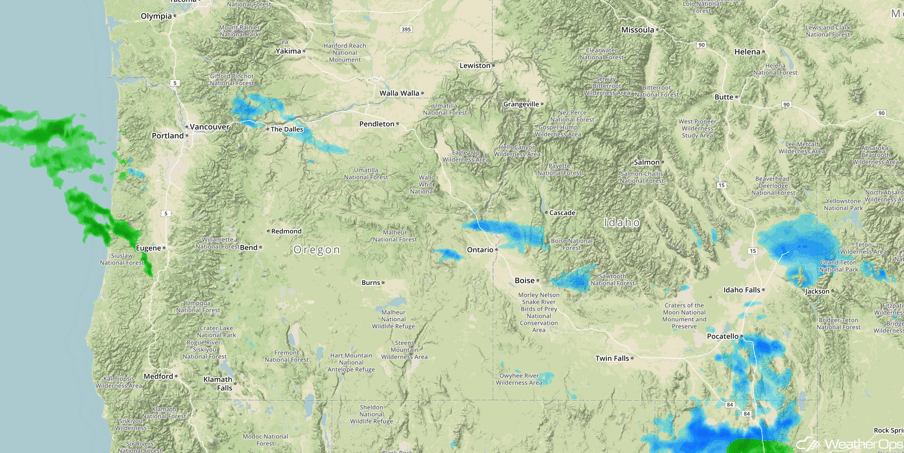 Major Cities in Region: Portland, OR, Yakima, WA, Missoula, MT, Helena, MT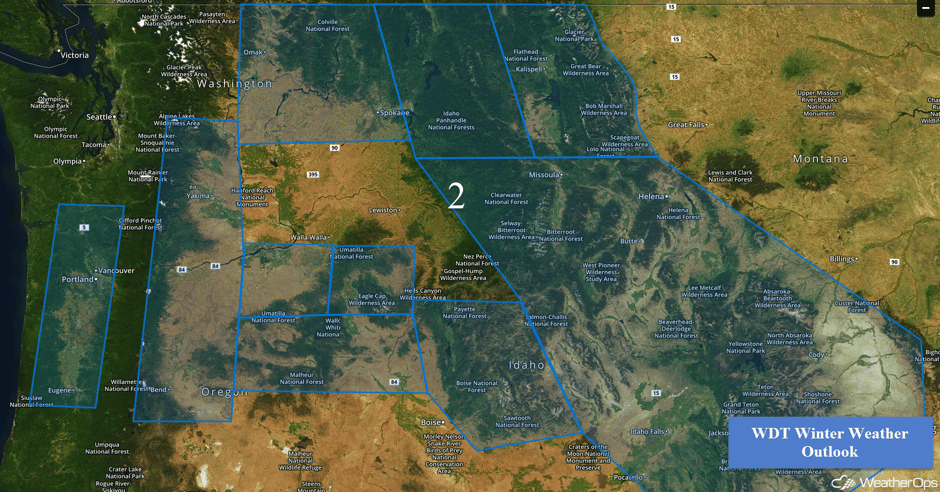 Region 2
Region 3
Dense sea fog is forecast to form off the Texas coast after midnight due to light to gentle winds and plentiful moisture across the region. Visibilities less than two miles are possible through Friday morning before winds increase out of the north-northeast.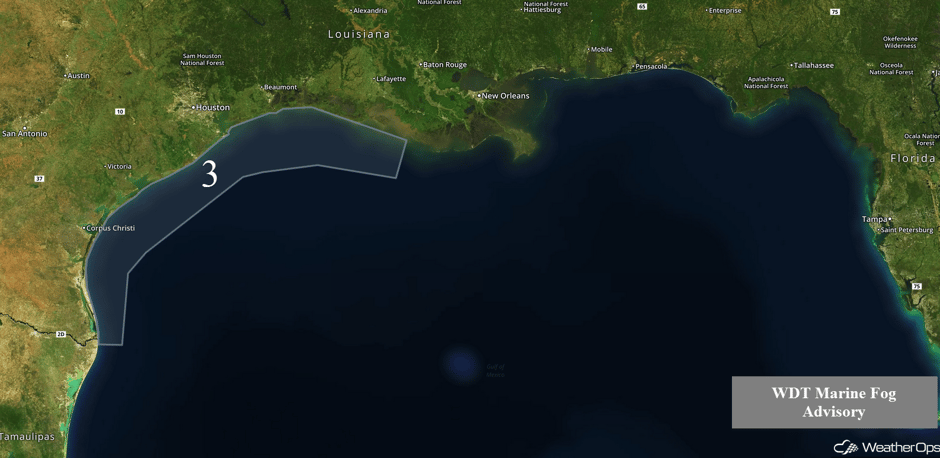 Region 3
Excessive Rainfall Possible for Northern California on Friday
As the upper level low that brought snow to the Sierra Nevadas on Thursday continues to track into the Pacific Northwest, ample moisture will spread across California and southern portions of the Pacific Northwest. Showers will become steadier and intensify through the day. Rainfall accumulations of 1-3 inches are forecast. Given recent heavy rainfall, localized flooding and runoff will be a concern.
Major Cities in Region: Eureka, CA, San Francisco, CA, Sacramento, CA, Fresno, CA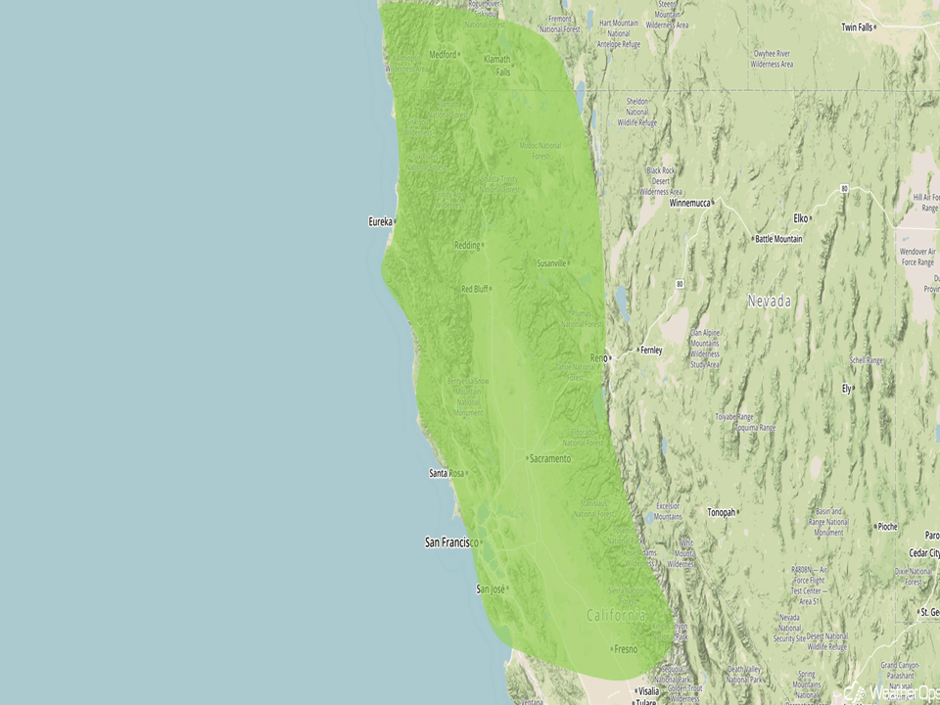 Excessive Rainfall Risk Outline for Friday
A Look Ahead
An area of low pressure moving toward the Canadian Maritimes on Sunday into Monday. This will bring light snow to portions of the Northeast and general thunderstorms to portions of the Mississippi Valley ahead of the attendant cold front. Early next week, some light to moderate snow may develop across portions of the Plains and Great Lakes as an area of low pressure moves eastward.
This is just a brief look at current weather hazards. We can provide you site-specific forecast information for the purpose of protecting your personnel and assets. Try a 7-day demo right away and learn how timely precision weather information can enhance your bottom line.