National Weather Summary for Monday, October 17, 2016
by David Moran, on Oct 17, 2016 11:14:02 AM
A warm front lifting across the Great Lakes will allow for the development of thunderstorms across portions of the Upper Great Lakes on Monday. By Wednesday, thunderstorms will be possible across the Southern Plains ahead of a cold front.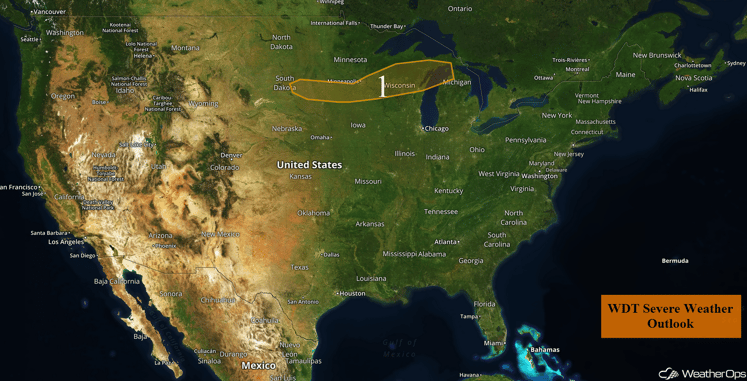 US Hazards
Region 1
Thunderstorms are forecast to develop by late afternoon near a surface low and associated warm front that will track through the Northern Plains today. Strong wind shear and moderate instability will be in place across Region 1 today, which will allow any thunderstorms to become severe, with large hail in excess of an inch in diameter expected to be the main hazard. Strong wind gusts in excess of 50 mph will also be possible. The greatest severe weather threat will be during the late afternoon, evening, and early overnight hours.
Major Cities in Region: Minneapolis, MN, Wausau, WI, Green Bay, WI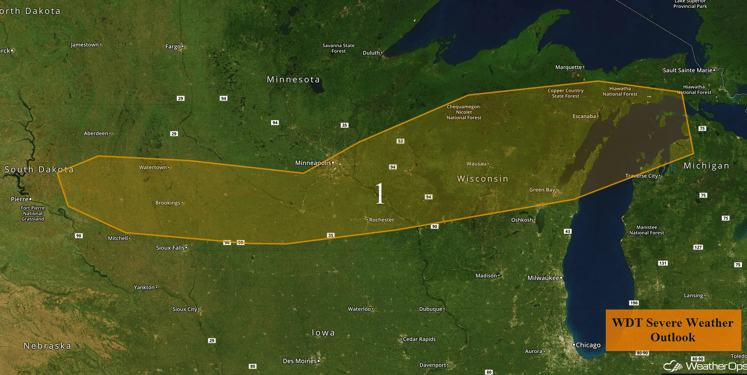 Region 1
Strong to Severe Thunderstorms Possible Wednesday across the Southern Plains
A frontal boundary draped across much of the central and eastern US will accelerate to the south and east as an upper-level trough moves across the Great Plains. Scattered showers and thunderstorms are likely along the front, with the greatest chance for marginally severe weather being over the Southern Plains.
Major Cities in Region: Dallas, TX, Fort Smith, AR, Little Rock, AR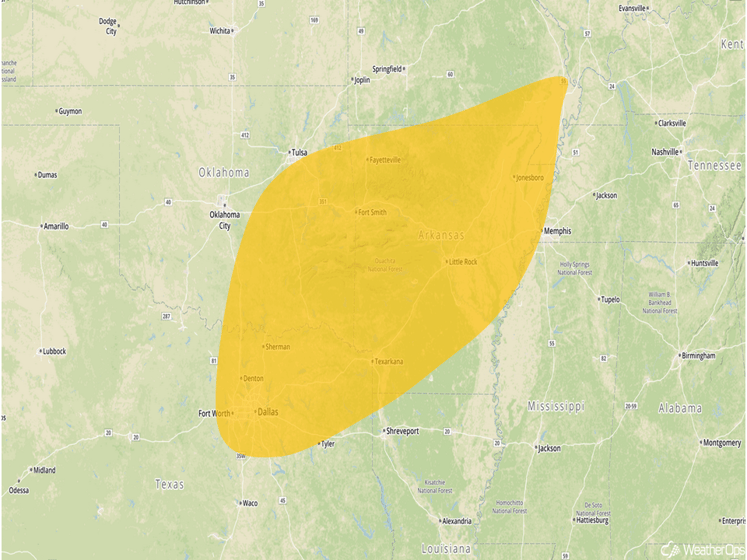 Thunderstorm Risk Outline for Wednesday
Tropical Update
Hurricane Nicole (green oval) is moving north-northeast at 9 mph, and this general motion is forecast with an increase in forward speed expected during the next couple of days. Maximum sustained winds are near 75 mph with higher gusts. Little change in strength is forecast during the next 48 hours, but Nicole should lose its tropical characteristics by early Tuesday.
A large area of cloudiness and disorganized showers (red oval) located over the central and southern Bahamas and western Atlantic waters is associated with a surface trough that is interacting with an upper level low. Upper level winds are currently unfavorable for significant development, but they could become more conducive for development by late Tuesday or early Wednesday when the system begins to drift northward or north-northwestward. Regardless of development, locally heavy rainfall is possible over portions of the Bahamas during the next day or so.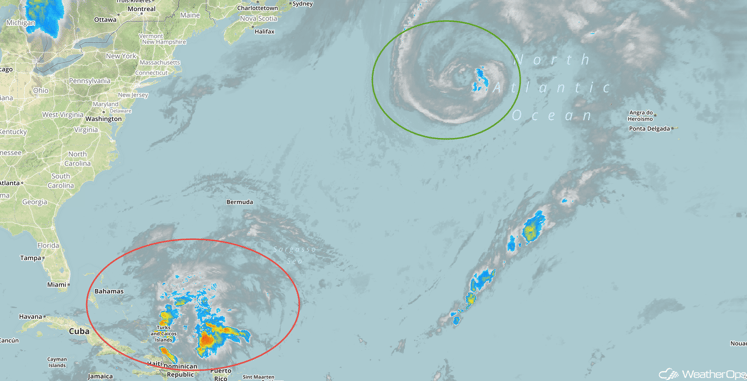 Tropical Infrared Satellite
A Look Ahead
Fairly quiet weather is expected for much of the CONUS over the next several days, however, an area of low pressure may bring the risk for excessive rainfall for portions of the Northeast on Friday.
This is just a brief look at current weather hazards. We can provide you site-specific forecast information for the purpose of protecting your personnel and assets. Try a 7-day demo right away and learn how timely precision weather information can enhance your bottom line.