National Weather Summary for Monday, November 28, 2016
by David Moran, on Nov 28, 2016 11:36:00 AM
As a cold front and upper level system moves eastward from the Southern Plains and into the Lower Mississippi Valley, thunderstorms capable of large hail, damanging winds, and tornadoes will continue to move eastward throughout the day. Heavy snowfall is likely across portions of the Northern Plains Monday and Tuesday as an area of low pressure lifts into the Dakotas. Further south across the Gulf of Mexico, thunderstorms will be possible as a cold front moves across the northern Gulf of Mexico.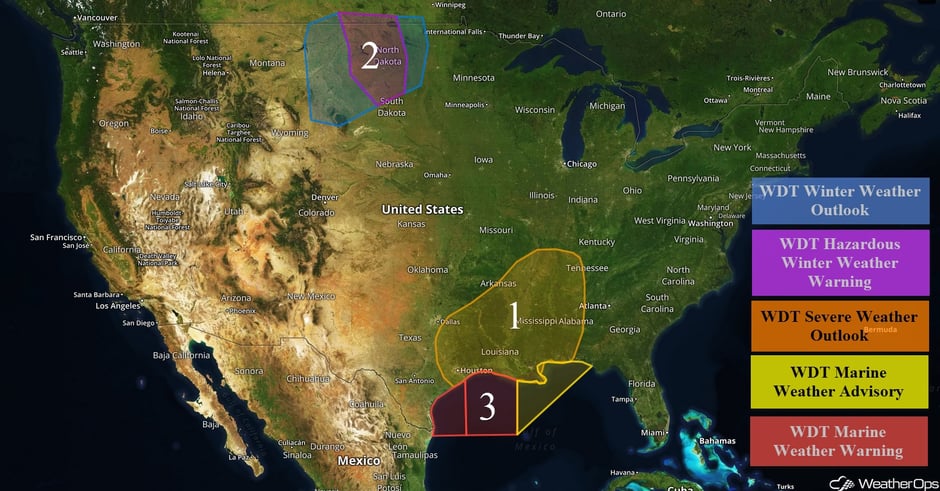 US Hazards
Region 1
A cold front associated with a strong upper level system is forecast to move eastward from the Southern Plains and into the Lower and Middle Mississippi Valley. Thunderstorms are currently ongoing across portions of northern Texas, southeastern Oklahoma, and western Arkansas and will spread eastward and build southward along and ahead of the front, possibly evolving into a squall line. Conditions will be favorable for severe thunderstorms across the region, with the highest threat occurring from late morning through mid-evening across northern Louisiana, southern Arkansas, and western and northern Mississippi. Large hail, damaging winds, and tornadoes (some potentially strong), will be possible.
Update 11:56am CDT: Tornado Watch in effect until 5pm CDT for portions of Arkansas, Louisiana, and Texas.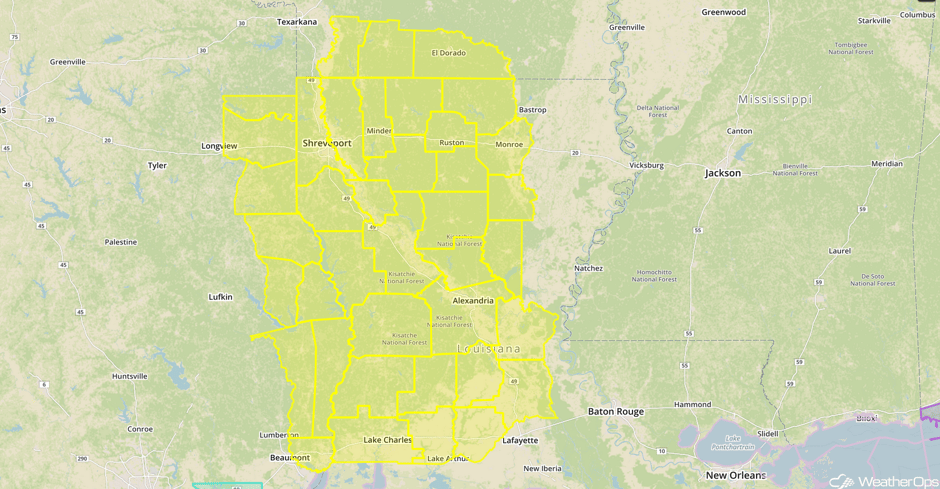 Tornado Watch
Major Cities in Region: Houston, TX, Little Rock, AR, Memphis, TN, Jackson, MS, New Orleans, LA, Birmingham, AL, Nashville, TN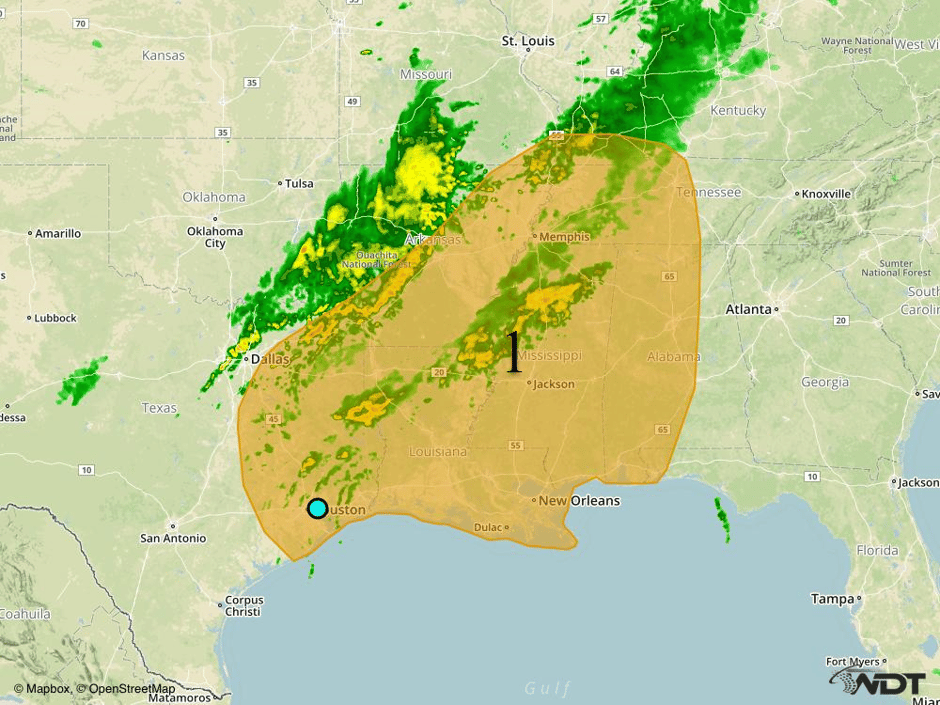 Region 1
Region 2
A strong area of low pressure will lift into the Dakotas and become stationary through the middle of the week. Heaviest accumulations will extend from portions of North Dakota southward into South Dakota with accumulations of 6-8 inches with locally higher amounts in excess of 10 inches possible. In addition, sustained winds of 20-30 mph with gusts in excess of 50 mph, visibilities of less than half a mile, and wind chills of 5-15° will be possible. Lighter amounts of 1-3 inches with locally higher amounts in excess of 4 inches will be possible for western portions of the Dakotas and eastern North Dakota.
Major Cities in Region: Minot, ND, Bismarck, ND
Region 2
Region 3
A cold front moving through the central US will allow for increasing winds and building seas to develop across the western and central Gulf of Mexico. Seas will build to 10-14 feet and winds will increase to 25-35 knots with gusts in excess of 40 knots. Conditions will begin to improve early Tuesday. As the cold front continues to move eastward into the central Gulf of Mexico on Tuesday, winds will become southerly to south-southwesterly at 20-30 knots with gusts in excess of 35 knots. Rough seas are expected as the winds increase.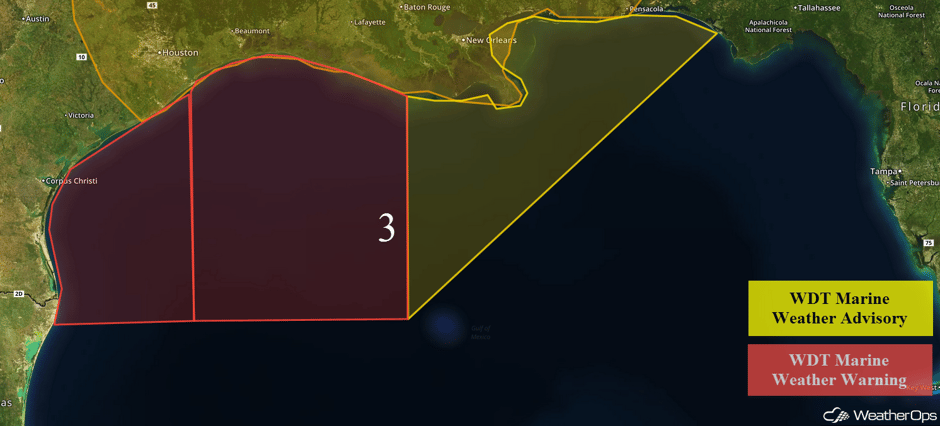 Region 3
Strong to Severe Thunderstorms Possible Wednesday from the Southeast to the Mid Atlantic
A cold front advancing into the eastern United States will likely be the focal point for thunderstorms on Wednesday. These thunderstorms may develop into a squall line early, but should weaken later in the day. During the afternoon and early evening, isolated to scattered thunderstorms will be possible across the entire region. Conditions are expected to be favorable for the development of strong to severe thunderstorms, with gusty winds, hail, and even a low tornado threat.
Major Cities in Region: Atlanta, GA, Raleigh, NC, Norfolk, VA, Washington, DC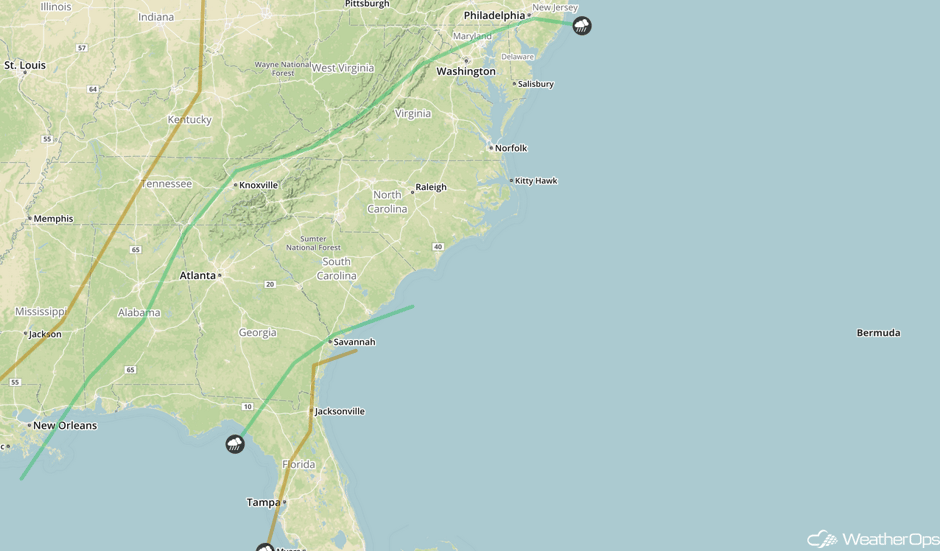 SPC Convective Outlook for Wednesday
Tropical Update
No tropical activity is expected within the next 48 hours.
A Look Ahead
By Friday, a closed upper level low is forecast to develop over the southwestern US. This will allow cold air to filter in to portions of the Southern High Plains. As moisture spreads northwestward from the Gulf of Mexico, periods of snow will be possible across the region. There are some discrepancies among the models concerning the evolution of the upper level low, but there will be a potential for accumulating snow Friday afternoon through evening.
This is just a brief look at current weather hazards. We can provide you site-specific forecast information for the purpose of protecting your personnel and assets. Try a 7-day demo right away and learn how timely precision weather information can enhance your bottom line.