National Weather Summary for Monday, March 21, 2016
by David Moran, on Mar 21, 2016 11:57:20 AM
An area of low pressure off the coast of the Carolinas will bring heavy snow to portions of the Northeast on Monday. Snow is possible across portions of Iowa and Wisconsin Wednesday into Thursday. An area of low pressure will bring the potential for snow across portions of the Front Range of the Rockies and the Central High Plains Tuesday into Wednesday.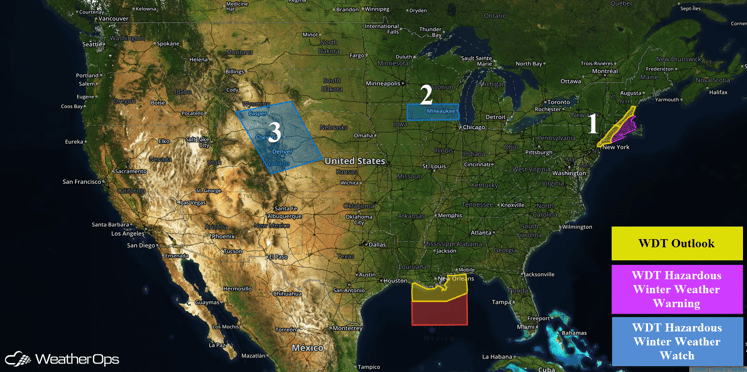 US Hazards
Region 1
An intensifying area of low pressure off the coast of the Carolinas will move northeastward along the Eastern Seaboard and spread a narrow band of heavy snow across Region 1. Snow will end during the day on Monday. Snow accumulations will depend on the track of the low, but most areas will see 5-7 inches with locally higher amounts in excess of 8 inches possible.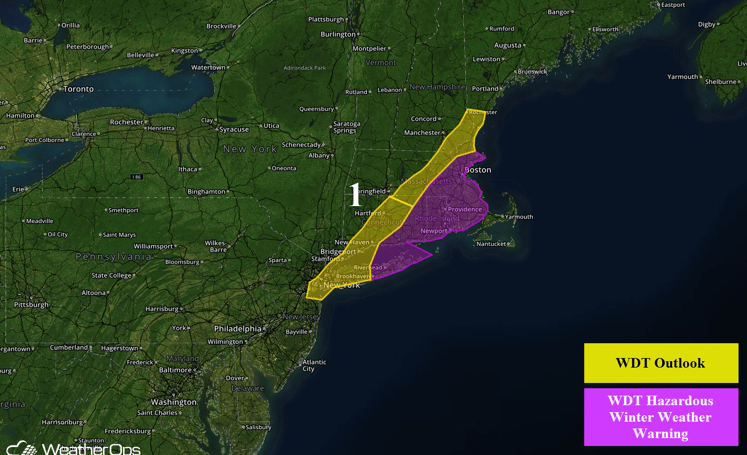 Region 1
Region 2
A surface low is forecast to develop over the Southern Plains on Wednesday and track northeast into the Midwest by Thursday morning. Moisture will flow north into the region ahead of the low, with cold air moving south behind the low. The combination of these two features will allow for widespread snowfall across Region 2 by Wednesday afternoon. Very heavy snowfall may be possible in some areas, with snowfall rates in excess of one inch per hour possible. Widespread accumulations of 6-8 inches, with locally higher amounts in excess of 12 inches possible. The heaviest snowfall accumulations will likely occur in southern Wisconsin. In addition to the heavy snow, gusty northeasterly winds of 15-25 miles per hour with gusts in excess of 35 miles per hour will lead to near blizzard conditions. Wind chills of 10-20 F and visibility below one mile will be possible.
Travel conditions will rapidly deteriorate Wednesday morning and afternoon, and will remain hazardous through much of Thursday. Snowfall should come to an end late Thursday, but blowing and drifting snow will create hazardous travel conditions through Friday morning.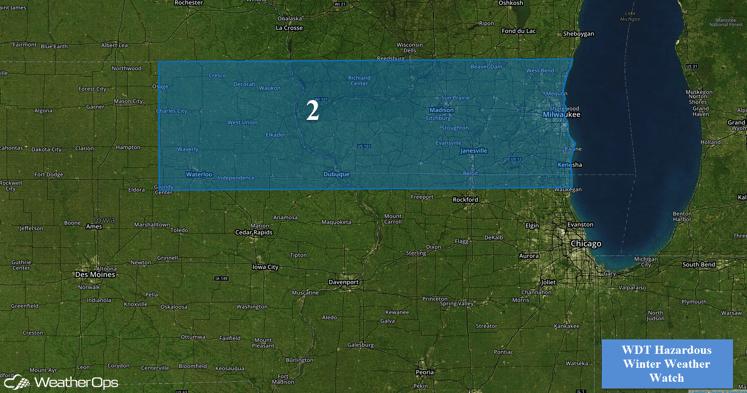 Region 2
Region 3
An area of low pressure will move into the Great Plains and intensify on Tuesday. This will likely allow precipitation in the form of the rain initially. As cold air filters into the region, rain should transition to snow during the evening and overnight hours. While there is still considerable uncertainty with regards to the placement and extent of snow accumulations, there is still the potential for moderate to heavy snow to develop across Region 3 as early as Tuesday evening and continue through Wednesday afternoon. Snowfall accumulations of 4-8 inches with locally higher amounts in excess of 10 inches will be possible. Higher accumulations can be expected over higher elevations of Wyoming and Northern Colorado. In addition, winds are likely to increase across the region on Wednesday, reaching 20-30 mph with gusts in excess of 40 mph, for many locations. This would allow for periods of blowing snow, reduced visibilities, and blizzard or near blizzard conditions.