National Weather Summary for Monday, February 6, 2017
by David Moran, on Feb 6, 2017 11:02:48 AM
Strong to severe thunderstorms are expected to develop across the Mid-Mississippi Valley on Monday ahead of an area of low pressure. Snow showers are expected to continue across western Washington on Monday as an upper level system approaches the region. An area of low pressure moving across Canada will bring snow to portions of the Northern Rockies and Plains, Great Lakes, and Northeast through Wednesday.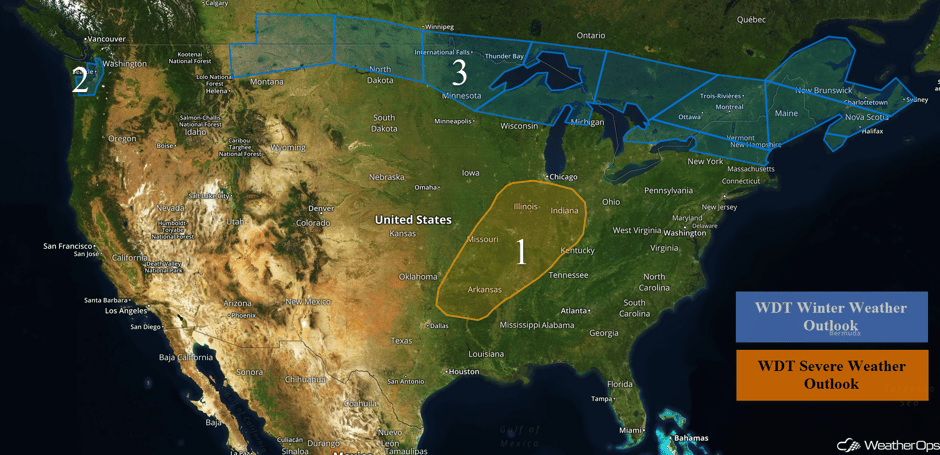 US Hazards
Region 1
An area of low pressure east of the Rockies is pulling warm moist air northward from the Gulf of Mexico through the Ozarks and mid-Mississippi Valley. This system will be moving eastward today and tonight, bringing a dryline through Oklahoma and developing a warm front to the northeast. Also, a shortwave trough will be moving over the region this afternoon and evening. Strong to severe thunderstorms may develop along the dryline this afternoon and evening in far eastern Oklahoma and Arkansas, and then northward into Missouri, Illinois, Indiana, and parts of Kentucky. Large hail and damaging winds will be the primary hazards, but an isolated tornado cannot be ruled out. Later in the evening as storms develop northward, the threat will likely transition to mainly high winds. Severe weather may continue overnight as the system moves eastward, extending from the Southern States northward to the Great Lakes.
Major Cities in Region: Fort Smith, AR, Little Rock, AR, Memphis, TN, St. Louis, MO, Evansville, IN, Indianapolis, IN, Louisville, KY

Region 1
Region 2
Snow showers are expected to continue across Region 2 through the morning and into the early afternoon on Monday. The best chance for the more significant snow amounts will be in the higher elevation. By mid to late afternoon, rain will mix with snow.

.@SoundTransit Link Light Rail doing fine in #WAsnow #wawx #KOMOsnow❄️ pic.twitter.com/0mDdx2LPAV

— Eric Jensen (@EricJensenTV) February 6, 2017
7.1" of snow in February 2017 - makes this the snowiest February at #SeaTac since 1990. #wawx #wasnow

— NWS Seattle (@NWSSeattle) February 6, 2017
Downtown Seattle time lapse snow. @NWSSeattle #WaWx pic.twitter.com/2nwDORPAfA

— Farhan Akhil (@f3akhil) February 6, 2017
Tree on power lines near Bridle Trails State Park. 132nd in Bellevue closed in this area. #KOMOsnow #komonews #wawx pic.twitter.com/3mO2gUuZON

— Kara Kostanich (@KaraKostanich) February 6, 2017
Major Cities in Region: Seattle, WA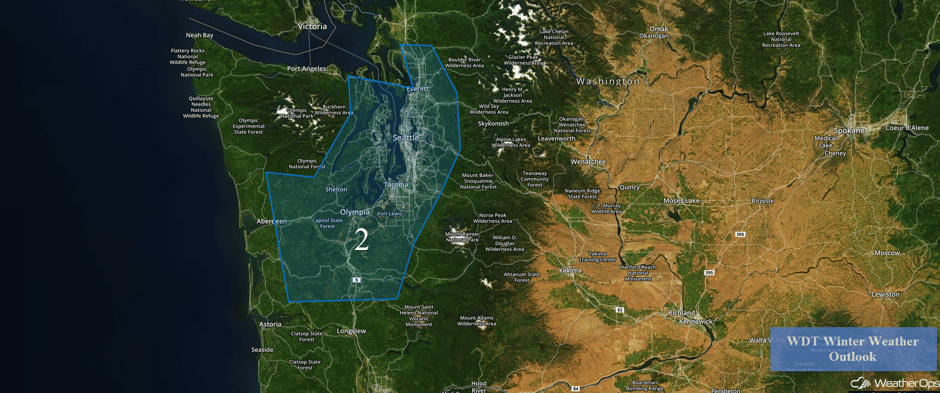 Region 2
Region 3
Snow will continue across the Northern Rockies into early Tuesday as an area of low pressure moves eastward across Canada. Snowfall accumulations of 2-4 inches with locally higher amounts are expected. Further east from the Upper Midwest to the northeast, snow will increase to the north of a warm front before transitioning to a wintry mix. Snow accumulations of 3-6 inches with locally higher amounts in excess of 8 inches are forecast from the Upper Midwest into the Great Lakes. By Tuesday morning, snow will commence across the Northeast. Snowfall amounts of 1-3 inches and ice accumulations between a tenth and two tenths of an inch are possible.
Major Cities in Region: Minot, ND, Duluth, MN, Marquette, MI, Manchester, NH

Region 3
Strong to Severe Thunderstorms Possible for the Missouri and Ohio Valleys on Tuesday
The area of low pressure responsible for the severe weather potential on Monday will allow for a risk for severe thunderstorms over the Mississippi and Ohio Valleys on Tuesday. Scattered showers and thunderstorms may be ongoing during the morning hours, with a risk for severe winds. Activity will continue into the afternoon and evening hours as a cold front presses eastward throughout the day. Daytime heating and abundant moisture will promote modest instability with a greater threat of severe thunderstorms later in the day. Large hail, damaging winds, and tornadoes will all be possible with these storms.
Major Cities in Region: Memphis, TN, Evansville, IN, Indianapolis, IN, Louisville, KY, Birmingham, AL, Chattanooga, TN
SPC Convective Outlook for Tuesday
A Look Ahead
A cold front moving into the Pacific Northwest will allow for some widespread showers along the coastal areas and heavy snow in the highest elevations on Thursday. Snow will continue to move eastward across the Northern Rockies on Friday. Into the weekend, there will be a risk for snow across the Northern Plains, Midwest, and Great Lakes as an area of low pressure develops over the Plains and moves eastward.
This is just a brief look at current weather hazards. We can provide you site-specific forecast information for the purpose of protecting your personnel and assets. Try a 7-day demo right away and learn how timely precision weather information can enhance your bottom line.