National Weather Summary for Monday, February 29, 2016
by David Moran, on Feb 29, 2016 11:42:28 AM
Snow will begin across the Great Lakes late Monday evening and continue through Wednesday morning as an area of low pressure moves to the south of the region. Winds will increase across portions of the Gulf of Mexico Tuesday behind a cold front moving across the region in the evening. Severe thunderstorms will be possible across portions of the Plains Monday night into Tuesday morning.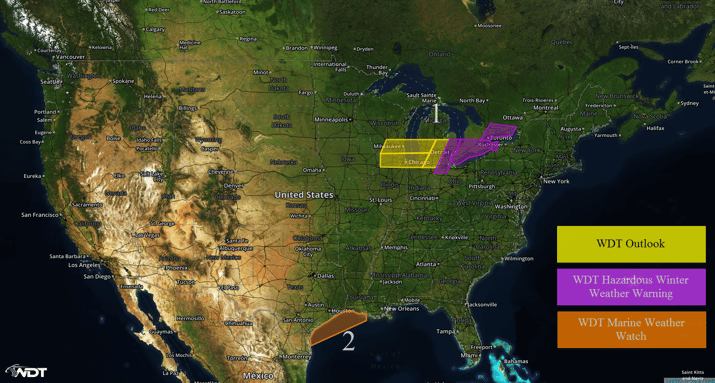 US Hazards
Region 1

Snow will begin Monday evening across Region 1, as a surface low passes south of the area. Northeasterly winds on the backside of the low will allow for lake effect snow showers late Monday into Tuesday. While accumulations are not expected to be particularly heavy, 3-5 inches of snow will be common, though some areas may see close to 8 inches. Across eastern portions of Michigan, 6-8 inches with isolated higher amounts in excess of 10 inches will be possible. In addition to the snow, northeasterly winds of 15-25 miles per hour will lead to visibility reductions of less than two miles at times as well as wind chills in the mid to upper teens. These conditions are expected to make travel hazardous Monday night into Tuesday.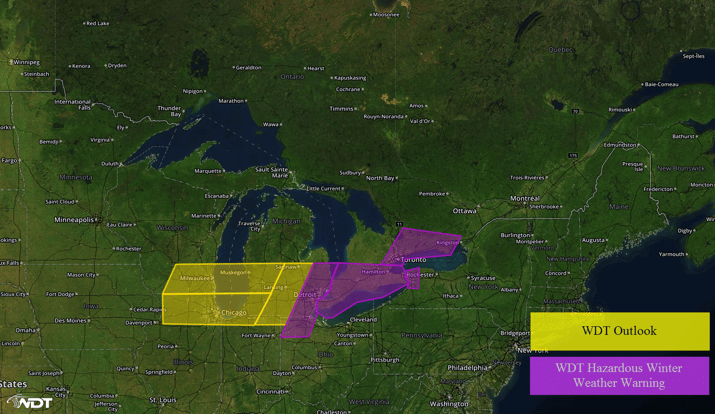 Region 1
Region 2

A cold front is forecast to move into the Gulf of Mexico Tuesday evening. Ahead of the front, winds should be out of the south-southwest at 5 to 15 knots. Behind the front, winds will shift to the nort-northeast and increase to 15 to 25 knots with gusts in excess of 30 knots.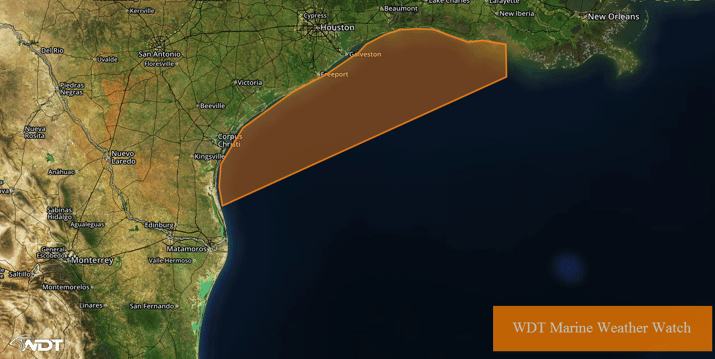 Region 2
Severe thunderstorms for portions of the Plains

A weak midlevel trough will move into the Southern Great Plains on Monday, leading to the development of a surface low over the region. The southerly flow will allow the transport of warm, moist air northward into the outlook area. With the combination of strong lift, and a warm, moist, and unstable air mass, the development of thunderstorms will be likely, some of which may become severe. Thunderstorms are expected to develop initially over Western Oklahoma or the Oklahoma/Texas Panhandles by midnight Monday night and then track eastward across Oklahoma and into Western Arkansas by daybreak Tuesday. The primary severe weather threat will be large hail, with a few reports of hail larger than 1.5 inches in diameter possible. A few storms may also produce damaging wind gusts in excess of 50 miles per hour.
The greatest severe weather threat will exist across central and eastern Oklahoma during the overnight hours and will diminish after sunrise as storms continue into Western Arkansas.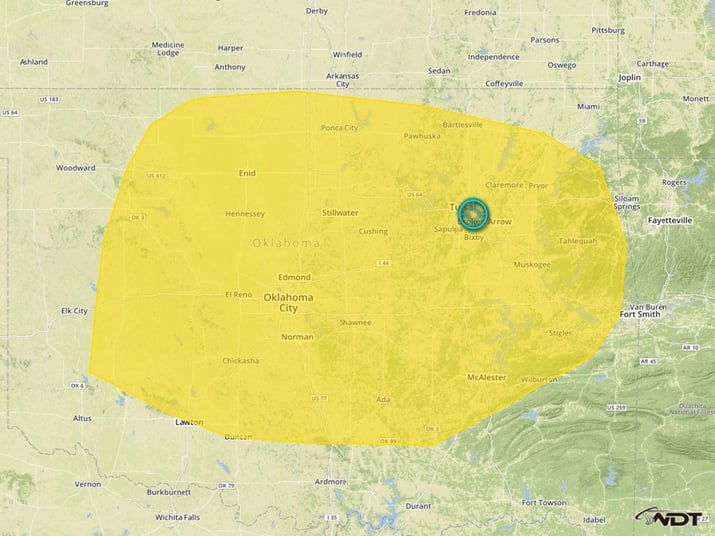 Severe Thunderstorm Risk Outline (WDT Outlook)