National Weather Summary for Friday, September 9, 2016
by David Moran, on Sep 9, 2016 11:00:49 AM
Thunderstorms are expected to develop Friday across portions of the Central and Southern Plains into the Mississippi and Ohio Valleys ahead of a cold front. As this cold front progresses eastward on Saturday, thunderstorms will be possible from portions of Kentucky and Tennessee into the Northeast.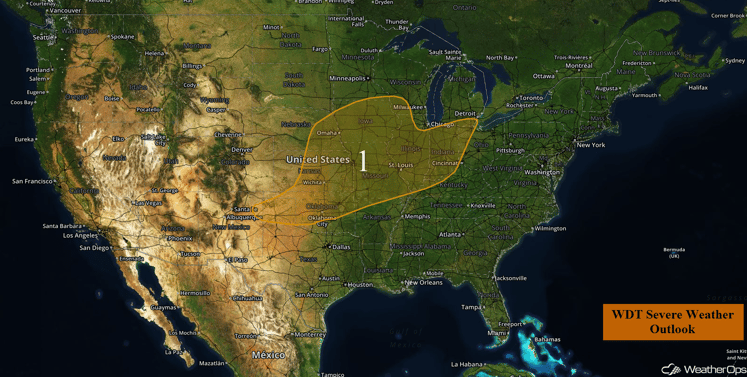 US Hazards
Region 1
The severe weather potential on Friday is expected to originate from a cold front tracking into the Central Plains and Upper Midwest. Moderate instability is expected to build as daytime heating increases. Ongoing thunderstorm activity currently tracking through Iowa and Minnesota will likely re-strengthen or redevelop later this afternoon as it continues southeastward with a threat for hail and damaging winds. Further south and west, additional thunderstorm development is expected from the Southern High Plains into the Missouri Ozarks. Hail and severe wind gusts will be the primary hazards. While a significant tornado threat is not anticipated, an isolated tornado or two cannot be ruled out. Storms are expected to linger into the overnight hours with the severe threat possibly continuing through the early morning hours. Further east, thunderstorms may develop after dark across the Midwest from Illinois into Ohio with a lesser threat for severe wind and hail.
Update 11:23am CDT: Storms capable of producing large hail have developed across eastern Nebraska.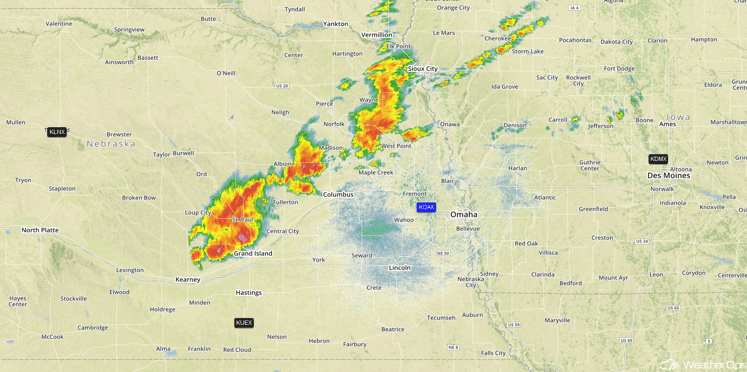 Nebraska Radar 11:23am CDT
Update 12:38pm CDT: Severe thunderstorms capable of large hail and damaging winds north of Omaha.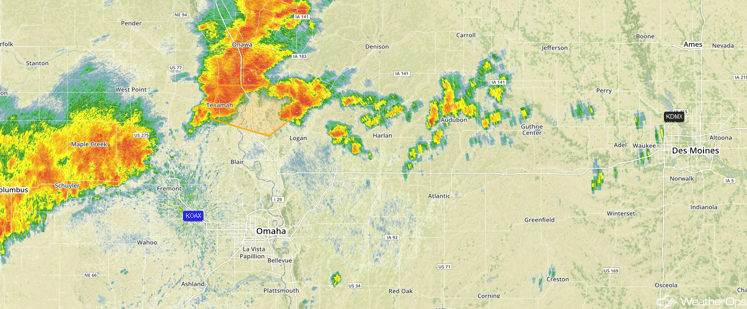 Radar 12:38pm CDT
Update 2:48pm CDT: Thunderstorms capable of damaging winds northwest of Des Moines, Iowa.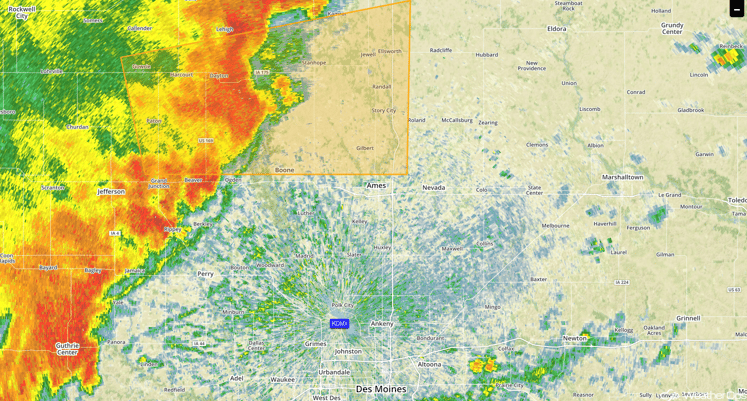 Radar 2:48pm CDT
Major Cities in Region: Amarillo, TX, Oklahoma City, OK, Kansas City, MO, Des Moines, IA, St. Louis, MO, Louisville, KY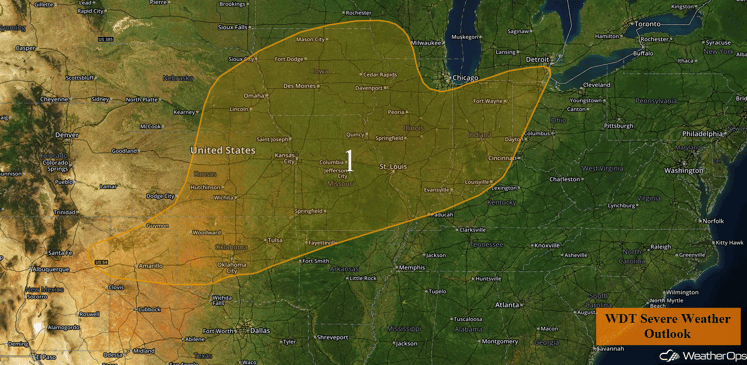 Region 1
Strong to Severe Thunderstorms Possible Saturday from Tennessee and Kentucky into the Northeast
An area of low pressure and associated cold front will move into the region from the west during the day on Saturday. Low level moisture will increase ahead of the front, allowing instability to build. This instability should be sufficient for thunderstorms to develop along the front during the afternoon and evening hours. Damaging winds will be the primary hazard associated with any storms that develop, but an isolated tornado or two cannot be ruled out, especially from Ohio into western New York. These storms could organize into clusters and segments, posing a risk for damaging winds.
Major Cities in Region: Louisville, KY, Cincinnati, OH, Cleveland, OH, Buffalo, NY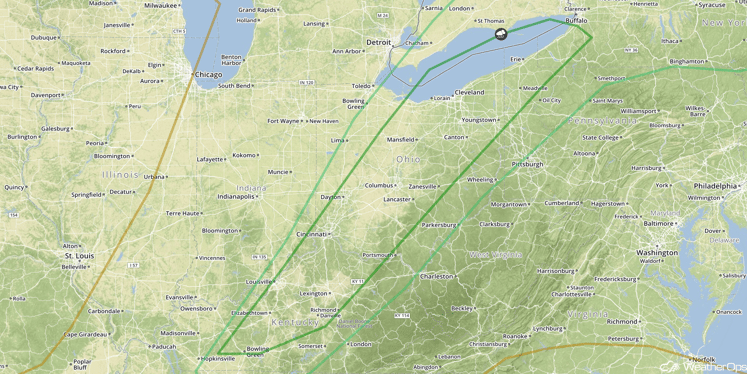 SPC Convective Outlook for Saturday
Tropical Update



A large area of disturbed weather (green oval) associated with a westward moving tropical wave is located about 1200 miles east of the Lesser Antilles. This system is gradually becoming better organized, and conditions are expected to become favorable for the development of a tropical depression this weekend or early next week. This disturbance is expected to move toward the west-northwest and then northwest over the central Atlantic during the next several days.
Further east, cloudiness and showers (red oval) located just north of the Leeward Islands are spreading west-northwestward with no signs of organization. Environmental conditions are not expected to be conducive for significant development.
An area of disturbed weather associated with a weak area of low pressure (yellow oval) has formed between Cuba and the western Bahamas. This activity is expected to spread westward across southern Florida and the Florida Keys later today and Saturday. Upper level winds are not favorable for additional development.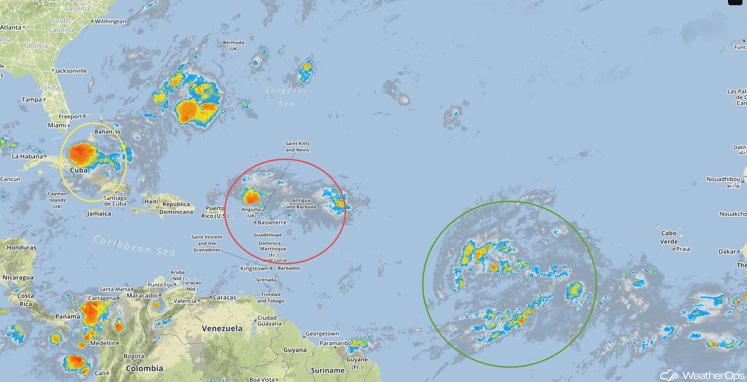 Tropical Infrared Satellite
A Look Ahead
An area of low pressure will develop over the lee of the Northern Rockies on Sunday, allowing for the potential for the development of showers and thunderstorms across portions of the Northern Plains on early next week. Showers and thunderstorms will be possible across the Southeast and along the Gulf Coast in association with tropical waves early next week.
This is just a brief look at current weather hazards. We can provide you site-specific forecast information for the purpose of protecting your personnel and assets. Try a 7-day demo right away and learn how timely precision weather information can enhance your bottom line.