National Weather Summary for Friday, October 7, 2016
by David Moran, on Oct 7, 2016 11:15:14 AM
Hurricane Matthew will continue to advance northward along the East Coast Friday into Saturday, bringing the potential for thunderstorms and excessive rainfall.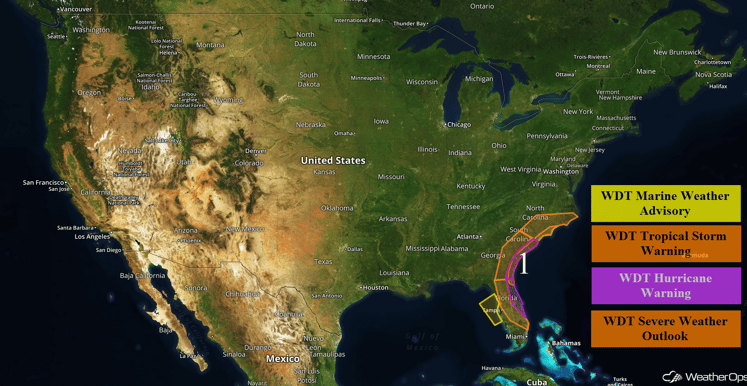 US Hazards
Region 1
Matthew has weakened to a category 3 hurricane with sustained winds of 120 mph. The eye of the storm and the most intense winds have remained just offshore Florida and are expected to remain offshore over the next 12 hours. Storm surge in excess of 10 feet will be possible along the coastal areas. Damaging winds in excess of 100 mph will be possible along the coast with slightly lower winds further inland. Rainfall accumulations of 5-10 inches with locally higher amounts in excess of 12 inches will be likely, leading to flooding. Hurricane force conditions will taper off Friday evening as Matthew continues to move along the coast.
Further inland, tropical storm force conditions will be possible across central Florida into early Saturday morning. Damaging winds and heavy rainfall leading to flooding will be possible. Along the west coast of Florida and the eastern Gulf of Mexico sustained winds of 25-35 mph with gusts in excess of 40 mph in addition to seas of 6-10 feet.
Along the coast of Georgia and South Carolina, thunderstorms will be possible along the in association with the heavier rain bands. Stronger wind shear will allow for the potential for isolated damaging winds and tornadoes, primarily along the coast. Tropical storm conditions will be possible across portions of the Carolinas. Winds of 35-45 mph with gusts in excess of 55 mph will be possible, in addition to rainfall amounts of 5-10 inches with isolated higher amounts of 12 inches and storm surge of 1-2 feet.
Update 1:18pm EDT: Tornado Warning near Savannah, GA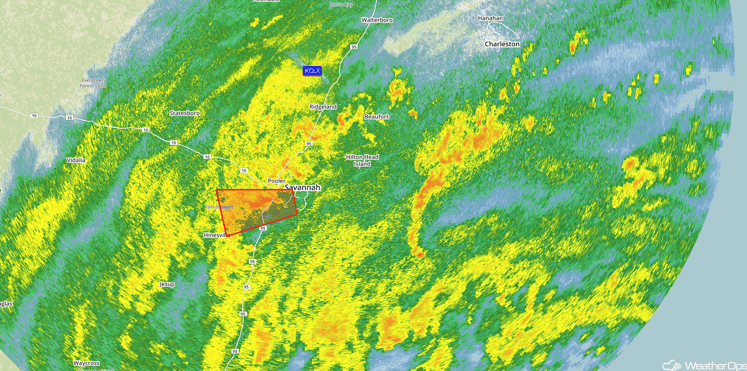 Radar 1:18pm EDT
Update 3:21pm EDT: Tornado Watch in effect for portions of Georgia and South Carolina until midnight EDT.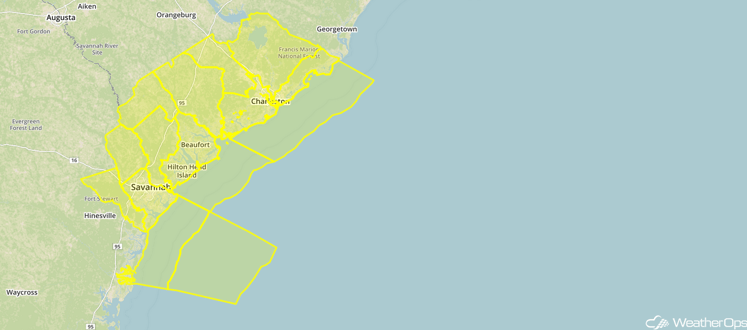 Tornado Watch
Major Cities in Region: Palm Beach, FL, Tampa, FL, Orlando, FL, Jacksonville, FL, Savannah, GA, Charleston, SC, Myrtle Beach, SC, Wilmington, SC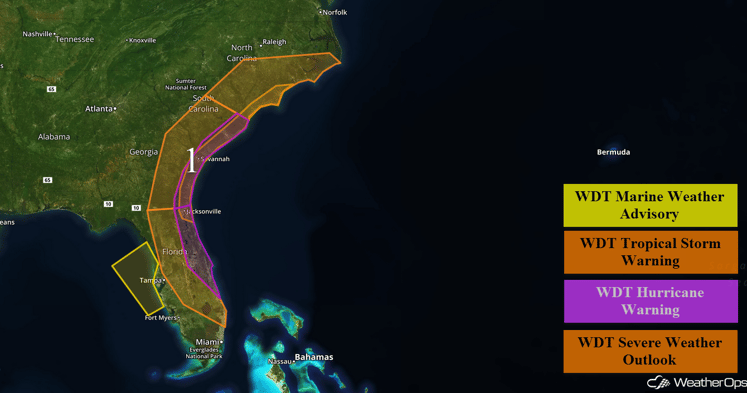 Region 1
Tropical Update
Hurricane Matthew (red oval) is moving toward the north-northwest at 13 mph and this general motion is expected to continue today. A turn to the north is expected tonight into Saturday. On the forecast track, the center of Matthew will continue to move near or over the coast of northeast Florida through tonight and near the coast of South Carolina on Saturday. Maximum sustained winds are near 120 mph with higher gusts . Although some weakening is expected, Matthew is expected to remain a hurricane until it begins to move away from the coast on Sunday.
Further to the east, Tropical Storm Nicole (green oval) is nearly stationary, but is expected to begin a slow south or south-southeastward motion later today and continuing into Saturday. A westward drift is possible by early Sunday. Additional weakening is expected over the next few days.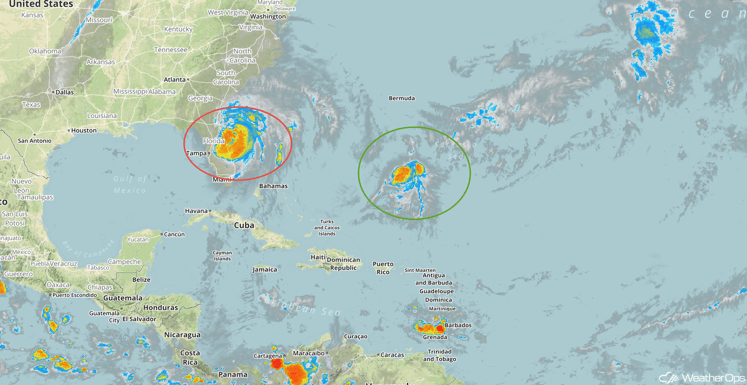 Tropical Infrared Satellite
A Look Ahead
Generally quiet conditions will persist beyond Saturday once Matthew moves away from the East Coast. Some light rain, and perhaps some light snow will be possible for portions of the Rockies on Tuesday.
This is just a brief look at current weather hazards. We can provide you site-specific forecast information for the purpose of protecting your personnel and assets. Try a 7-day demo right away and learn how timely precision weather information can enhance your bottom line.