National Weather Summary for Friday, March 31, 2017
by David Moran, on Mar 31, 2017 11:17:35 AM
Thunderstorms are expected to develop Friday across portions of the High Plains as an area of low pressure intensifies over the region. Across the Mid Atlantic, thunderstorms will continue through the day on Friday ahead of a cold front. Wintry precipitation will continue across the Northeast as an area of low pressure continues to move through the region. An upper level system will bring snow to portions of the Rockies Friday into Saturday.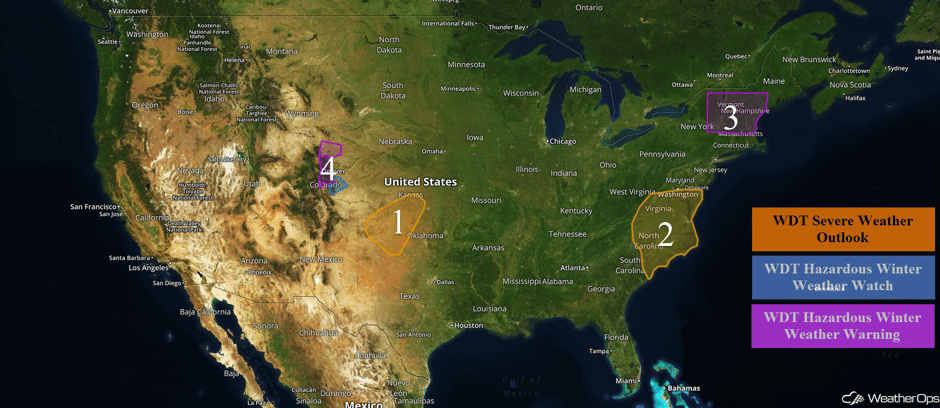 US Hazards

Region 1
An upper level low will move into the southwestern US today, allowing a surface low in the southern High Plains to intensify. Moisture and instability will increase throughout the day, allowing for the development of thunderstorms across the region, primarily after sunset. Large hail will be the primary hazard with any thunderstorms that develop.
Update 12:52pm CDT: Severe thunderstorm in southern Virginia capable of large hail and damaging winds.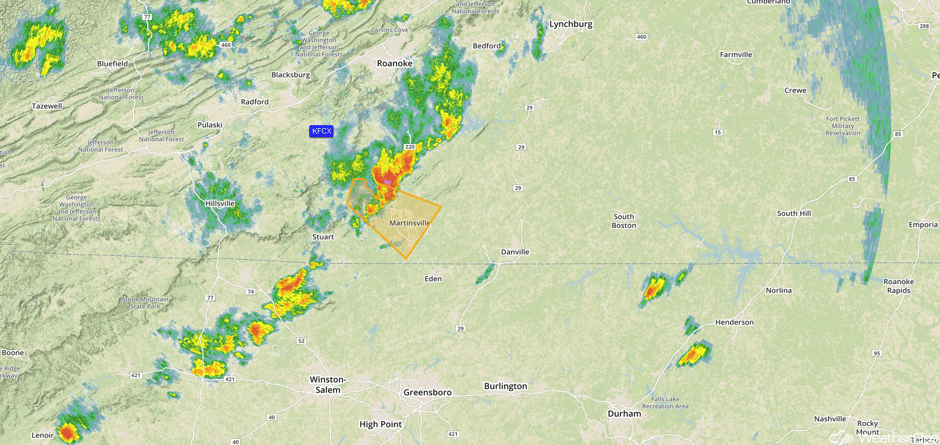 Radar 12:52pm CDT
Major Cities in Region: Dodge City, KS, Woodward, OK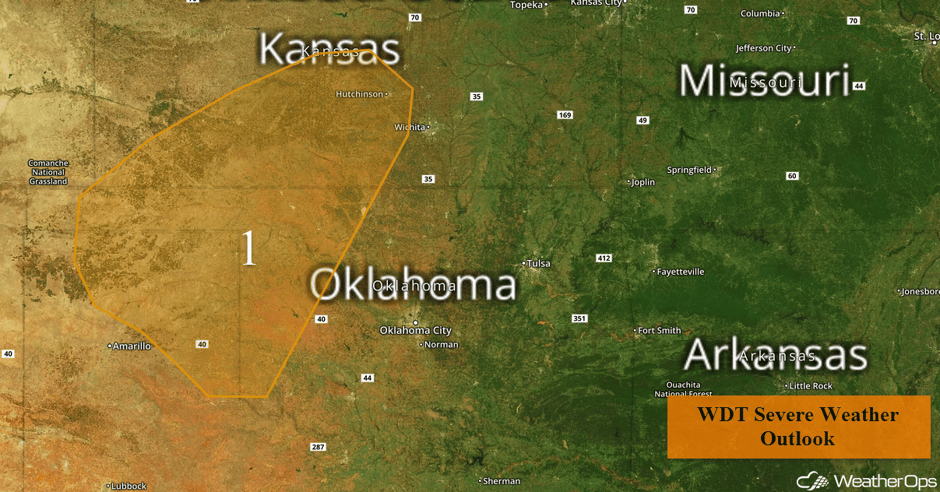 Region 1
Region 2
Scattered thunderstorms currently ongoing across much of the region will continue to spread east and northeast toward the coast through the early afternoon hours. By mid-afternoon, additional thunderstorms are expected along and ahead of an advancing cold front. This second round of thunderstorms is mainly forecast to occur from North Carolina and points northward, with storms moving offshore near or shortly after sunset. There will be a risk of severe storms across the region today. Hail and damaging winds will be the primary hazards, but there will also be a low tornado threat late this afternoon and early evening.
Major Cities in Region: Myrtle Beach, SC, Wilmington, NC, Norfolk, VA, Richmond, VA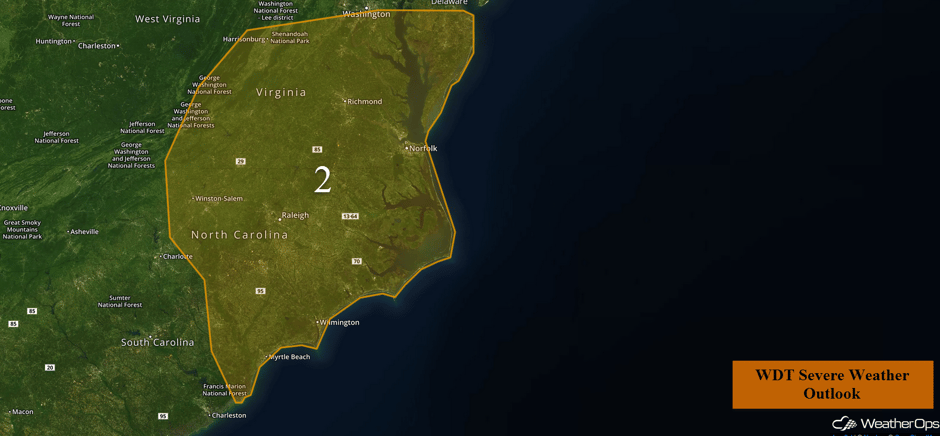 Region 2
Region 3
An area of low pressure moving into the Northeast this weekend will bring a late season snowstorm to the region. Surface temperatures will vary across the region, creating a mixture of all winter precipitation types. Low elevations will see around 6 inches of snow with locally higher amounts in excess of 12 inches. Higher elevations could see in excess of 18 inches. Accumulations of ice and sleet are expected, with some locally heavier amounts.
Skiers are happy to see more #snow here at @GoreMountain. #springsnow #518wx #NYwx @WTEN pic.twitter.com/me2o56LpAb

— Lauren Linder (@lauren_linder) March 31, 2017
Major Cities in Region: Albany, NY, Montpelier, VT, Manchester, NH, Boston, MA
Region 3
Region 4
A late season upper level system will move over the region today and Saturday, bringing moderate snow. This snow will continue through Saturday morning. Snowfall accumulations of 6-10 inches are expected with higher amounts at higher elevations. Gusty winds and blowing snow will limit visibilities at times.
Major Cities in Region: Cheyenne, WY, Boulder, CO, Colorado Springs, CO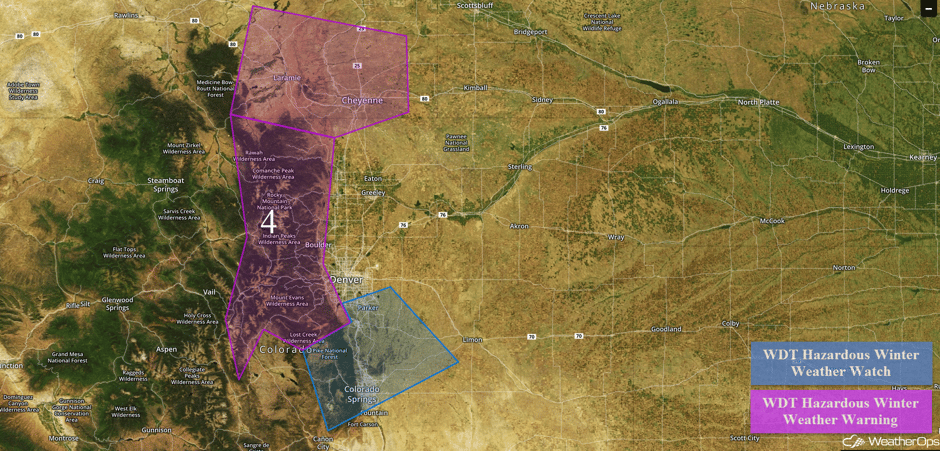 Region 4
Strong to Severe Thunderstorms Possible for the Southern Plains on Saturday
Strong to severe thunderstorms will be possible across the Southern Plains on Saturday with a developing area of low pressure across northwest Texas. Moisture and daytime heating will allow instability to build and thus the development of thunderstorms. Strong to severe thunderstorms may develop, posing a hail and damaging wind risk.
Major Cities in Region: Corpus Christi, TX, San Antonio, TX, Houston, TX, Dallas, TX, Oklahoma City, OK, Wichita, KS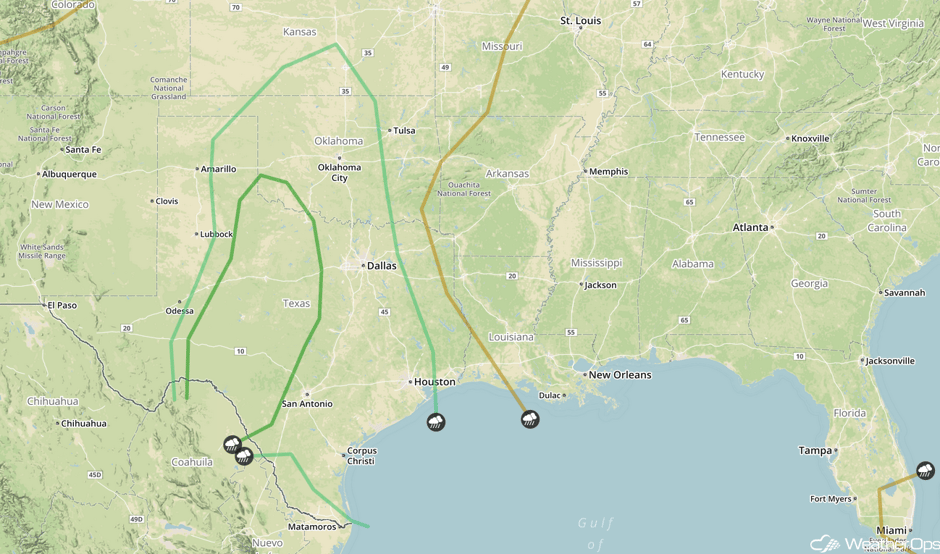 SPC Convective Outlook for Saturday
Severe Thunderstorms Expected Sunday for Texas, Louisiana, and Mississippi
Thunderstorms are expected Sunday across the Lower Mississippi Valley Sunday as moisture increases, allowing instability to build and leading to the development of thunderstorms. Any storms that develop will have the potential for large hail, damaging winds, and tornadoes. Activity will continue into the overnight hours while moving eastward into the Lower Mississippi Valley.
Major Cities in Region: Austin, TX, Houston, TX, Shreveport, LA, Baton Rouge, LA, Jackson, MS, New Orleans, LA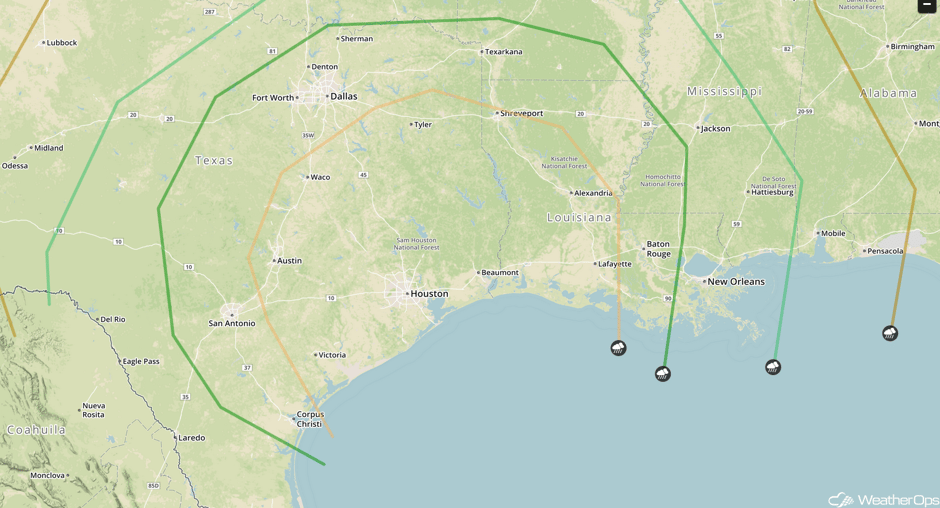 SPC Convective Outlook for Sunday
Excessive Rainfall Possible for Lower Mississippi River Valley on Sunday
The latest in a series of upper-level troughs to traverse the southwestern United States will be moving into the southern Plains on Sunday. At the surface, its associated surface low will start the day in southern Texas and will move northeastward during toward the lower Mississippi Valley. Strong southerly flow east of the low will form behind a warm front that will extend from west-central Louisiana to southern Georgia by the end of the day. Widespread precipitation is expected to develop along and north of the warm front, and in the warm, unstable air mass to its south. Maximum rainfall amounts of 2-3 inches are expected with local amounts in excess of 4 inches. Flash flooding could become an issue in many areas, especially those that receive the heaviest rainfall.

Major Cities in Region: Dallas, TX, Houston, TX, Shreveport, LA, Baton Rouge, LA, New Orleans, LA, Mobile, AL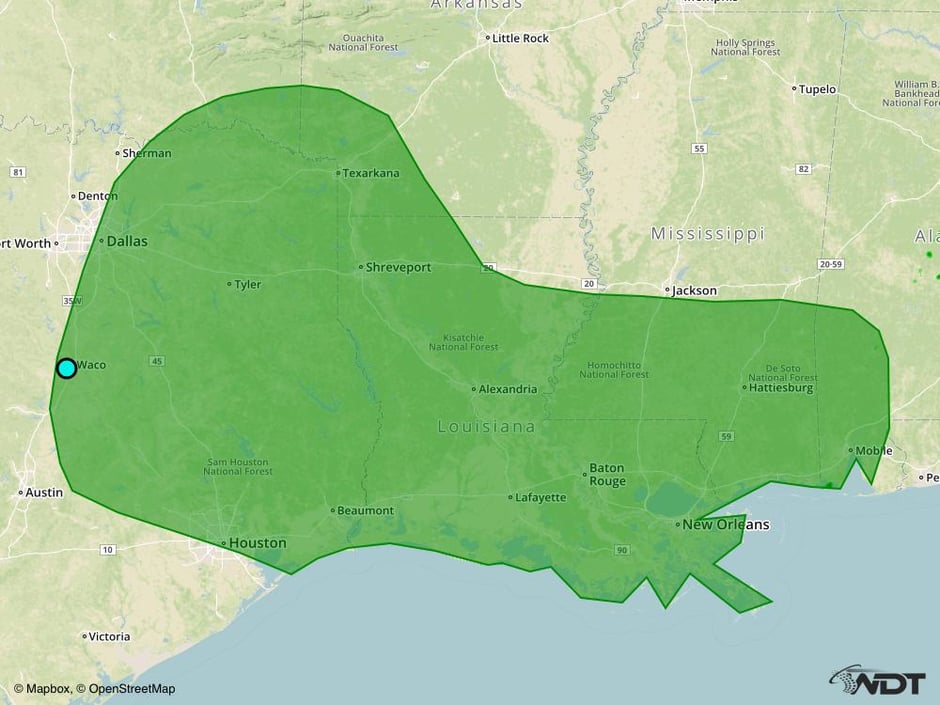 Significant Rainfall Risk Outline for Sunday
A Look Ahead
Widespread shower and thunderstorm activity is becoming increasingly likely across the Lower Mississippi Valley on Monday with the passage of a strengthening surface low through the region. With the rain will come a threat for excessive rainfall, Accumulations of 1-2 inches and locally higher amounts in excess of 3 inches appear likely through Tuesday morning.
This is just a brief look at current weather hazards. We can provide you site-specific weather forecast information for the purpose of protecting your personnel and assets and to assess your weather risk. Try a 7-day demo right away and learn how timely precision weather information can enhance your bottom line.